On The Beat with Alessandra Sbrana of Skinflint: Talks Style and Influences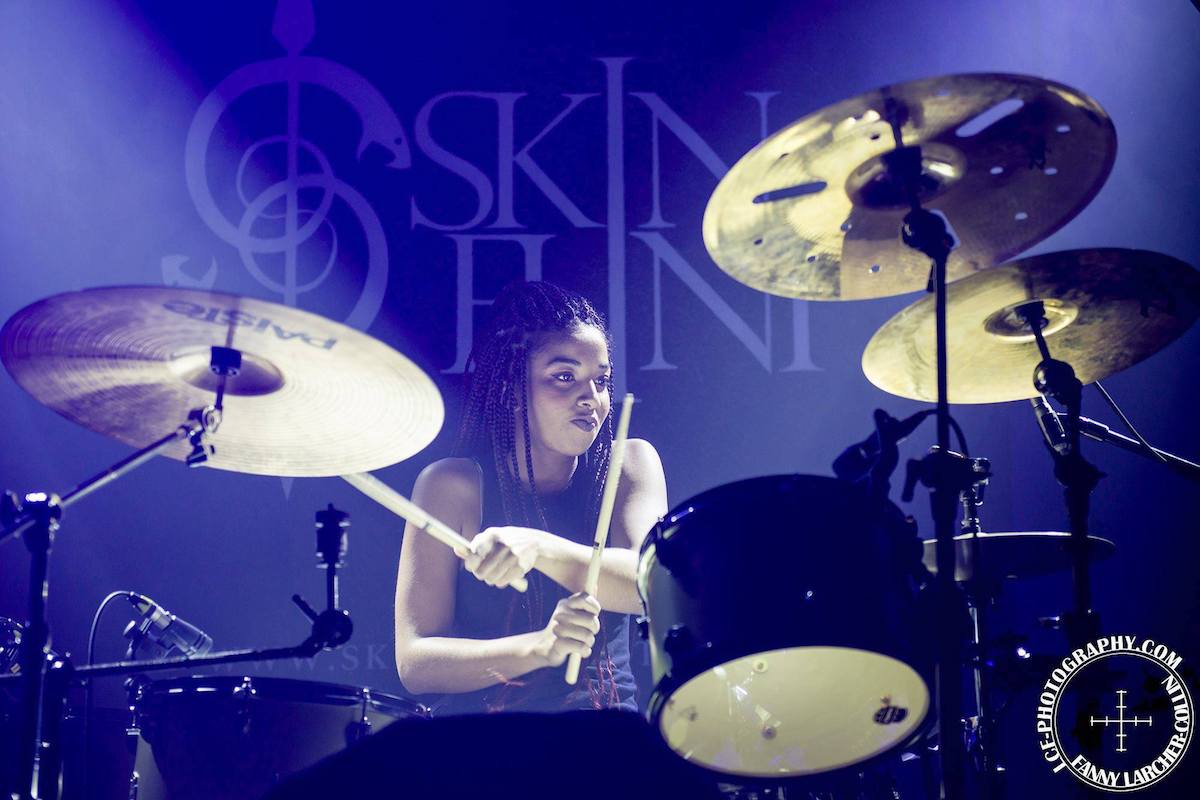 Hello MD readers! I am extremely grateful and honoured to be featured here "On The Beat!" My name is Alessandra Sbrana and I drum for Skinflint. We are an African heavy metal band from the sweltering land of Botswana. We have just released our fifth studio album and a music video for our latest single, "Birds and Milk Bloody Milk." We have been on tour with Tarja Turunnen, and headlined shows in Sweden, Kenya, Botswana, and South Africa.
Growing up in Botswana has allowed us to create a new style of music that incorporates African mythology and rhythms with classic metal and blues elements. Our musical style is greatly influenced by our environment and I love experimenting with traditional Rumba and Kwasa beats in my grooves.
Music has always been part of my life. My father was an incredible guitarist and he introduced me to Jimi Hendrix, Led Zeppelin, and the blues. After a brief attempt at learning guitar, I picked up drumming when I was about seventeen years old. My cousin Giuseppe (lead singer and guitarist of Skinflint) had been playing guitar for a couple of years prior and one day during a random rehearsal I decided to join him in the studio and instantly fell in love with drumming. Advertisement
I learned how to play drums by ear and have never had any formal lessons. I bought my first instructional drumming DVD in my twenties after not playing drums for many years. Sometimes I think that I started playing drums too late, but learning is a continuous process and it is never too late to follow your passion. Even if I were not on my drumkit, I'd still make a conscious effort to learn about new music and drumming every day.
I find myself in awe of the technical abilities of drummers such as Luke Williams from Dead Letter Circus, Anika Nilles, Hannah Welton, and Luke Holland. They have inspired me to take my technical training and rudiment practice seriously, and I am hoping to be as musically fluent as them one day.
My go-to gear consists of a Mapex Voyager five-piece kit, with a Black Beauty snare, and a combination of Zildjian A custom, and Paiste cymbals.
We are currently promoting our latest album, so please have a look at our website for updates and more band info!
Watch Skinflint "Birds and Milk Bloody Milk" video: 
 Watch live footage of "Mbube the Great" from the Nyemba album launch in Tlokweng, Botswana: 
 And for tour dates and more, visit https://www.skinflintmetal.com.