On The Beat with Joseph Arrington of Royal Coda: Keeping it Organic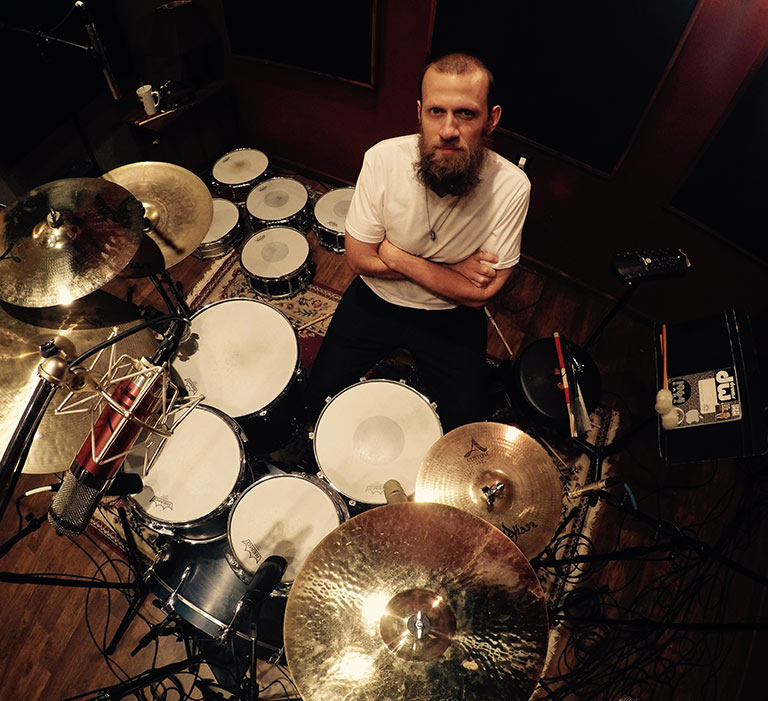 Thank you Modern Drummer for being naive enough to trust me with my second "On The Beat." Just kidding. I have such a profound love and appreciation for this magazine that I will most certainly rewrite this one hundred times before it is published.
My name is Joseph Arrington and I've spent the last few years writing, recording, and touring for Sianvar, A Lot Like Birds, We Came As Romans, Love Mischief, and Amity Affliction, and I spend my time-off playing in dark, dimly lit lounges with various outrageous jazz-fusion-jam groups across the greater Northern California stretch.
I recently debuted a weekend of first concerts with a new group called Royal Coda. We are unified by the simple fact that we are genuine players and share a common thirst. Considering that the majority of the bands I tour with and work for use a click track (metronome) live and backtracks with all kinds of epic sounds battering the audience through the mains, it has been very refreshing to engage in this musical tango that is the Royal Coda set. Without even knowing it, we have sort of embarked on something very refreshing and fun, though the philosophy behind it is nothing new at all. Advertisement
We decided to not only play the songs without a click, but to take it a step further and elongate bridges and solos and play with intros and outros. We decided to have musical conversations within the loose confines of the already existing song structures and just have fun with the music. This led to so many moody and dynamic moments, happy accidents, and chance conversations between our instruments and us. Sure the tempos deviated a little (I'm only human) and it did bring with it a certain looseness to the whole thing, but when you trust everyone to keep it solid when it really counts, it just works. It's almost like we threw in a strange mixture of Weather Report-like textures and Phish-style elements to a band that, on record, has fairly straightforward structures from the perspective of the listener. This will only work if the players have good chemistry and agree on all of these improvisational elements of the set—which we did. The feedback and mood from the shows were very special and unlike anything we have received from like-minded audiences before.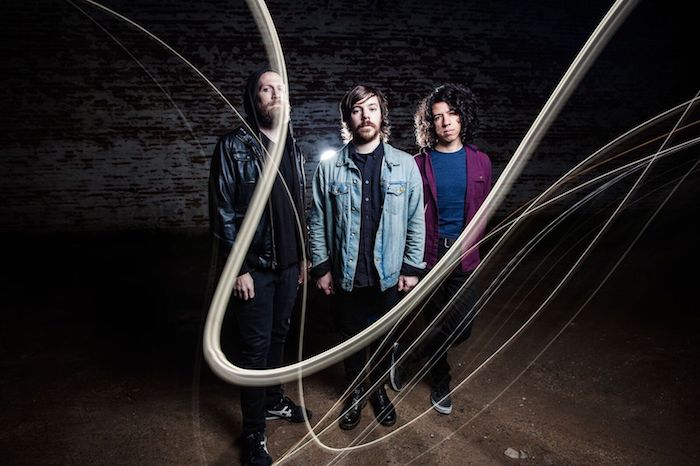 This would have been hard to achieve if any of us had a metronome barking at us through our in-ear monitors or we were confined to the songs verbatim to the record, which certainly wouldn't have been a bad thing, but it wouldn't have allowed us to explore the nuances that made things so fresh and exciting. It must be understood that I am not in any way saying that playing to backtracks and/or a click is the wrong thing to do. It makes sense in so many situations and I appreciate its necessity. But I do love to balance that out by gravitating to my roots. Growing up in a jazz/jam setting, I yearn for that musical rush where you take the audience with you and dive headfirst into the unknown. I urge people to always ditch the laser-precision and enjoy some looseness once in a while. Why not? If you are having a blast on stage, your audience will feel and reciprocate that energy. Trust your internal time and your vocabulary. Sometimes it's nice to blend your roots with the new stuff. And it lit a new and very important fire in my soul for the future of what Royal Coda can become!
While I have you, my go-to gear is a Gretsch Renown or New Classic that consist of an 18×22 kick, 10″, 12″, 16″, and 18″ toms, and 6.5×4 Gretsch hammered brass snare. My heads are a Remo Clear Powerstroke 3 on kick, and for the snare, a Remo Coated P77 on top and Hazy Ambassador on the bottom. The toms have Remo Clear/Coated Vintage Emperors on top and Clear Ambassadors on the bottom. My hardware is all DW9000 series. Advertisement
My cymbals are 14″ Zildjian K Special dry hi-hats or 14″ Zildjian New Beats, a 19″ Zildjian Medium Thin crash, 21″ Zildjian K Sweet ride, 23″ Zildjian K Sweet ride, 10″ Zildjian A Custom splash, and a 16″ Armand crash stacked on top of a 14″ A Custom bottom (stacker). I use a Roc-n- Soc Motorcycle Style hydraulic throne, Vic Firth Benny Greb signature sticks, Westone Custom ES50 in-ear-monitors, and Movement practice pad.
Thanks for reading!
For more with Joseph and Royal Coda, please visit https://royalcoda.bandcamp.com.