On The Beat with Roy Mayorga of Stone Sour: Talks New Album and Gear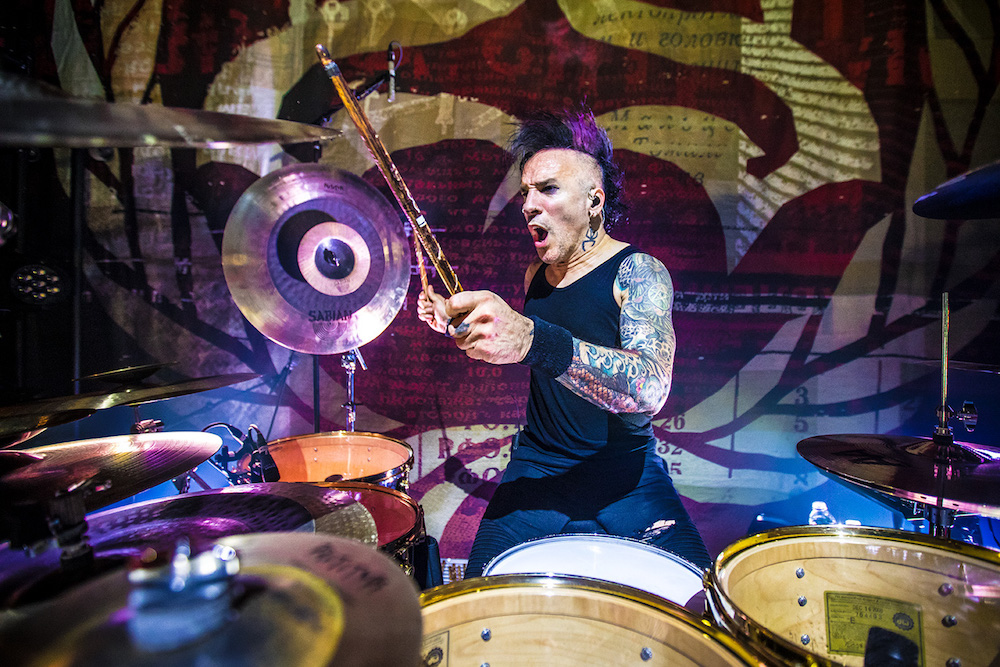 Hello Modern Drummer! I just want to start off by saying it's been a great year so far touring with my brothers in Stone Sour and supporting our new album Hydrograd. It's a very special record for us all. Why? Because it was our first record to be recorded in a room, all together live. I feel that approach really helped capture the life and energy we have on stage.
Another fun fact is that I took my first-ever kit that I received from DW Drums in 2006 back out on the road. I really loved the tone of it—so much so that I only had it out for a couple tours because I didn't want to see it get ruined while being hauled in and out of venues and through extreme weather. I kept it safe at home and used it strictly for the studio.
After recording Hydrograd, however, and hearing the drum tones our producer Jay Ruston and Francesco Camelli of Sphere Studios got, I felt it was time for these for drums to be back out again, pumping through sound systems all over the world! Advertisement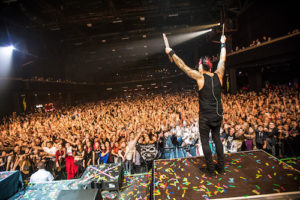 My favorite go-to that I definitely cannot live without is my trusty DW 7×13 Edge snare with die-cast hoops, which really focuses the sound with a deep punch and will allow me to crank it high for that crack. It works great live and is awesome in the studio. It just sits well in the mix in both situations. I use Evans G2 Coated on the batter side and Hazy 300 on the snare side. I did use a variety of snares on our last record, as well as some 6×14 snares, but for the most part (especially the more aggressive songs on the album) I used the Edge. And one more thing, I can't go without my custom Sabian, a 24″ anvil ride cymbal.
Lately I've been revisiting a lot of music that inspired and influenced me such as Led Zeppelin, the Police, Killing Joke, and Bad Brains. These bands were very important to me when I was learning how to play drums, and are just as important to me now. They are a very big part of my musical DNA.
Thanks for checking in and hope to see you all on the road soon!
Below is a rundown of everything I used in studio and live. Oh, and my drums have a name: "Guinness." She was named after our very good friend Dave "Shirt" Nicholls. RIP.
DW Collector Series Drums
Maple with Ebony stain and gold hardware
18×24 bass drum
7×13 Edge snare with die-cast hoops
8×12, 9×13, 16×16, 16×18 toms
6×12 tata drums
Sabian Cymbals
15″ Paragon HH
19″ and 20″ Paragon crashes
22″ Zen China
24″ Omni China
12″ Ice bell
8″/10″ Radia bell
16″ Radia China over 20″ Holy China
14″ AAX splash over 16″ HH Radia China and a 12″ chopper
24″ Roy Mayorga Signature anvil ride Advertisement
Hardware
(4) 9710 cymbal stand
s
(2) 9700XL cymbal stands
9334 double tom stand with boom
(2) DW9000 bass drum pedals
9300AL snare stand
Porter and Davies BC2 amp and throne
Evans Heads
24″ Emad II batter
24″ EQ3 resonant
G2 and G1 Clear on toms
G2 Coated and Hazy 300 on snare
Electronics
Roland SPD-SX
Check out Stone Sour's "Knievel Has Landed" with a Roy Mayorga drum cam here: 
Watch Roy Mayorga's interview with Zippo Encore from their UK/EU tour here: 
 For tour dates and more, visit http://www.stonesour.com.