On The Beat with Frank Zummo of Sum 41: Talks "Rise Above" Drumkit Display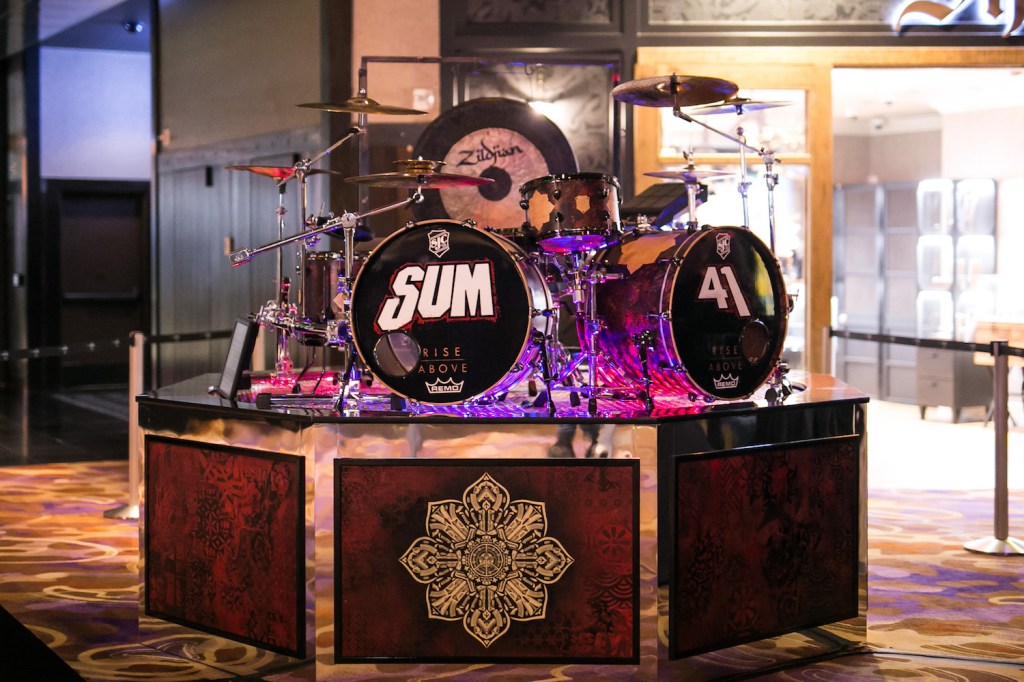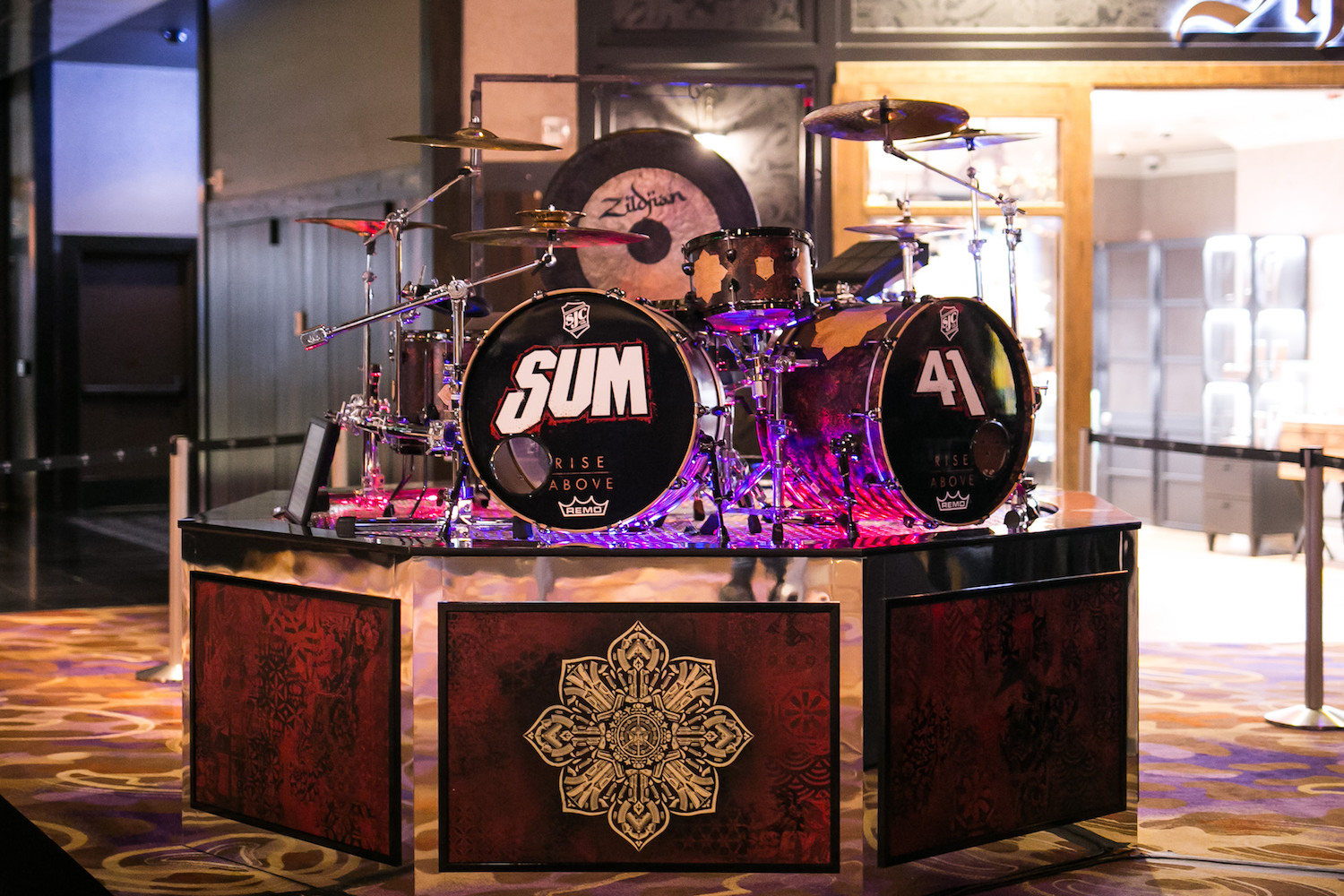 Hello MD family! I recently flew to Vegas for the unveiling of the drumkit and art display that I collaborated on with Obey Giants' Shepard Fairey and SJC Drums. The kit is now on display at the Hard Rock Hotel and Casino in the main entrance of the HRH Tower. I toured this kit from 2016 to 2017 on Sum 41's US and Canadian tours, festivals, and the 2017 Alternative Press Music Awards.
I've been collaborating with Shepard Fairey since 2012. He painted my bass drum heads for Dhani Harrison and Street Drum Corps over the years and the head he painted for SDC is still on display at Hard Rock Vegas. The goal was to collaborate on a full-blown kit to display his art. The idea for this kit started back in 2015. I had just become an SJC artist and Sum 41 was about to release our 13 Voices record. I like to speak and express myself through drumming and wanted to create a kit that had a very powerful and moving message. I called Shepard and expressed my thoughts and he sent over his "Rise Above" piece—it was perfect, powerful, and had an incredible message.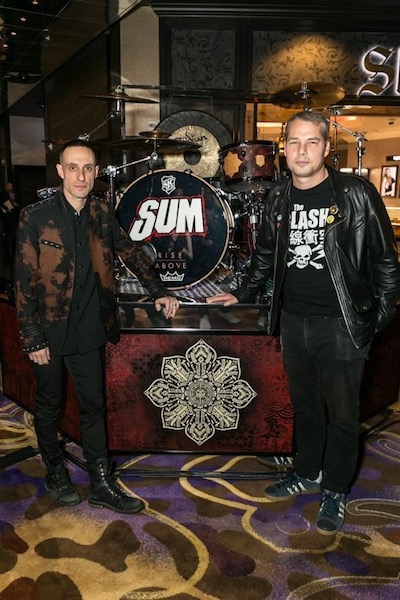 Note from Shepard Fairey about the piece:
"The Rise Above art piece deconstructs guns and repurposes them from weapons into components of a mandala. There is a power in making something beautiful out of ingredients that are cold and threatening. I hope the 'Rise Above' gun mandala can be a metaphor for spiritual transformation toward peace and harmony." Advertisement
We sent the art over to SJC Drums and they printed the art with dark organic patterns and three-dimensional wood grain mandalas on each shell. Then for the snare drum, we used his classic Obey Giant logos on the metal outside shell. They really nailed it sonically and artistically.
It was very special and inspiring to play this kit every night on tour. Towards the end of our touring cycle, the Hard Rock called and asked if they could display it. It was an absolute honor and I sent the kit right out. Shepard then created eight hand-painted wooden panels for the drum riser that surround the "Rise Above" display. It's amazing that the kit has a home in Vegas where it can be displayed and viewed by everyone to enjoy.
This summer, Shepard, SJC, and myself will be collaborating and releasing a limited and special edition art snare drum. Shepard and I will be donating all of our proceeds to the Silverlake Music Conservatory. We are currently working on our next drumkit collaboration for the next album cycle as well. Advertisement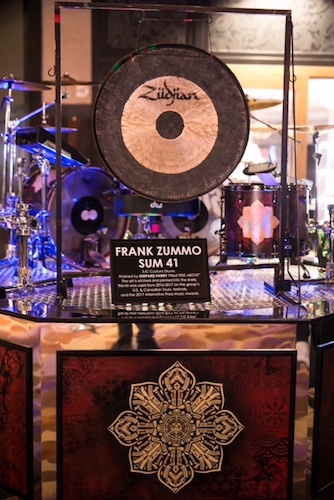 "Rise Above" Kit Specs
Drums
8×13, 13×16, 14×18, (2) 16×24 mahogany shells with maple veneer on top with roundover bearing edges and maple reinforcement rings
Custom printed Obey artwork with laser engraving, black nickel hardware
Snare Drum
6.75×14, maple/metal hybrid with double 45 bearing edges
Obey artwork on maple, black nickel hardware
Hardware
DW 9000 series rack system, pedals, and hardware
Zildjian Cymbals
15″ A Custom MasterSound hi-hats
19″ K Custom Trash Smash
2x 19″ A Custom Heavy crash
21″ A Custom 20th Anniversary ride w/ 7.5 Volcano Cup Zil-Bel
18″ Oriental China Trash
26″ Gong
Remo Heads
2x 24″ Custom Grafix Logo Heads (Sum 41 and "Rise Above" logos)
2x 24″ P3 Clear w/ Blackdots
13″, 16″, & 18″ Black Suede Emperors tops
13″, 16″, 18″ Clear Ambassadors bottoms
14″ Coated EmperorX Advertisement
Electronics
Roland SPD-SX
PD-8 Pad
Sticks
AHEAD Zummo model
Sum 41 is headed out on tour spring 2018 to celebrate the fifteenth anniversary of "Does This Look Infected." Check out the tour dates and more at www.sum41.com/tour.
Thanks to everyone reading and to the MD family! See you on the road!
SJC x Obey x Frank Zummo "Rise Above" Kit Reveal video
Check out Frank's Track by Track on Sum 41's 13 Voices from an MD archive OTB here: https://moderndrummer.com/2016/11/continuing-our-chat-with-sum-41s-frank-zummo/.
 Photos by @thuirer and Jeff Ragazzo/Kabik Photo Group