On The Beat with Alex Pappas from Finch and Speak The Truth Even If Your Voice Shakes: Talks Gear and New Project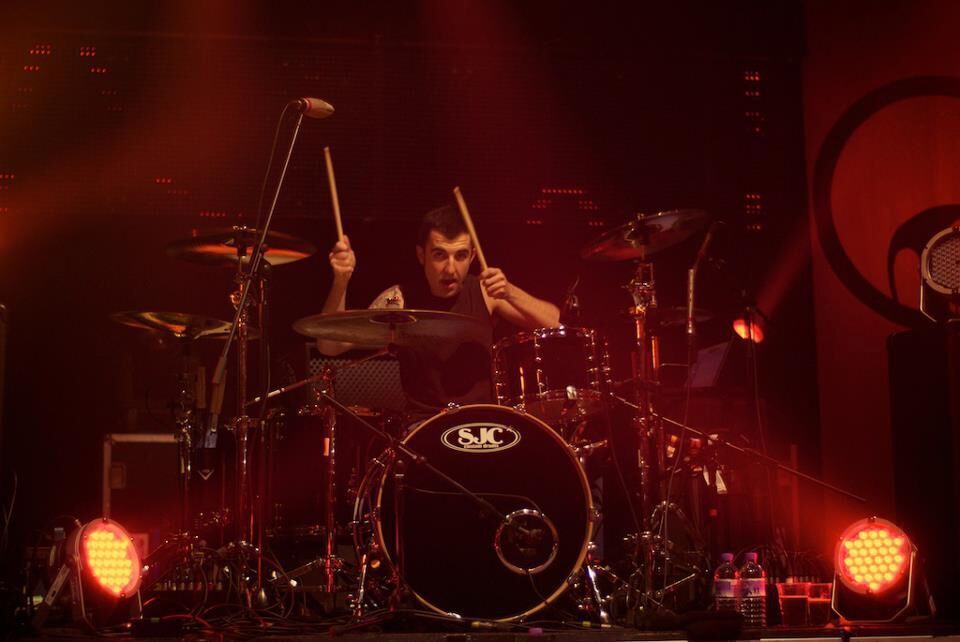 Hey Modern Drummer world! Pleased to meet you! I'm Alex Pappas from both Finch and Speak The Truth Even If Your Voice Shakes. Stoked to be writing this for "On The Beat!"
I started playing drums at the age of nine. I was an energetic youth, so one day my dad stuck me in front of an old Gretsch kit he had in an attempt to get me to burn off some steam. I took to it, they got me some beginner lessons, and I was introduced to all the gods of rock drumming by my instructor. I was on the young drummer chase to play to the fastest and hardest stuff I could find.
I started Finch with guitarist Alex Linares, whom I met in high school. We played in a few bands together in our teens and assembled the rest of the band in 1999. I've also done stints with bands the Guanabatz and Reason To Rebel.
I guess I'm best know for my drumming in Finch, but at the very moment I'm promoting our new super group project, Speak The Truth Even If Your Voice Shakes. The team consists of Buddy Nielsen from Senses Fail and some of us from Finch. The band is a nod to the sound that we all kind of came up with and started on. Advertisement
Live shows, I play an SJC four-piece kit with a 22″ kick drum, 14″ snare, 12″ rack tom, and 16″ floor tom. The toms and the kick are 6-ply mahogany shells. The snare drum goes back and forth between an older, custom satin finish OCDP, a Pork Pie Big Black, and a Noble and Cooley Alloy Classic. I tend to favor the metal shell snares a little more for the stuff I play.
On the Speak The Truth record, I used my DW custom four-piece. It's a 10″ rack and 14″ floor, smaller sizes than on my live kit, but those drums have always sounded so good in studio that I always end up using them for recording. It's got a pretty killer kick drum as well. I don't take the DW out for shows or touring anymore because I want to preserve it!
Thank you all for reading! Please check out Speak The Truth Even If Your Voice Shakes debut Everyone You Love Will Slip Away From You and I hope to see at least some of you at the Speak The Truth shows in the upcoming year! Cheers and practice, practice, practice! Advertisement
Check out the track "Everyone You Love Will Slip Away From You" official video here
 Preview all ten tracks of Everyone You Love Will Slip Away From You here