On The Beat with Michael Blicher: The Making of Omara with Michael Blicher, Dan Hemmer, and Steve Gadd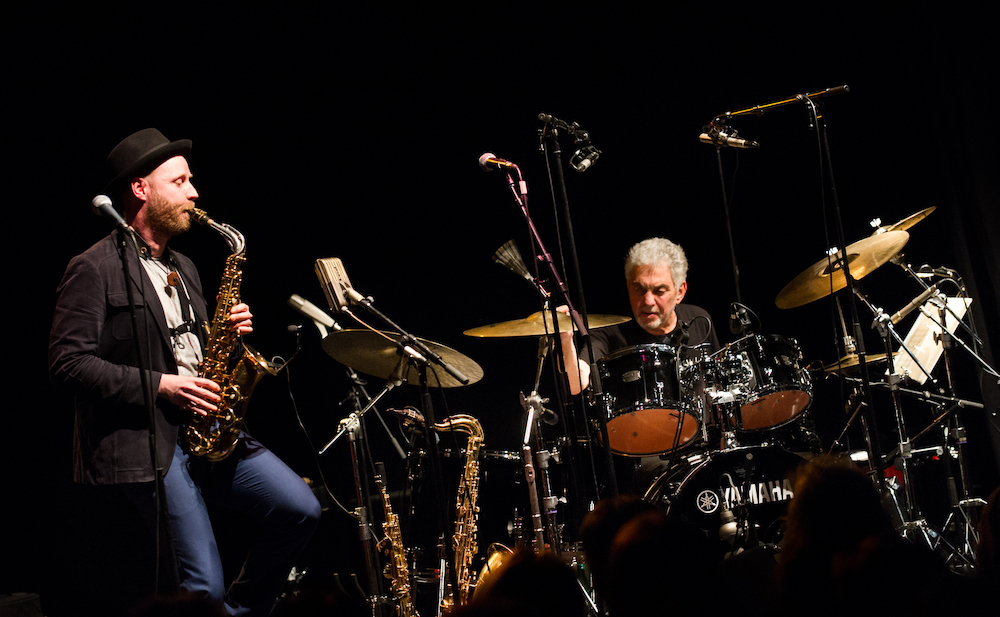 Hello Modern Drummer, I'm Michael Blicher. I play the saxophone but drums are what I should really be playing—I love them!
I have been studying grooves and rhythms all over the world and I am a big fan of New Orleans-influenced music. I love drummers like Shannon Powell, Earl Palmer, Freddy Below, Bernard Purdie, Al Jackson Jr., Jim Keltner, Jay Bellerose, and of course Steve Gadd—with whom I have been working with for the past six years.
I have toured Africa a few times with my band the KutiMangoes (two-time Danish Grammy Award winner) and a lot of my drum influences also come from Mali, Burkina Faso, Morocco, and Angola.
I'm so happy to announce that Steve, Dan, and I are will be touring this winter/spring with Blicher Hemmer Gadd. The tour will celebrate the release of our second album entitled Omara, and will take us to Australia, Thailand, Bangkok, and Japan. We recorded the album live during our 2016 tour and John Fomsgaard, who did the recordings, has truly captured some amazing and charming live energy from four late-night shows at some of Europe's best intimate jazz clubs. Advertisement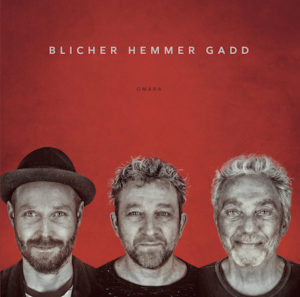 I met Steve Gadd at a master class in Denmark in 2012 and fortunately he liked playing my music. I later introduced him to the Hammond wizard Dan Hemmer, with whom I had just released my Astro Buddha Agogo album, and we started talking about doing a Scandinavian tour together. We debuted in 2014 with seventeen shows in Denmark, Norway, and Sweden.
Two minutes into our very first rehearsal I realized what a humble guy Steve is. We were working on a New Orleans groove in 3/4 and Steve kept asking if what he was playing was sort of what I had in mind and if the swing was right. So all of the sudden I found myself singing suggestions to what the world's most legendary drummer should be playing on his ride cymbal and snare drum and he made that feel totally natural to do. From then on everything has been totally down to earth and when we work together the three of us have one focus, making the music and each other sound as great as possible.
I often write songs with a specific drum groove in mind and normally I record sketches of the songs with me singing or playing the drum groove, laying down a piano part and the sax melody. I then bring the sketch and a chart with the melody, chords, and an idea of an arrangement to the rehearsals and we work from that. Sometimes we end up playing almost what I had planned and sometimes we come up with completely different grooves and arrangements together. Advertisement
Steve has an amazing sense of what a song needs and how a song should lay, so we talk a lot about this during rehearsals and also while touring. Some songs we even keep changing during the tour, experiencing with both tempo and feeling to get the vibe just right. 
We very much share a love for the same kind of music and we all focus on the same values with both listening and playing music, which makes it really easy to work together. And, as Steve said, "There are no egos in this band!" We all just want to play music that we like and have a great time together as a band and with the audiences. On the tour bus, we listen to a lot of music and most of it has a great groove. I introduced Steve to the drumming of Tony Allen, which he really liked, and one night driving back from a show Steve was DJing many of his favorite songs while "banging" on the dashboard—many with Jim Keltner on drums!
"The music that Michael wrote for this band is just very unique and it fits perfectly to his and Dan's way of playing. I grew up listening to organ bands—I love that kind of music. I know Michael has been listening to a lot of great New Orleans drummers, and I think he has come up with his own unique thing and the crowds love it."—Steve Gadd Advertisement
When the band was rehearsing for the tour, Danish film director Anders Jepsen asked if he could join us to portray the process of shaping the music and we are so happy to share this "behind the scenes" documentary with all of you.
Thanks for checking in! I hope you all enjoy The Making of Omara
Please visit www.BlicherHemmerGadd.com and www.MichaelBlicher.dk for tour dates and more.