On The Beat with Ole Nesset of Death by Unga Bunga: Talks Band, Tours, and Drumkit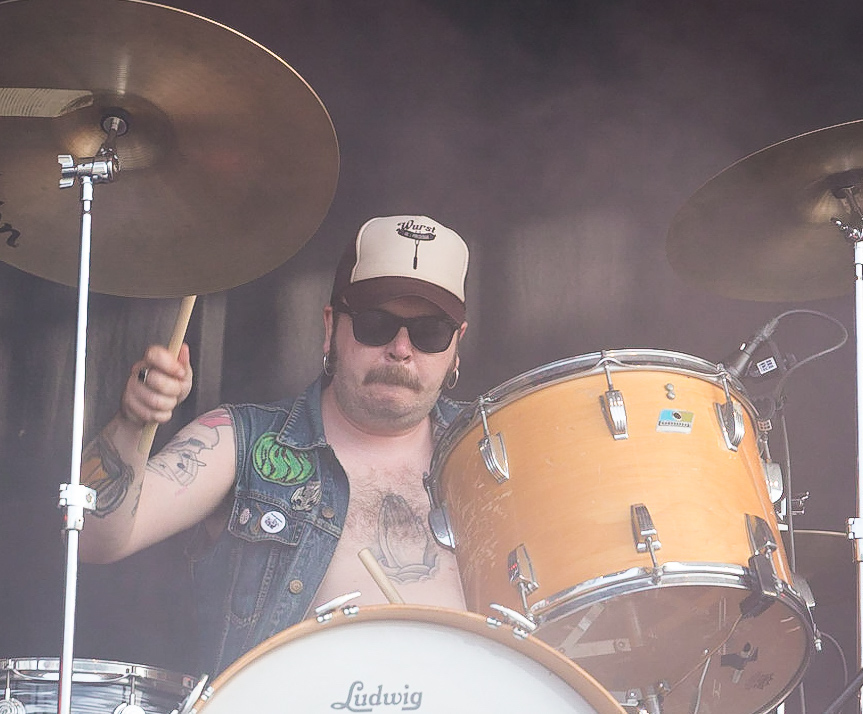 Hello, fellow drummers! My name is Ole Nesset and I am from Norway. I just got back home after a month of touring the States with my band, Death by Unga Bunga. This was our sixth time over the pond. We played SXSW a few times, a couple of headlining club tours, and this last time we were the supporting act for legendary Stiff Little Fingers. We were also promoting our latest 7" single release, "Bye Bye"/"Into the Night."
Death by Unga Bunga is a garage-punk/power-pop rock band. We are celebrating ten years in 2018. We've recorded and released four albums, an EP, and a few singles. By the time you're reading this, we'll be recording our fifth album.
While Death by Unga Bunga has been my main band for the past seven years, I've also recorded and toured with some other great Norwegian bands and artists, mostly punk rock, but also pop and electronic-pop music. Advertisement
I started playing drums when I was fourteen (I'm twenty-nine now). Growing up I was exposed to a lot of jazz and big-band music, and a lot of blues. However, I realized that rock music was what I was meant to do—and pretty much the only thing I still know how to do. My major influences are John Bonham, Buddy Rich, Bun E. Carlos, Ian Paice, and Carmine Appice, to name a few.
As far as I'm concerned, I have the best drumkit in the world. It's a 1979 Ludwig Classic Maple. According to Norwegian folklore, the kit was once owned by Carmine Appice and played in Norway for maybe one or two shows with Rod Stewart. After a lot of e-mailing back and forth with a friend of mine in NYC, who sent my pictures and info on the kit to Carmine, it turns out he might have only played it once. Maybe. It's also just half of the kit—there's one more kick and several toms. It is perhaps one of Ludwig's many signature/prototype kits that I guess got sold as "Carmine's kit." Either way, it's amazing.
The kick is 16×24, rack tom 10×15, and the floor toms are 16×16 and 16×18. I use Remo Coated Ambassador for the tom and floor toms, and I've removed all the bottom heads for a super dry, yet massive and thunder-like sound. I'm currently in between snares, but always looking for a dry, deep and controlled sound in a snare drum. I use Ziljdian cymbals, changing it up between different A and K models. I have been using Wincent sticks for the past five years. The 5BXXL model is the perfect weight and are long so I can adjust my grip depending on what sound I'm going for—especially on my hit-hat. Advertisement
Next up for Death by Unga Bunga are a few shows in Berlin and Amsterdam. As mentioned, we will be recording our fifth album and releasing it early next year. We are also coming back to the US to tour. In the meantime, you can check us out on Spotify, iTunes, Soundcloud, YouTube, and everywhere else you can stream music.
Thanks for reading, and a huge thank you to Modern Drummer for having me featured in "On The Beat!"
For more info, visit www.deathbyungabunga.no/, www.facebook.com/deathbyungabunga, www.instagram.com/deathbyungabunga, and www.twitter.com/dbyungabunga.
Watch the video for "Fight" here: 
Watch "Tell Me Why" here: