On The Beat with Mike Avenaim: Shares Studio Tips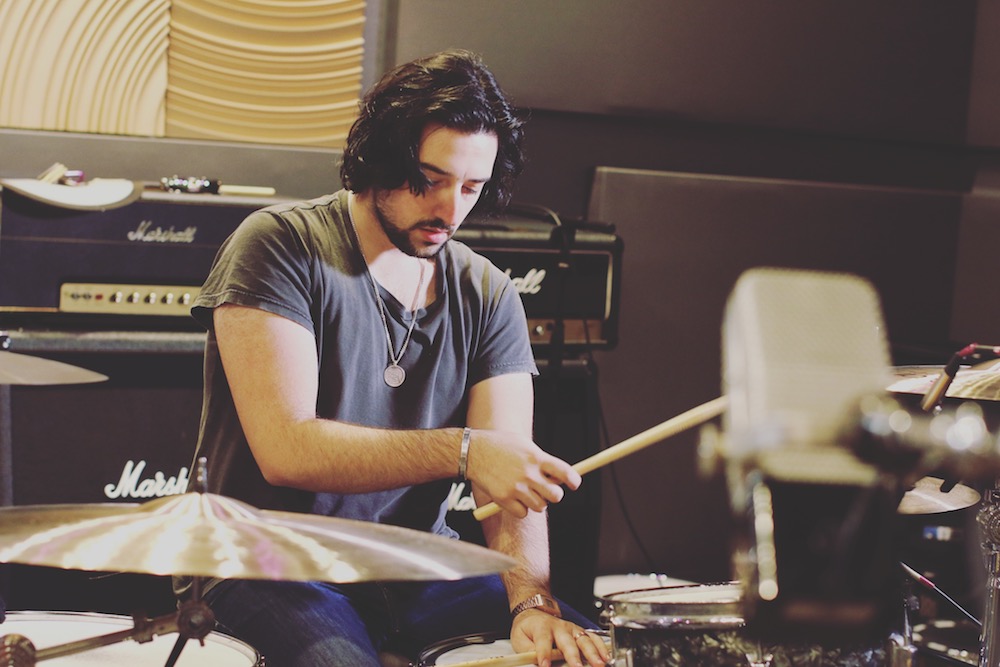 Hey everyone in Modern Drummer land, I'm Mike Avenaim. I spend most of my time as a session drummer and music director here in Los Angeles, but I also work in studio engineering, producing, programming, and composition for TV and film.
I just finished up a five week European tour as the drummer and MD for Hollywood Record's artist Jorge Blanco. We spent most of the year on the road doing radio promo and working on his upcoming singles. Jorge is a fantastic pop/funk/soul artist and it's been really great having the opportunity to work with him. Stylistically speaking, the live show is very fun to play with a full band.
Over the past year, when I haven't been on the road, I've been spending a lot of time in my studio recording. Fortunately, when I was growing up, I was encouraged to study a wide range of musical genres which has resulted in me being able to track many different styles of music. This year I've recorded or written music for a variety of records and projects, including tracks for Tori Kelly, Melanie Dyer, Jorge Blanco, CHiPs, Radio Disney Music Awards, VH1, CMT, and MTV. Advertisement
The creative space I'm in while making records keeps me musically stimulated and challenged, therefore always keeping me motivated. Having my own studio, as well as being an engineer on my sessions, has forced me to develop vital recording skill sets when it comes to crafting a unique drum sound for each track. I never use the same setup on anything that I'm doing. I want everything to be individual and for each artist to walk away with a product that is original and their own.
Here are some studio tips that can help you develop your own setup and sound:
Learn how to tune your drums correctly according to each style. This is probably the first and most important thing I emphasize to drummers entering the recording world. I cannot tell you how many engineers/producers have thanked me for being able to tune my drums. This will make your recordings sound drastically better regardless of your budget limitations.
Learn the limitations of the room on your recording and how to get the most out of it.
Don't invest in gear that's not appropriate for what you're trying to do. Do your own research and save up for the right stuff for your sound. In the long run, it's definitely worth the time and investment. This applies to drum selection, microphones, preamps, and compressors, etc. Advertisement
Really understand the genre you're about to record. So much of what makes "that sound" you're going for, is you and your hands, not the equipment. You must have intent behind everything you choose to play, or not play. Learn why the drummers you want to sound like play the way they do. Who did they love and listen to as inspiration?
You don't always need sixteen channels of drums. Sometimes, some of the best tones I've pulled on records have been with four mics.
Learn your DAW to the best of your ability. This will help you tremendously in all areas of your creative process. I'm a huge fan of Pro Tools HD.
Finally, once you've gotten everything you need, spend a lot of time with it to find out all of the best sound combinations you can possibly make. Practice. I still practice everyday with my setup to find out new and exciting ways to create music.
For the rest of the year I will be locked away in the studio making records. Thankfully, there are lots of exciting things coming down the pipeline in the New Year. Thanks for reading!
Watch Jorge Blanco "Gone Is The Night Live in Warsaw" (Kris Kross Amsterdam ft. Jorge Blanco) here: 
"Back To The City" Drum Video (unreleased track) Scott Weiland and the Wildabouts:
For more about Mike, visit:
https://www.youtube.com/watch?v=QgnUpJIad2k
https://www.youtube.com/watch?v=rabB40Eexsg
https://www.youtube.com/watch?v=a-oc9fg2FYU
https://www.youtube.com/watch?v=lkhW5WdxeC4 and
https://www.youtube.com/watch?v=7AcNrk1Q2ro