On The Beat with Ian Chang of Son Lux and Landlady: Talks Solo Project and New EP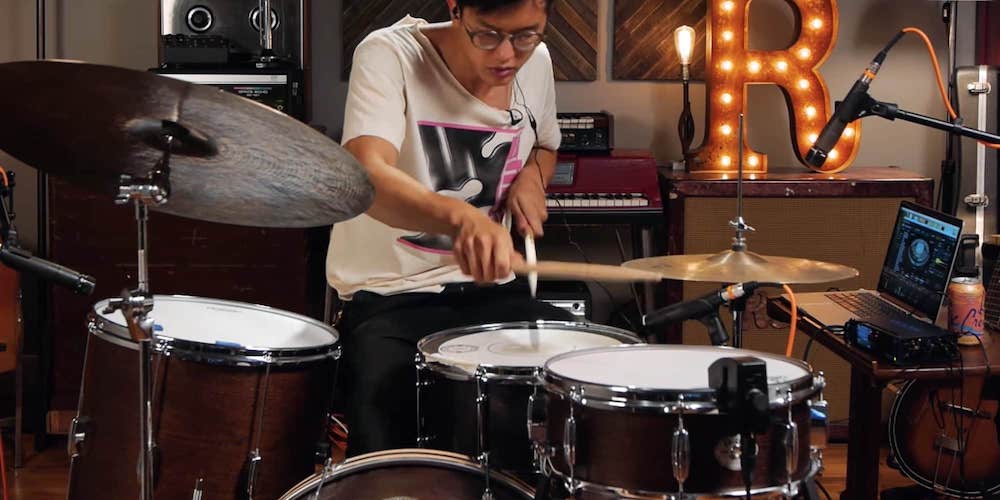 Hello MD readers! I'm Ian Chang, and it's an honor to share a bit about myself with you here "On The Beat." I started reading Modern Drummer as a kid growing up in Hong Kong, and it exposed me to a variety of great drummers and bands early on.
I'm writing this from a van full of gear and friends, in the middle of a Landlady US tour. I've been playing with the band for six years. It's been grueling yet rewarding because in addition to playing with Landlady, I'm opening the shows solo in support of my EP Spiritual Leader, which came out on Kowloon Records.
I've spent most of my time as a musician in bands (currently Son Lux and Landlady), or as a sideman in various situations, so embarking on a solo project is completely new territory for me. It came about when I was beta testing Sunhouse's Sensory Percussion in 2016. The technology transforms any drum into a powerful and sensitive sampler that can blend samples mapped across ten different kinds of drum hits.
Getting inside the technology has given me a fresh angle on producing electronic music. I saw it as an opportunity to subvert the expectation of electronic music being made up of gridded sequences and loops. When recording the EP, I adhered to a specific limitation; every track is an unedited take on my sensory setup with no overdubs. The idea was to impart a human feel (errors and all) on a completely sample-based palette.
For the live show, I've also gotten into exploring triggering lights with Sensory Percussion. My friends Adam and Sara Heathcott (Endless Endless) helped me program a light show that is completely performed via drumming, and it's been a blast to play. To get an idea of what this is like, I've included a video below for you to check out.
This current tour just wrapped up and I'm already hard at work on dates for 2018. Come by and check it out! Thanks for reading!
Watch "Spiritual Leader" video here: