Video Premiere! Night Verses' Aric Improta on "Groove," the First Installment of His Interpretation Project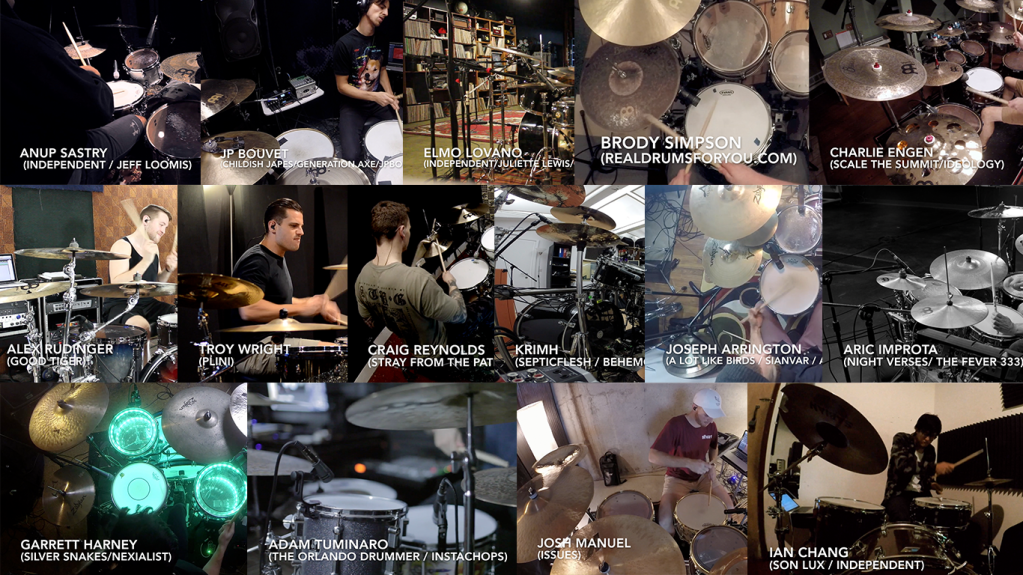 Video 1 of 4. Stay tuned for the rest of the series!
---
I guess it would be appropriate to start this by saying I've always loved the idea that there is no incorrect way to make art. Essentially, this project was inspired by that ethos, in an effort to illustrate the concept through music (more specifically drumming). I also dig the spontaneity that comes with collaboration, and fortunately, through my years of touring, I've met a lot of incredible musicians that I enjoy working with whenever I get the chance. Lastly, I always look for opportunities to promote the musicians in my life who I think truly deserve people's attention. The combination of all these has resulted in a series titled The Interpretation Project.
Basically, I started by contacting most of the drummers that I knew personally. It's always difficult because full-time musicians tend to have pretty unpredictable schedules and spend hardly any time at home. On top of that, the majority of drummers I know are perfectionists and aren't willing to commit to something if they don't have the time to do it right. So it took about six months to get a solid fifteen drummers involved.
My request to them was that they send me a recording/video of their raw interpretation of four commonly used musical terms: "Groove," "Creativity," "Chops," and "Intensity." For purposes of consistency, each recording would be eight bars of 4/4 at 120 BPM. Aside from that, the drummers were given no musical reference whatsoever—nothing to influence their composition aside from their personal ideas on what each term means to them. Advertisement
After receiving all of the recordings, I organized them into four separate videos, each video's theme being one of the terms. Then, with the help of my guitarist, we attempted to order and tie the clips together in a way that felt rhythmically cohesive. Once that was finished, Nick DePirro and Reilly Herrera, the guitarist and bass player of my band Night Verses, composed around the drums to help emphasize the ideas from each drummer.
The first video being released is showcasing "Groove." I find it really interesting to see how many different places the drummers took this simple idea. Ultimately everyone involved is undeniably talented at what they do, and as I had hoped, seeing the diversity between their compositional choices really emphasizes the concept that there are no rules in art. There isn't one specific pace or feel that really defines groove, or any of the other phrases for that matter. It's all about your personal interpretation and the natural feel that you bring to that idea.
The drummers involved are also very diverse, literally varying from working with Miley Cyrus to Behemoth to Skrillex. I'm beyond appreciative that they took the time to get involved and so happy with each of their submissions. Here's a list of everyone in the project. Advertisement
Anup Sastry has worked with Jeff Loomis, Intervals, and Sky Harbor, and he has a phenomenal solo project and also records and mixes bands. Anup recently finished the new Scale the Summit album.
JP Bouvet currently plays with his band Childish Japes and recently got off the Generation Axe Tour, playing behind Yngwie Malmsteen, Steve Vai, Zakk Wylde, Tosin Abasi, and Nuno Bettencourt. He also has jpbouvetmusic.com, which features more than 350 video lessons.
Krimh currently plays with Septicflesh. He's filled in as the live drummer for Behemoth and also has an awesome solo project under the moniker Krimh.
Craig Reynolds currently plays with Stray From the Path. Craig used to perform in the band Dead Swans and is also a talented and successful online educator.
Elmo Lovano, aside from being founder of the revolutionary music app "Jammcard," is also an incredibly versatile drummer. The diversity of artists he's performed with is beyond impressive: Miley Cyrus, Skrillex, Christina Perri, Pluuto, and Juliette Lewis, to name a few.
Brody Simpson is one of the best independent drummers out of Australia. Aside from starting his own innovative web program realdrumsforyou.com, which helps musicians get top-of-the-line session drumming through the easiest process possible, he also has an undeniably unique feel and approach to his instrument. Advertisement
Charlie Engen currently plays with Scale the Summit and Ideology. He also has one of the most impressive drum-focused Instagram accounts out there and uploads content almost daily.
Alex Rüdinger currently plays with Good Tiger, which features former members of the Safety Fire and Architects. He's also played and/or recorded with the Faceless, HAARP Machine, Threat Signal, and Conquering Dystopia.
Troy Wright currently plays with Plini and has recently toured as a live drummer for Intervals and Nick Johnston. He also has a very successful drum school based in his Australia.
Joe Arrington currently plays with A Lot Like Birds, Sianvar, Alone, and Love Mischief. He's also performed live with We Came as Romans and Chides.
Aric Improta currently plays with Night Verses and the Fever. He's recorded the last two Gin Wigmore records and recently won two GoPro awards for a couple of drum-based video projects.
Garrett Harney currently plays for Silver Snakes and has a solo project called Nexialist. He also recently finished a tour filling in live for Being as an Ocean and is recording the new Bringers release.
Adam Tuminaro, also known as the Orlando Drummer on YouTube and Instachops on Instagram, runs one of the most successful online drum education programs out there, providing lessons, loops, and hours of tasteful drumming. Advertisement
Josh Manuel, currently playing with Issues, is not only one of the most versatile drummers in rock right now, but also one of the most consistent players I've seen.
Ian Chang currently plays with Son Lux and has an awesome solo project integrating innovative electronic percussive elements.