Stone Temple Pilots' Core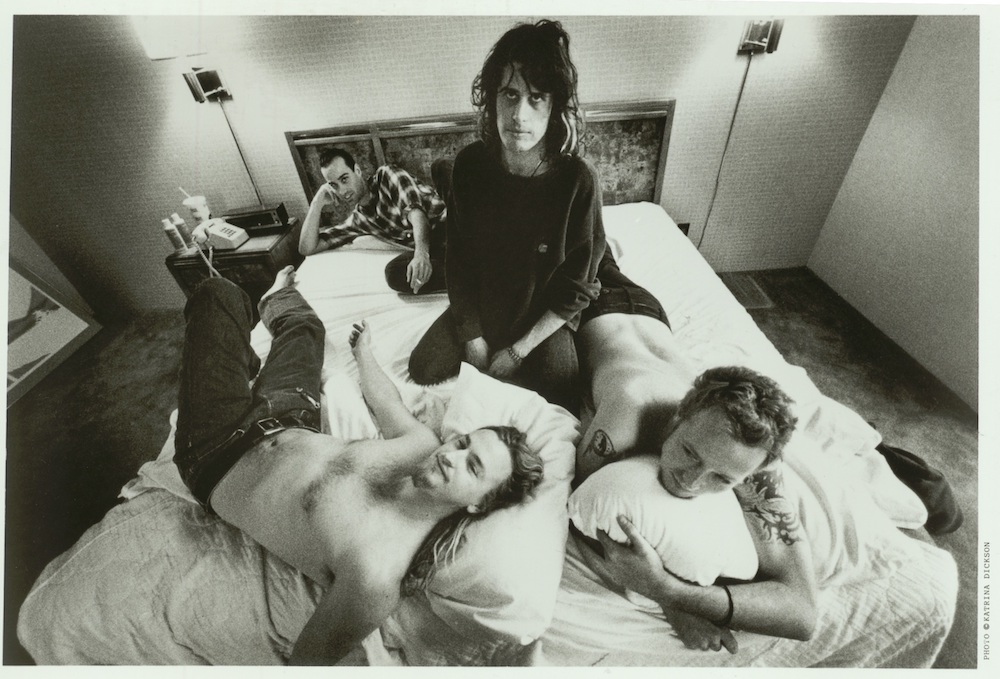 Core, the debut album by Stone Temple Pilots, was released in September of 1992, one year after Nirvana's Nevermind. This timeline meant that the album was measured heavily against the grunge zeitgeist. Tellingly, in an issue of Rolling Stone magazine, STP was voted the worst new band of 1993 by critics but the best new band by readers. In actuality, this was simply a group from Southern California attempting to make a great rock record that could be enjoyed from beginning to end. And at that, STP succeeded miles beyond expectations, landing three top-twenty singles.
Like many of his flannel-wearing brethren from Seattle, drummer Eric Kretz was inspired by riff-heavy '70s rock. Core opening track "Dead & Bloated" begins with singer Scott Weiland barking declarations at no one in particular and Kretz inducing the band into a Sabbath-esque riff with two giant snare flams. The record was mostly tracked live, in this case with Weiland standing about ten feet in front of Kretz, yelling at him like a high school football coach trying to get his team psyched up. According to Kretz, "It was purely to get the complete energy that that song needed. I just had Scott facing me and singing his ass off."
Kretz recalls Weiland working out his phrasing at a Mexican restaurant. "He started [singing], 'I am, smelling like a rose,' that whole line, and we're drinking dollar margaritas, just pounding on the table getting his feel of the song and the timing. Then Robert [DeLeo, bass] got a hold of that and put together the chords, and it was just so cool, man. To this day it's one of my favorite songs to play live, because those memories come back to me when I'm performing it." Advertisement
"Sex Type Thing" was the first single, and Kretz comes out of the gate in an effectively washy Phil Rudd mode. Among his noteworthy contributions to the track is the increasingly syncopated kick drum when the verse kicks in, as well as the descending bass line into the chorus, which neatly dovetails with the ascending guitar line.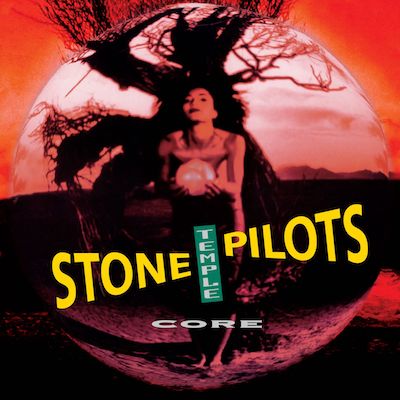 The album's second single, "Plush," provided another cowriting credit for Kretz, who composed the lyrics with Weiland while hanging out in a hot tub. The track moved the band into constant rotation on MTV and rock radio and became one of the biggest songs of the '90s, winning a Grammy and an MTV Video Music Award.
Core found Stone Temple Pilots still in the imitation phase of their development. Critics grumbled that Weiland mimicked Pearl Jam's Eddie Vedder, and deep cuts like "Sin" and "Piece of Pie" in particular are strongly reminiscent of Alice in Chains' Facelift, released two years earlier. Echoes of Led Zeppelin can be heard in the chugging groove of "Where the River Goes" (another track cowritten by Kretz) and the phased snare and tom licks of "Naked Sunday." But STP managed to sell 8 million records while trying to figure out their sound—clearly the group was more than the sum of its influences. And while disagreement continues regarding whether Core should be considered a grunge album, its songs are still played on rock radio today, right alongside those of the band members' heroes. Advertisement
Core was a commendable start for STP, and the two albums that followed, Purple and Tiny Music: Songs From the Vatican Gift Shop, saw the group develop by leaps and bounds. Sadly, that development paralleled Scott Weiland's substance-abuse issues, which led to his passing in 2015. But despite the chaos, Eric Kretz managed to leave an indelible impression on drummers who came of age in the '90s.
Core Gear
The recording of Stone Temple Pilots' debut predated Eric Kretz's long relationship with GMS Drums, and the main kit used on the record was a popular choice at the time. "Before making Core, I bought a Yamaha Rock Tour Custom," Kretz says. "It was in that really cool black sparkle [finish], and it had an 18×24 kick. It's still a great-sounding kit." Aside from the song "Creep," which was played on a vintage Ludwig kit, this is the set that Eric recalls tracking most of the album on.
Kretz, a new Paiste endorser at the time, used a selection of 2002 series cymbals, a 20″ Signature Power ride, and, on the more subdued tracks, some vintage models. He also had a taste for China cymbals. "I remember doing the little China splash dah-duh, dah-duh thing in the intro of 'Plush,' and [producer] Brendan O'Brien saying, 'You know, I really hate China cymbals' and trying to persuade me not to use them. So being the cocky bastard I am, I said, 'Well, f**k you—I'm going to put up two then,' one on the left and one on the right. [laughs] It's kind of comfortable to play it that way, you know." Advertisement
The Terminator
"When we did Core," Kretz says, "I got to use Drum Doctors out of Los Angeles, and Ross [Garfield] came down with a plethora of snare drums. One in particular, a 1980s Tama bell brass, was called the Terminator. Man, the thing weighs 25 or 30 pounds. That's the one you hear in 'Sex Type Thing,' 'Dead & Bloated,' and 'Piece of Pie.' I've never played another drum where the harder you hit it, the more it explodes—it has no point of choking out, whereas every other drum you hit too hard does that. This one is so incredible, and it turns out it's the same snare drum on 'Smells Like Teen Spirit,' Metallica's Black Album, and on and on. Everyone's used this snare drum."
Studio Rat in the Making
When making demos for Core, Robert DeLeo had a Fostex 8-track, and Kretz would rent a few AKG mics to track drums at his apartment. These and some demos made for Atlantic on overnight sessions in L.A. are included in Rhino's expanded twenty-fifth-anniversary release of Core. Kretz soaked up all the info he could from Brendan O'Brien while tracking the album, and eventually founded his own Bomb Shelter Studios in downtown L.A., where, among regular bookings, he was the house engineer for The Henry Rollins Show on IFC. STP also recorded their 2010 self-titled LP at the Bomb Shelter.
While making Core, Kretz learned of certain signal chains and gear that he needed for his studio. "A couple years after working on the first record," he says, "I bought a Neve sidecar with 1066 [preamps], which are from around 1969/70. I still use them for everything. A lot of the drums on our self-titled record went through there. You can try to describe [what it does to the sound], but it's better to just A-B it to a couple other mic pre's. Your ears just perk up from the classic sound." Advertisement
Stephen Bidwell
In this Article