On the Beat with Frankie Banali of Quiet Riot: Talks Road Rage and Drumsets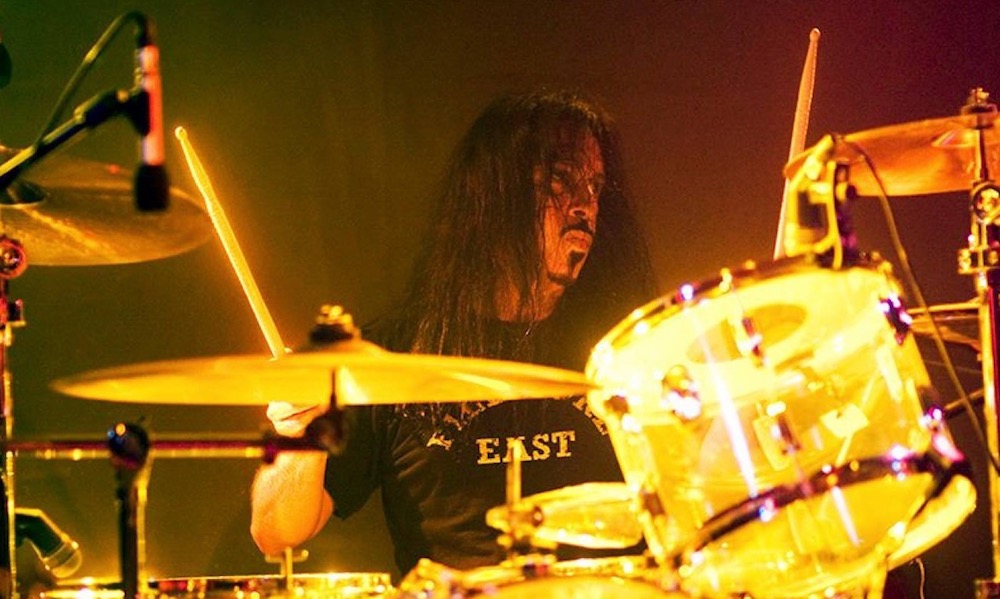 Greetings! Some of you may know me from my work with Quiet Riot, W.A.S.P., drumming on Billy Idol's hit "Mony Mony," or countless other recordings and live performances worldwide.
Quiet Riot will be releasing our first official record in eleven years, titled Road Rage, on August 4 2017, via Frontiers Srl. The new record contains all new original songs.
For my "drum heads" out there, the drumset I used to record the Road Rage tracks is my late-1969 Green Sparkle Ludwig Keystone badge set—14×26 bass drum, 16×18 and 16×16 floor toms, 10×14 rack tom, and a 1968 6.5×14 Supraphonic snare drum. The drumheads were all Remo Coated Emperor on the batter side and Coated Ambassador on the resonant side. This is the same drumset that recorded the 1983 Quiet Riot Metal Health album, and I am the original owner. (The drums were recorded 24-track-analog, old school!) The cymbals that I play for both live and studio work are my Sabian APX 24″ ride, 18″ and 20″ crashes, and 14″ hi-hats.
We also have a new music video, which was directed by Regina Banali who also directed the Quiet Riot documentary. It is the first music video we've made in twenty-nine years, and it's for the song "Can't Get Enough" from the album. For this video, I used my 1978 Ludwig Blue/Olive badge Black and White Vistalite C pattern set. The sizes are the same as the recording set listed above, and the snare drum was once again a Ludwig Supraphonic 6.5×14 Blue/Olive badge circa 1976, and of course Sabian cymbals. When I play this set live I use Remo CS on the batter side, and Clear Ambassador on the resonant side.
Quiet Riot also released the documentary Quiet Riot: Well Now You're Here There's No Way Back in 2015 on Showtime, which chronicles the history of the band inside and out. You can check it out here:www.quietriotmovie.com. Advertisement
Quiet Riot continues to tour year round, and the lineup includes longtime Quiet Riot bassist Chuck Wright, guitarist Alex Grossi, and vocalist James Durbin, whom some of you may remember from season ten of American Idol. Find the Quiet Riot live dates at quietriot.band/shows.
Check out the video for "Can't Get Enough" to see the 1978 Ludwig set here:
And hear audio tracks of the 1969 Ludwig set on "Freak Flag"
and "Wasted"
For more, visit radi.al/RoadRage, Amazon radi.al/RoadRageAmazon, iTunes http://radi.al/RoadRageiTunes, Google Play radi.al/RoadRageGooglePlay, and Spotify radi.al/RoadRageSpotify.