Barrett Martin Releases The Singing Earth Book
Former Screaming Trees/Mad Season and Current Walking Papers Drummer Tells "Musical Adventure Stories" From Around the World
Barrett Martin, a drummer, composer, producer, and writer best known for his work with several prominent Seattle bands including Screaming Trees, Mad Season, Skin Yard, Tuatara, Walking Papers, the Levee Walkers, and his own Barrett Martin Group, is releasing a new book, The Singing Earth, this coming August 25. The book chronicles Martin's musical work on six continents, beginning with his involvement in the 1990s Seattle music scene. From there it covers song lines and sea trails in Australia and New Zealand, trance drumming in Central America, Griot music in West Africa, musical diplomacy in Cuba, touring with a Brazilian rock band, recording shamanic music in the Peruvian Amazon, playing the blues in the Mississippi Delta, recording in the Palestinian West Bank, the power of resistance in American music, and the ancient influence of Asia in music and culture.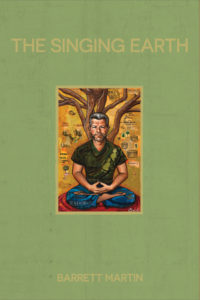 The book comes with companion CD soundtrack that contains rare, unreleased songs from Martin's various bands, as well as field recordings from the musical environments he has visited, which are included in the service of providing links between ecology, community, and the music that connects us to our greater humanity.
For a limited time, if you pre-order The Singing Earth, you'll receive a signed first-edition copy, plus all five of the Barrett Martin Group CDs mailed directly to your home. The signed book, the soundtrack, and the Barrett Martin Group CDs will ship in early August, and you'll receive it before the official release date of August 25. This special offer is only good for the first edition of the book. Pre-orders are available now at barrettmartin.com. Advertisement
Barrett Martin has played on over a hundred albums and film soundtracks, and when he's not on tour he produces albums in genres ranging from indigenous music to jazz, blues, and rock 'n' roll. Martin holds a masters degree in ehnology and linguistics and is a professor of music at Antioch University Seattle. He writes a music and culture blog for the Huffington Post, and in 2014 he was awarded the ASCAP Deems Taylor/Virgil Thompson Award for excellence in writing.
Watch a trailer about The Singing Earth here:
Click here to hear an unreleased Mad Season track on Soundcloud.
---
In this Article