News, News and Events
D'Addario Awards Six Chicago-Area Music Education Grants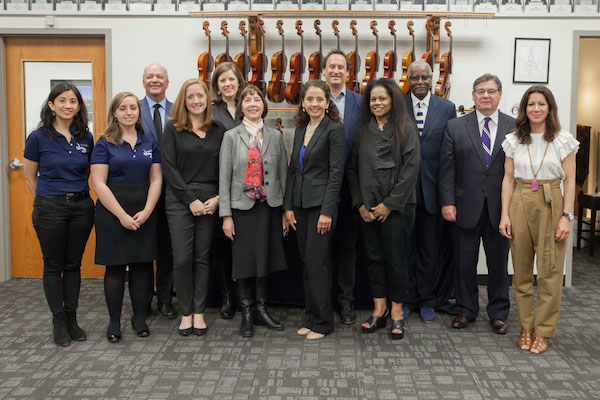 The D'Addario Foundation, a 503(c) nonprofit that partners with transformative music education organizations, handed out more than $17,000 in grants to six Chicago-area music education nonprofits on Friday, April 28. The event was held at the Burr Ridge, Illinois location of Quinlan and Fabish, and owner George Quinlan was on hand to present the checks with D'Addario Foundation Director Suzanne D'Addario Brouder.
"Handing out grants to not-for-profit organizations like these is really my favorite part of my job," Brouder said to the group in her opening remarks. "Our purpose as an organization is not only to support organizations like yours, but also to recognize and raise the visibility of the tireless and incredibly impactful work you are doing in expanding music education possibilities." She added a personal thanks to Quinlan: "I want to take a moment to thank George Quinlan and the people at Quinlan and Fabish who have been partners of D'Addario for a very long time. I know the folks here at Quinlan feel very strongly about supporting music education as well, which is why we chose this location to host the presentation."
The five organizations on hand to accept the checks included the Chicago Jazz Philharmonic's Jazz Academy Program, Chicago West Community Music Center, DePaul's School of Music's DePaul Community Music, El Valor's Music Program, Intonation Music Workshop, and The People's Music School.
"As grant makers, we have pioneered a process of supporting grassroots efforts to bring music back into underserved communities, particularly in Illinois where our education system is so challenged," Brouder said. "Because of this, independent not-for-profits are more vital to widening the achievement and access gap for music and arts education."
Photo by Kristi Hughes
​