On the Beat with Jeff Olson and Buenos Diaz: Talks Relaxed Recording Sessions and Inspired Performances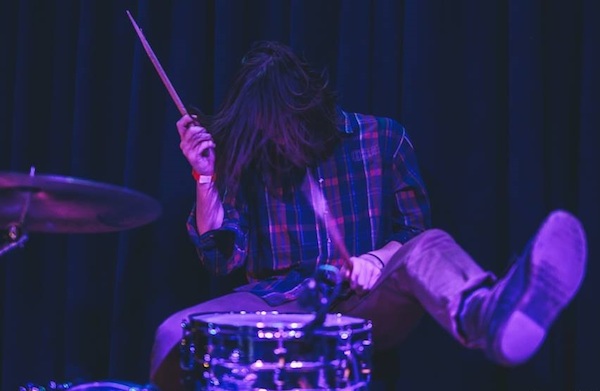 Hey MD readers! My name is Jeff Olson and I'd like to talk about the new record I just cut with the psych/rock/blues group Buenos Diaz from Austin, Texas.
I cut my teeth playing at a weekly blues jam down in Austin hosted by some old-school blues cats who took me under their wing and taught me about playing musically and responding to other players. Every Sunday my parents would take me because I couldn't drive or even get into the seedy bar! Throughout high school I attended the jam less often and drifted toward playing jazz and some modern rock but have always had a soft spot for that straight-up unapologetic style of music. So when I met guitarist/singer Nick Diaz from Buenos Diaz, I immediately connected to his ballsy, aggressive style.
Going into the studio we bonded over our passion for chasing that live-in-the-room analog sound that can just reach out of the speakers and grab you by the collar. A lot of sessions I do prioritize presenting a polished, idealized version of the music, which works in some genres, but to really punch someone in the gut with a rock 'n' roll track you need a continuous arc of energy over the whole take (which can sometimes disappear as soon as you start building comps and nitpicking fills).
I've worked with engineer Daniel McNeill (White Denim, the Heavy) a bunch. His enthusiasm in the studio really helps elevate sessions by giving them a fresh, exciting vibe, almost as if you're writing the song right there! It's common to feel drained and almost sick of the music after running fifteen-plus takes chasing that one hit on the second bar of the third verse; I've endured that workflow pretty often, so it's refreshing to work in a relaxed environment that asks for and rewards musical risks. Advertisement
We took it slow, took breaks, letting each take fill the moment. Releasing the stress of trying to "nail it" elicited more inspired performances than if we had put ourselves under the gun. It's a privilege to work in the studio at that pace, but it's also really important for a band entering the studio with limited time to do as much pre-production as possible in order to free up physical and mental space.
Once we had some heavy, raw sounding tracks, we relaxed and started messing around with the awesome gear in Daniel's studio. My favorite trick was the analog vary-speed guitar solo on "Santa Fe." We slowed the tape machine down to half speed while Nick overdubbed a DI guitar solo through an octave pedal and some tremolo. After bringing the tape machine back to a normal speed and pitch range, the tremolo rate on the guitar unexpectedly doubled, making for what sounded like a coked-out space laser!
Thanks for reading and check the record out when you get a minute. https://soundcloud.com/buenosdiazmusic/sets/buenos-diaz
Watch Buenos Diaz live at the Mucky Duck (Houston, TX) here:
For more news and updates, visit www.buenosdiazmusic.com and www.facebook.com/buenosdiazmusic.
​