Remo Presents DrummerNight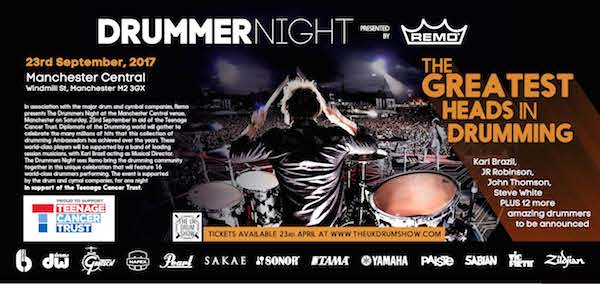 In association with major drum and cymbal companies, Remo will once again present DrummerNight in support of the Teenage Cancer Trust. The event will be held at Manchester Central on the September 23, 2017 as part of the UK Drum Show.
Diplomats of the drumming world will gather to celebrate the many millions of hits that this collection of no less than sixteen drumming ambassadors has achieved over the years. The world-class players will be supported by a band of leading musicians, with Karl Brazil (Robbie Williams, James Blunt, Feeder) acting as musical director for the evening.
The previous DrummerNight presented in London included Karl Brazil, (James Blunt), Chad Smith (Red Hot Chili Peppers), Mark Schulman (Cher, Pink), Andy Newmark (Bryan Ferry/Roxy Music), Geoff Dugmore (UK session great), Simon Hanson (Squeeze), Paul Stewart (the Feeling), Jojo Mayer (Nerve), Trevor Lawrence Jr. (Snoop Dogg, Alicia Keys), Ian Matthews (Kasabian), Andrew Small (Kylie Minogue/Massive Attack), James Hester (Malakai), Cherisse Osei (Mika), Jerry Brown (Girls Aloud), Neal Wilkinson (Van Morrison), and Steve White (Paul Weller). The unique finale featured all the drummers taking to the stage on their drumsets. Advertisement
Giving their time and amazing chops to a very worthy cause are Karl Brazil, John "JR" Robinson, and Steve White plus many more to be announced before the event. More legendary artists will be added, depending on commitments.
Support for the event is provided by British Drum Company, DW, Gretsch, Mapex, Pearl, Sakae, Sonor, Tama, Yamaha, Paiste, Sabian, Zildjian, Vic Firth, and the UK Drum Show.
Tickets will be available for sale on April 23, 2017 at www.theukdrumshow.com.
For more information, visit www.drummernight.com, www.theukdrumshow.com, and www.remo.com.
​