On the Beat with UK Session Drummer Steve Barney: Talks Tours, Shows, and Recordings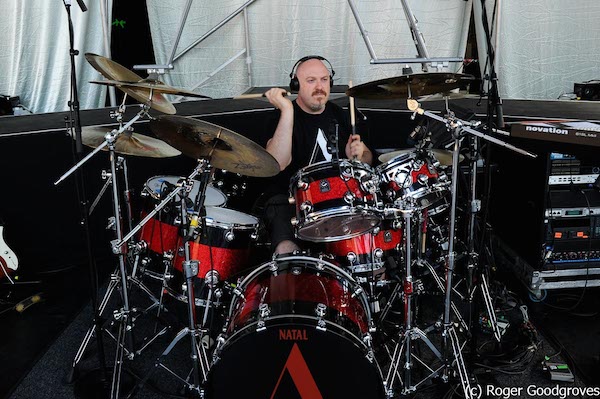 Hi Modern Drummer readers! My name is Steve Barney and I'm a UK-based session drummer who is fortunate to hit drums and people applaud! My first inspiration for playing drums came when my dad took me to see a Genesis concert in 1980—I was completely blown away by Phil Collins and Chester Thompson's drumming. Watching that show was my catalyst, and as we left the theatre that night, a nine-year-old "me" knew what path he hoped for in life.
Fast forward to the present. I've been fortunate to play with an eclectic mix of pop/rock royalty during my career—in particular tours, shows, and recordings with Annie Lennox, Jeff Beck, and most recently powerhouse singer Anastacia.
Much has happened since my last feature in Modern Drummer (January 2005). At that time, I was touring with Eurythmics' legend Annie Lennox, who was opening as a special guest on Sting's North American tour. I have many special memories of those shows, especially hanging with and watching Sting drummer Keith Carlock. I continued working with Annie for her 2007 Sings tour (Songs of Mass Destruction), did international promotion for A Christmas Cornucopia release, plus recorded drums on "Shining Light," Annie's cover of a great song by the Irish band Ash. There were also memorable concerts in South Africa for Nelson Mandela's 46664 campaign, as well as playing on Annie's "Little Bird" for the closing ceremony of the 2012 London Olympics. Advertisement
From 2005 to 2012, UK pop bands the Wanted and Sugababes took me on tours of UK, Europe, and South America. I also played a BBC charity event, Children In Need Rocks (2009), held at London's prestigious Royal Albert Hall. I was in the house band, playing with Dame Shirley Bassey, Take That, and the BBC Concert Orchestra.
Last year I recorded tracks for Japanese artist Hotei (who is celebrating his thirty-fifth year in music), and have recently returned to the studio with him to record new music. Hotei is best known internationally for "Battle Without Honor or Humanity," the title track to Quentin Tarantino's Kill Bill. The great Zachary Alford (David Bowie) is Hotei's touring drummer and has been for many years.
I've been working with Anastacia since her Heavy Rotation Tour (2009) and have contributed to all her tours/live shows, which have taken the band and myself on many musical miles and travels around Europe, Australia, and Russia. In 2016 she celebrated her career with The Ultimate Collection album, which we toured heavily, plus released a live album entitled A4App. Advertisement
For 2017, I've rejoined Anastacia for the continuation of her Ultimate Collection Tour with shows in UK, Germany, Switzerland, Italy, Spain, Belgium, and Netherland, and it's shaping up to be another great tour.
As I sit here typing this to you all from a hotel room (in Frankfurt, Germany), it's amazing to think what all has followed since seeing that Genesis concert those many years ago, and I'm very grateful for the opportunities that have come my way.
Thank you to Natal, Zildjian, Remo, Vater, Porter & Davies, Protection Racket, Roland, Sennheiser, and Rockin' Wellness.
Thanks for reading and I hope to catch some of you on the road!
For more on Steve, visit facebook.com/barneydrums, instagram.com/barneydrums, and twitter.com/barneydrums.
Watch Steve's drum solo here: