Anton Fig On Tour With Paul Shaffer and the World's Most Dangerous Band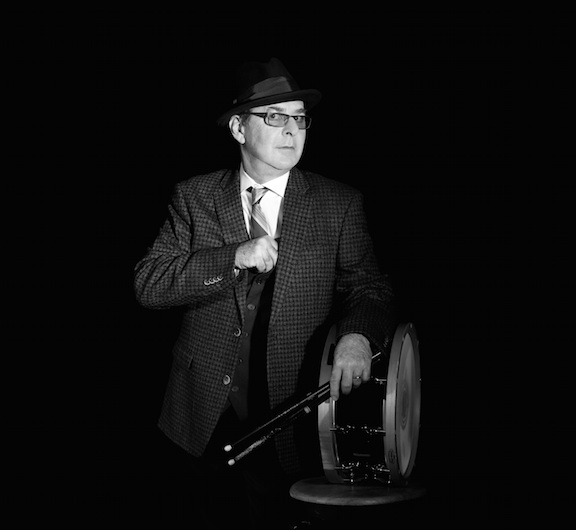 by Patrick Berkery
photos by Sandrine Lee
From 1986 to 2015, few drummers were more visible than Anton Fig. You could find him on network TV practically every weeknight backing the World's Most Dangerous Band—later rechristened the CBS Orchestra—on David Letterman's former NBC and CBS late-night programs. The drummer also held down several high-profile house-band gigs, such as numerous Rock and Roll Hall of Fame induction ceremonies, the 2001 September 11 benefit Concert for New York City, and Bob Dylan's 1992 Thirtieth Anniversary Concert. This past March 17, Fig and Paul Shaffer and the World's Most Dangerous Band released their first album post-Letterman, and the group is currently on a tour with dates booked through June. Modern Drummer recently spoke with the South Africa–born drummer about the new album and tour, his former Letterman gig, and more.
MD: Letterman's love of drums and drummers was pretty apparent on air, especially later in the CBS years, when he would ask drummers about their kits after they'd perform.
Anton: He was always very interested in drumsets and drumming. I've got a Yamaha signature snare, which is black with the wooden hoops, because of Dave. He saw Matt Cameron on the show, and Matt had that full drumset. Dave came over shouting at me, "You've got to get that kit!" He was really excited about it. And the next day I called up Yamaha and said, "Listen, I've got to get one of these kits. Dave insists on having it on the show."
Having all the drummers on the show in 2011 for Drum Solo Week was his idea. He had a friend and fellow comedian who was into drumming, and they were watching Buddy Rich YouTube clips together. That's where he got the idea. Advertisement
MD: Would he ever hop on your kit?
Anton: There was a time when he would come down to rehearsal, and he would end the rehearsal by playing on the drums. That kind of stopped when he had his heart procedure in 2000. But when I did my drum video [In the Groove] I asked him to do a little something, and he did.
MD: You could tell that he's a serious lover of music, but you could sense that he's really into certain bands in particular.
Anton: He loves the Foo Fighters and Pearl Jam. He loves country music. He loves a lot of different things. Speaking for myself, I got a lot of affirmation from him. He used to say he loved the band and having us as part of the show. We really felt like we were playing for someone that was listening to us. It made us try really hard every night.
MD: Letterman has a reputation for being notoriously private. Did you ever talk with him about music one on one?
Anton: A little. When he used to come play the drums, he would write something on the snare, and I would reply. So we sort of had an ongoing little discussion. We'd do a little talking. He's definitely a private person, but you could still talk to him. He's extremely intelligent. He always knew a little bit more about any subject than one should know about certain things—even in music. He'd reference someone and you'd think, How the hell did he pull that name out of the hat? Only people who were deeply invested in music could have that kind of knowledge. Advertisement
MD: You posted a video clip surveying the stage right after wrapping the last Late Show with David Letterman episode in May of 2015. What happened next? Did you pull up outside the Ed Sullivan Theater and load out? How soon did you get your rig out of there?
Anton: The drums were gone by 10 a.m. the next morning. When I took that shot at the drums, it felt like everyone was just in shock. But maybe it was just me. It was surreal. Like, This is done. It's like some things in life—once it's done, it's final and you can never put it back together again. It's over. Right after that, there was a party, and then the show was over. By the next morning the whole set was dismantled. I didn't actually go down there. The crew that looked after the equipment at the show struck it. And I haven't been back to the place since. I know it's completely different.
MD: Obviously the show consumed so much of your professional life for many years. Did you have gigs already lined up before the show had ended, or did you purposely build in a little downtime to decompress? Advertisement
Anton: I've been doing records with Joe Bonamassa since about 2006, along with a couple live shows at Royal Albert Hall and Red Rocks. About six months after I knew the show would be ending, Joe and I started to talk about the possibility of me coming on board with the band. I was pretty sure that I was going into that gig.
MD: You'd done some touring in the past. I remember shows with Kiss's Ace Frehley after you played on the Frehley's Comet record in 1987.
Anton: Yeah, I did some shows with Ace. Also I had my band, Spider, with Holly Knight. We opened for Alice Cooper on a bunch of dates. And I toured with Robert Gordon and Link Wray. So I'd done a little bit. But because I'd been on the show for twenty-nine years, obviously I couldn't tour much during that period.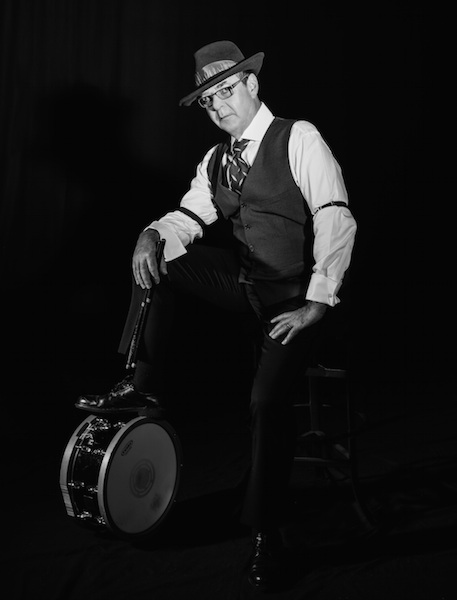 MD: Was there much of a learning curve to getting back into the touring grind after playing the show for so long?
Anton: It's totally different. Although the Letterman show was only a short amount of time each day, it was really concentrated. We only had a week off, occasionally two weeks, every six weeks. If you do that for twenty-nine years, it starts to feel like you're almost never off. There were times when I'd be working the show, playing at night, doing sessions during the day, and booking other gigs on weeks off. But I knew I was coming home every night. I'd be home for dinner and had the weekends off. It was that kind of thing. Advertisement
Touring is completely different. I go out and play really hard for six or seven weeks and then come back to take a little time off. And on tour, it's over two hours every night. You have to build up the stamina for that.
MD: What was the impetus behind getting the Letterman band back together to do the record and shows?
Anton: Paul wanted to do a record. And he talked about it with producer Richard Gottehrer, who we'd all worked with previously. I'd done Joan Armatrading's Me Myself I record and some Robert Gordon and Link Wray recordings with Richard. He was really interested in using the Letterman band instead of a bunch of session musicians. I was on tour, and Paul called and said that we were going to do a record. So I came in off the tour and we went into the studio. We rehearsed for a few days and cut the album.
MD: It sounds like you're playing along with programmed parts or a drum machine in spots.
Anton: All of the pre-production was done with a drum machine. When we rehearsed, I was playing with the machine. I think the idea was for me to play, and then we'd put the drum machine sounds over the acoustic drums for most of the record. We would use some of my feel and fills with the electronics. There are also some songs where I play against the machine. In some songs, you can definitely hear the two parts happening. Paul wanted to play classic songs but make them sound modern, as opposed to when they were initially recorded. Advertisement
MD: In TV, you hear of things like the network giving notes to the host, producer, or writers. Were there ever any suggestions coming down to the band from "upstairs" on what you guys should do musically?
Anton: No, and that was the beauty of it. The band was its own entity. Dave entrusted that to Paul. We just had to answer to Paul. I don't think Paul was getting any major missives from "upstairs," but you'd have to ask him that.
MD: You guys have played so many Rock and Roll Hall of Fame shows. Do you have any particular highlights?
Anton: I remember playing with the Who at one show, and we had an impromptu jam. And I also remember seeing Dylan and Jagger singing, with Keith Richards on guitar. And there were a million other great guitar players up there and I thought, This is absolutely surreal. But now that it's on TV, those impromptu jams are much more organized. They structure the whole thing. Advertisement
MD: You also played Bob Dylan's 30th anniversary concert at Madison Square Garden, which was such a great show. I watched it recently, and it's amazing how many iconic people played and how great everyone sounded.
Anton: That really was great. It was crazy. That was one of the situations where I was rehearsing the Dylan concert, then running up and doing Letterman, and then running back to rehearsal. There was a lot of that going on at the show at the time—major juggling of schedules to do what we could—because if you don't do it, someone else will.
MD: Did the workload ever get to the point where it wasn't manageable, or to where you were burning yourself out?
Anton: No, I don't think so. I worked a lot, but there are other people that have worked more. I think now, because I tour and work really hard, I allow myself to take a bit of a break. I could get home and call people up and ask, "Hey, you got anything?" But I think this preserves a freshness where I can go out again and work. I'm currently at home mixing. It's not like I'm forgetting about music or not touching my instrument. Advertisement
MD: You played on Ace Frehley's first solo album and on Kiss's Dynasty and Unmasked records. Was there ever talk of you becoming a member of the band?
Anton: It was a studio thing, but there were some rumblings. That was around the time when I had my own band, Spider. We had our own song in the Top-40 and that was our own thing. So it never really happened.
MD: That had to have been a pretty surreal experience. You were a young player on the way up, and suddenly you were drumming in place of a very well known member of one of the hottest bands in the world.
Anton: Yeah, it was. I met Ace because Spider had been auditioning bass players, and someone came in and said they had a friend named Ace, from Kiss, and that he was looking for a drummer for his solo record. So he got me an audition. I went and played with Ace a few times and he asked me to do the record. After I did the record, I guess Peter Criss had a broken arm or something and couldn't do Dynasty, and they had to stay on schedule. So they got me because Ace's record did really well and they liked the way it sounded. That was the first time I had come close to an enormous band in America. It was crazy. Advertisement
MD: But it never got to the point where they were trying to develop a character for you, or seeing what you looked like in makeup.
Anton: No, we never spoke about any of that stuff—nothing much beyond what it would be like if I was in the band. There have been various conflicting stories over the years, but that period was a lot of fun.
​