Legendary Bassist Nathan East on His New Album <i>Reverence</i>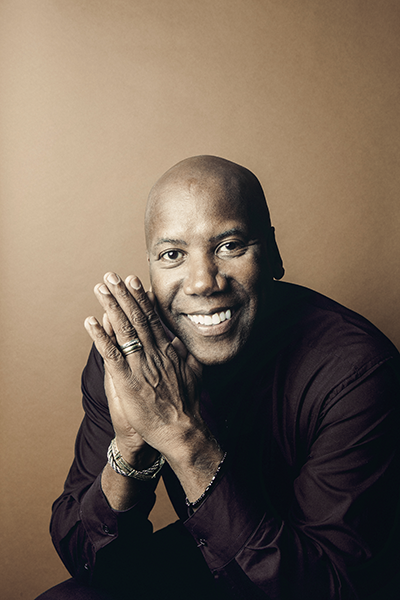 by Billy Amendola
On Nathan East's second solo album, Reverence, he once again steps into the spotlight as bandleader. Produced by East and Yamaha Entertainment Group of America founder Chris Gero, it's no surprise that shortly after its debut (less than one month ago), the album hit the number-one spot on both the Jazz Albums and Contemporary Jazz Albums Billboard charts. It follows his 2014 Grammy-nominated self-titled debut, which topped the Billboard Smooth Jazz Albums chart and held the number-one spot for a record-breaking thirty-six weeks on smoothjazz.com.
Reverence contains collaborations with Phil Collins, Eric Clapton, Yolanda Adams, Ruben Studdard, and Chick Corea. It also features drummers Teddy Campbell, Vinnie Colaiuta, and the late Ricky Lawson.
As a founding member of the renowned contemporary jazz quartet Fourplay (with Harvey Mason on drums), East is one of the world's most recorded session bassists. With more than 2,000 album credits to his name and appearances on several Grammy-winning songs, including "Get Lucky," "Footloose," "Change the World," and "Easy Lover," Nathan has played for, co-written with, or toured alongside legendary artists like Michael Jackson, Stevie Wonder, George Harrison, Eric Clapton, Phil Collins, Sting, Toto, Barry White, Herbie Hancock, and Barbra Streisand. Modern Drummer is honored to have Nathan take the time to discuss a few of his favorite drummers and his latest recording. Advertisement
MD: What tips can you offer on what drummers should be concentrating on for developing a tight and musical relationship with their bass player?
Nathan: A drummer should really pay attention to the chemistry he has with the bass player. I liken the relationship between the drummer and bass player to that of a married couple that drives the rhythm section. Of course, listening is the key to everything!
MD: What should drummers never do?
Nathan: Drummers should never lose the groove. I am also not a big fan of drummers who try to catch every single lick that's being played by the other players. Keeping it simple and locked works just fine. Lastly, a drummer should never drag or rush.
MD: Do you recall any special sessions and the drummer on that particular recording?
Nathan: Jeff Porcaro was my all-time favorite drummer and we did countless sessions together. When I would walk into the studio and see him, I knew that I wouldn't have to work too hard that day. We would just start laughing when we saw each other at the sessions. Check out the song "Lady Love Me (One More Time)" by George Benson and listen to the fun the two of us are having on that track! Advertisement
Also, I remember on a session with Rickie Lee Jones she was showing us the next song to record and while playing the piano the song went through several time changes—speeding up, slowing down—and when she finished playing it Steve Gadd said with a straight face, "I don't really hear drums on this song." That got a good laugh out of everyone.
Vinnie Colaiuta and I had the great pleasure and honor of playing in the Herbie Hancock quartet together. Herbie's song "Actual Proof" provided much enjoyment for all of us, and Vinnie and I were surprised to learn that the song stays in 4/4 time throughout. Some of our performances can be heard on YouTube.
I'm really so fortunate to have had the opportunity to play with so many great drummers! Phil Collins, Steve Gadd, Steve Ferrone, Vinnie Colaiuta, Jeff Porcaro, Ricky Lawson, Carlos Vega, Teddy Campbell, John "JR" Robinson, James Gadson, Harvey Mason, Jim Keltner, Hal Blaine, Gregg Bissonette, Abe Laboriel Jr., Dave Weckl, Ahmir "Questlove" Thompson, Kenny Aronoff, Manu Katché, Billy Cobham, and most recently U2's Larry Mullen Jr. It's been wonderful and I'm thankful! Advertisement
Reverence: Track by Track
1. "Love's Holiday" – This song pays reverence to Maurice White, the mastermind behind Earth, Wind & Fire. I was inspired to record this when he passed away. "Love's Holiday" was like an anthem in a lot of communities back in the 1970s and I felt it appropriate to record a new arrangement in honor of my friend. Maurice White was also a great drummer!
2. "Life Cycle" – I composed this song with my writing partner Tom Keane—we share a studio in Los Angeles and this spirited song features the bass playing the melody in the verses and a vocal chant in the choruses. It also captures a lively horn section and arrangement by Tom Scott. The vibe of the song can be described as Earth, Wind & Fire meets Pat Metheny and it modulates through the cycle of fourths throughout the chorus, hence the title "Lifecycle." You can hear Ricky Lawson playing drums on this track as it was recorded in 2013. Notice how on each section of the song Ricky takes the groove to another level and by the end he's hitting his snare drum on all four beats of the bar. It's brilliant, and I miss him madly.
3. "Elevenate" – This song, written by my Fourplay bandmate Chuck Loeb, uses the time signature 11/8. When Chuck sent me this piece I immediately fell in love with it! It's the follow-up to the song he wrote for my first solo album called "Sevenate," which is in 7/8 time in honor of our birthdays December 7 and 8. The bass and guitar carry the melody throughout and the voice is added on the chorus. Lendell Black, a wonderful composer and arranger sweetened this track with a beautiful arrangement he wrote and conducted played by the Nashville Orchestra. Teddy Campbell is on drums and makes 11/8 time sound like 4/4 with his beautiful approach to his song—it's a very natural feeling. For me this song is a rhythmic and harmonic masterpiece.
4. "Serpentine Fire" – It's obvious by now that I am a big Earth, Wind & Fire fan. My brother Marcel and I created this track twenty-five years ago for a concept project and were blessed with participation by friends Eric Clapton on guitar and Phil Collins on drums! Our horn section for the track was the Vine Street Horns who also played with Phil Collins (including Harry Kim and Dan Fornero on trumpets, Gerald Albright on sax, and Arturo Velasco on trombone). The song was recorded on two-inch analog tape, and was mixed by world-renowned engineer Moogie Canazio. That project was never released; however, we held onto our master tapes for a quarter century. Moogie, who recorded and mixed my new album, reminded me of the song and when he played it for me we knew it had to go on this record! My co-producer and label head Chris Gero suggested we call in the members of Earth, Wind & Fire to participate, so Philip Bailey, Verdine White, and Ralph Johnson came to the studio to add the "fire" vibe to the track. Included are a few vocal samples from Maurice White from the original and you have our 2017 version of this classic EWF song. Check out the Phil Collins drum fill at the end of the breakdown section. It's classic!
5. "Feels Like Home" – This is a special track for me on the album because in addition to Yolanda Adams singing the song like an angel, Ricky Lawson is playing drums on the track. We over recorded for my first CD and this was one of the songs we tracked with Ricky on drums. Yolanda was the perfect choice to sing this Randy Newman classic and delivered an inspired performance. The addition of the orchestra and choir really gives the song a beautiful gospel flavor.
6. "Higher Ground" – Stevie Wonder has given the world so much amazing music and his songbook provides a wealth of selection so it was easy, having played "Higher Ground" live in my band, to take it into the studio and twist it just enough to call it my own. Add Tom Scott and his horn section and some tasty saxophone by one of my favorites Kirk Whalum and you get this feel-good moment on the record and also bit of step-out from the bass. I must also give credit to Jeff Babko and Tim Carmon, two of my favorite keyboard artists, for contributing such cool re-harmonization to the arrangement! Then, there's Teddy Campbell laying down the solid drums and listen to his approach on the "master blaster" section, it's perfect!
7. "The Mood I'm In" – Another collaboration with my writing partner Tom Keane, this song features a beautiful vocal performance by Nikki Yanofsky. In a jazzy big-band style it features yet another great Tom Scott horn arrangement and Lendell Black orchestral arrangement and performance. In addition to these great elements, another highlight in the track for me is the Vinnie Colaiuta drum performance. He plays like nobody else! This song is just meant to be very uplifting and to put you in a good mood.
8. "Over The Rainbow" – Of course this is the most special track on the album for me, featuring my sixteen-year-old son Noah on piano—it's very near and dear to my heart. I love the George Shearing arrangement, which was then embellished by Lendell Black with a beautiful orchestral arrangement performed by the Nashville Orchestra. This is the perfect follow-up to the duet version of "Yesterday" that Noah and I recorded on my first solo CD. He studies at Piano Play Music Systems in LA, which I highly recommend for any parents with children interested in learning piano!
9. "Shadow" – Lendell Black played this song idea for me when we were in preproduction the day before tracking the project began. We worked on it together, made a demo, and the song really came to life in the studio. My co-producer Chris Gero added some finishing touches to the arrangement. I must acknowledge the rhythm section, which performed beautifully, including Teddy Campbell on drums. Tim Carmon brought the magic on Fender Rhodes, Paul Jackson Jr. played guitar, David Delhomme played keyboards, and Rafael Padilla was on percussion. I then sent the track to Chick Corea who found time during his almost two-month residency at the Blue Note New York to add his genius Voyager mini-moog performance to the song. I do believe in miracles! Thank you Chick and the cats!
10. "Pasan" – If you haven't heard recordings by Aca Seca Trio (from Argentina), I highly recommend you check them out! "Pasan" is a gem of a composition I found on one of their albums. This is harmonic sophistication at its finest. That's Hubert Laws you hear on flute by the way, and again a gorgeous drum track by Ricky Lawson.
11. "Why Not This Sunday" – This song was originally sent to me by my friend Howard McCrary to play bass on. I fell in love with the tune and asked him if I could record it for my own album, which he kindly obliged. Ruben Studdard came in and sang it beautifully. As a matter of fact, we normally don't get to hear this kind of singing from the American Idol star and he reminds me of a young Al Jarreau on this track—what a great feel. And speaking of feel, check out Teddy Campbell's drumming on this one—he bounces through the track and provides an infectious groove for this uplifting piece.
12. "Until We Meet Again" – I wrote this just after hearing the news of the great Toots Thieleman's passing. It comes straight from the heart.
For more on what Nathan is up to, visit nathaneast.com/, twitter.com/NathanEast, www.facebook.com/NathanEast/, and www.instagram.com/nathaneast/.