On the Beat with Stephen Bidwell of Hard Proof: Talks New Album and Gear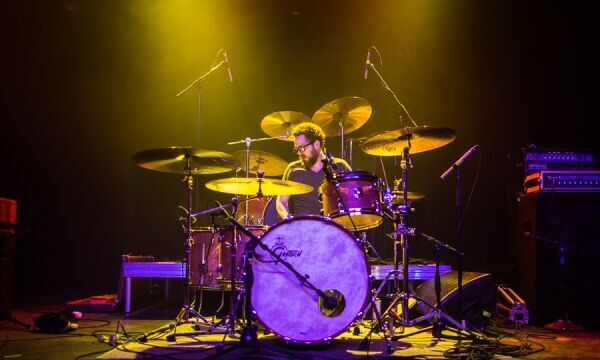 Greetings drumming friends! I'm Stephen Bidwell, a drummer based in Austin, Texas and a sometime contributor to MD since 2008. The same year Mike Dawson first asked me to review some cymbals for MD I began assembling what started as an Afrobeat band. From humble beginnings learning Fela Kuti and Mulatu Astetke covers to now eight years later, we have our own body of work and a new album with a band called Hard Proof. The LP is called Stinger and you can stream it free here or grab it at finer record stores.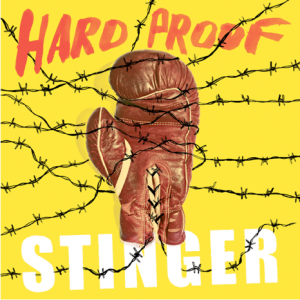 We tracked most of this record at an Austin studio called the Bubble with producer Chris "Frenchie" Smith; chances are good you've heard his work with the Darkness, Jet, or And You Will Know Us by the Trail of Dead. Perhaps an odd choice to make a funk record with a rock guy, but our horn section played on a Toadies session for him and they hit it off. For the most part the record is all live performances with very few overdubs, one exception being "A.R.A.S," which is a multi-tracked percussion intro made up of very bastardized versions of a pair of Ghanaian dances.
On most of this record I was out in the live room with a rhythm section of four (bass, keys, two guitars) and our conguero Tony Cruz, while the three horns were in one booth and percussionist Tommy Spampinato was in his own booth. This didn't leave much room for error, but getting a full band performance was the end goal. Advertisement
Gear-wise I tried some new/old things, most importantly a mid-'70s Slingerland kit with a 22″ kick and 12″, 13″, and 16″ concert toms (in Blakrome wrap!). They shipped with thin felt strips and ancient pinstripe heads, which I still haven't changed, and Frenchie just stuck Sennheiser 421s inside the toms. I remember using a few different snares: a 1970s aluminum Slingerland 5×14, a brass Yamaha piccolo (the SD-493), a Gretsch 6-ply hickory, and probably an Austin-era Fibes 5×14. I had just received my first Steve's Donut from Big Fat Snare Drum, and it got a lot of use on this record (and nearly every session since). As far as cymbals, I recall a mix of Paiste Twenty series (14″ hats and a 22″ Light ride), a 21″ K Zildjian Special Dry Light ride, some '60s 15″ A Zildjian hats, and an Istanbul Mehmet MC 22″ ride used as a crash.
Maybe more important to the eventual drum sounds was that Frenchie had just gotten a pair of Eventide harmonizers back from a repair shop (an H3000 and an H910). I really like the sounds he got on the track "Men of Trouble"—the snare sounds really thick and fat, but it's just the Yamaha piccolo with a BFSD on it. The toms have an awesome '70s art-rock vibe.
Like most bands in Austin, we're busy prepping for SXSW, and the plan is to hit summer and fall festivals hard. Somehow in the distribution of labor, I end up handling a lot of the management and booking duties in this group, and we're very much DIY. In music, now more than ever, we have to be on top of our own business handlings, even more so when you have nine bandmates. Advertisement
Thanks as always to Modern Drummer for asking me to check in with you all, and for letting me interview my heroes and occasionally hijack the Instagram account!
Watch videos of Hard Proof at HP Video: Hard Proof Afrobeat – Lots Live at the Good Music Club and HP Video 2: Hard Proof – Soul Thing (BalconyTV).
For more on the band, visit hardproofmusic.com/, www.facebook.com/HardProofAfrobeat, www.instagram.com/hardproof/, twitter.com/HardProof, and www.youtube.com/hardproofafrobeat.
​