March 2017 Issue of Modern Drummer Magazine featuring Kenny Aronoff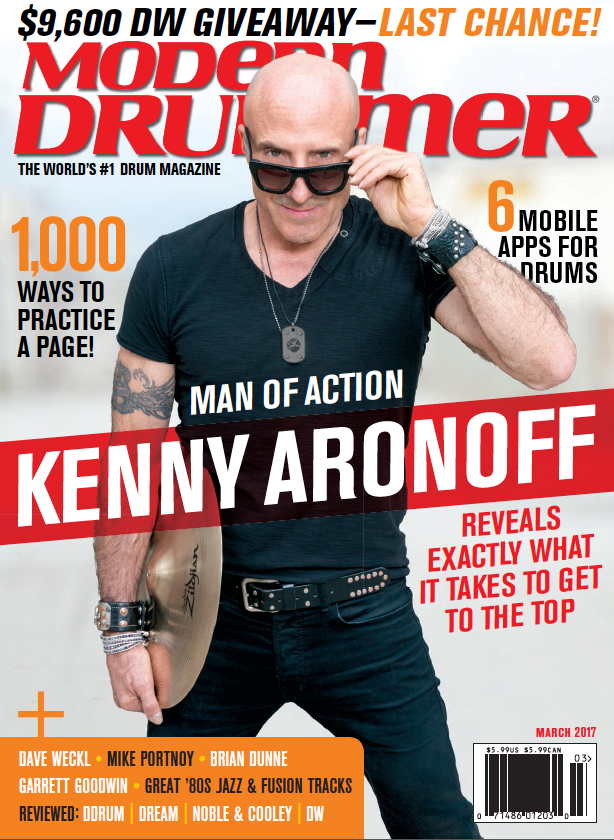 (Available in print and digitally Jan 31, 2017)
Volume 41 • Number 3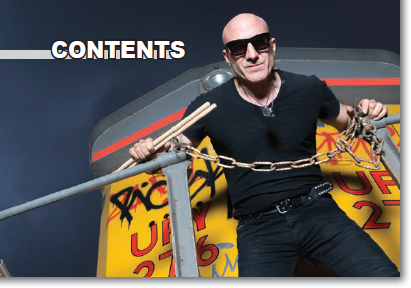 On the Cover
Kenny Aronoff
"This book got me to do some serious reflecting. But it's not a memoir. This is what I'm continuing to do."
He reached the top by knowing exactly what he was capable of as a modern professional drummer, and by working tirelessly to fulfill the responsibilities of the job. Check out the tour of Kenny's Uncommon Studios LA here.~ by Billy Amendola
FEATURES
DAVE WECKL
When Chick Corea came a-calling in the '80s, then-rising star effectively arrived. These days the drummer's getting to relive those heady times. ~ by Mike Haid
GEORGE THOROGOOD AND THE DESTROYERS' JEFF SIMON
The veteran band and its still-energized founding drummer have done more than most to bring the blues to the masses. ~ by Bob Girouard
MIKE PORTNOY
His gargantuan performance on the new concept album by Neal Morse had us wondering about all the classic double LPs lining his own shelves. ~ by Ilya Stemkovsky
OPETH'S MARTIN AXENROT
The fascinating evolution of the exploratory Swedish metal band is driven by a classic-rock lover's cinematic rhythmic visions. ~ by Mike Haid
GREAT '80S DRUM PERFORMANCES, PART 2: JAZZ AND FUSION
It wasn't all about spiky beats and quirky singers in the MTV era. Instrumental music was going strong—and launching drum heroes we still bow down to today. ~ by Ilya Stemkovsky
DARYL HALL AND JOHN OATES' BRIAN DUNNE
Talk about a high-stakes gig: backing one of music legend after another on a weekly national TV show—when you're not touring with Hall and Oates. Not that tis veteran player takes and of his good fortune for granted. ~ by Bob Campbell Advertisement
RAT SCABIES
Few have cut as lasting an impression as the original drummer with the Damned. And though his twenty-year membership in the British group has long since ended, he's still at it—and still a hero to drummers, especially those of the punk persuasion. ~ by John Wurster
LESSONS
Basics – Stickings The Rock
Part 1: From a Hand Pattern to a Groove ~ by Rich Redmond (click here for supplemental video content)
Rock 'n' Jazz Clinic – Twelve Essential Shuffles
Some of Drumming's Most Influential Feels ~ by Rich Scannella
Jazz Drummer's Workshop – Beyond the Noteheads
Benefits and Strategies for Transcribing, Part 2 ~ by Steve Fidyk
Strictly Technique – 1,000 Ways to Practice a Single Page
Part 1: Introducing the Method ~ by Libor Hadrava (click here for supplemental video content)
Rock Perspectives – Five and Seven Over Two
Exploring Odd Polyrhythms ~ by Aaron Edgar (click here for supplemental video content)
Concepts – Conquering Life's Stage Fright
Part 1: The Three C's ~ by Mark Schulman
EQUIPMENT
Product Close-Up
• Ddrum Max Series Drumset (click here for supplemental video content)
• Dream Paper-Thin Crashes, TriHats, and Libor Hadrava Stacks (click here for supplemental video content)
• Noble & Cooley SS Classic, Horizon, and Walnut Snare Drums (click here for supplemental video content)
• DW Bass Drum Beaters (click here for supplemental video content)
• CooperGroove GrooveGrip Performance Drumsticks
Electronic Insights:  6 More Mobile Apps Every Drummer Should Know ~ by Miguel Monroy
Gearing Up: Carrie Underwood's Garrett Goodwin
New and Notable
DEPARTMENTS
AN EDITOR'S OVERVIEW – The Uncommon Man

by Billy Amendola
Readers' Platform: Favorite '80s Jazz or Fusion Drum Track?
News:
Out Now: AFI's Adam Carson and the Kinks' Mick Avory, Yes's Alan White and Dawes' Griffin Goldsmith On Tour, and more
Showcase featuring Drum Market
Retailer Profile: Beat It Music
Critique:
A live Dizzy Gillespie album featuring Philly Joe Jones, a pair of new Eric Harland recording, and more
Backbeats:
Rich Redmond's Fourth Annual Nashville Drummer's Weekend, KHS America's Drum Day in Nashville
Kit of the Month – The Eliminator

Contest – Enter to win a DW Design series setup worth more
than $9,600!
---
Get the March '17 issue!