February 2017 Issue of Modern Drummer magazine featuring Warpaint's Stella Mozgawa

(Available in print and digitally Dec 29, 2016)
Volume 41 • Number 2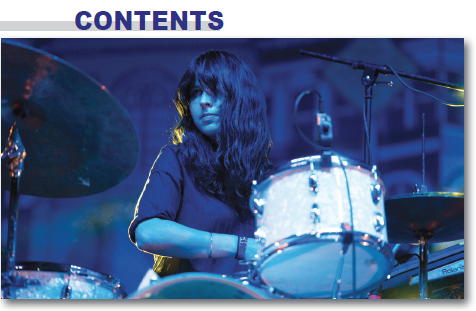 On the Cover
Stella Mozgawa
"People are making music in such crazy ways! The levels of involvement and collaboration are so different now."
Warpaint's drummer has kept her workload fresh and ful filling by staying open to any creative method that's thrown at her. In the process, she's become one of the most intriguing percussive voices of her generation. ~ by Adam Budofsky
FEATURES
KORN'S RAY LUZIER
Sure, you can teach an old dog new tricks—if he's like this rare pro, who's as hungry for unique experiences at forty-seven as he was at seventeen. ~ by Mike Haid
TESTAMENT'S GENE HOGLAN
Does the Atomic Clock ever stop ticking? Not as long as there's new metal to
be made. And there's always new metal to be made. ~ by David Ciauro
JOSH GROBAN'S BLAIR SINTA
Fifteen years after landing his breakout gig with Alanis Morissette, he's extended his real-world experience in multiple directions, including a fresh take on online lessons. ~ by Ilya Stemkovsky
THOR HARRIS
He recently stepped aside from the ragingly artful New York musical institution Swans to concentrate on his signi ficantly more subdued but equally ambitious solo project. ~ by Will Romano Advertisement
ARI HOENIG
What—a modern-jazz concept album? Well, it should come as no surprise to anyone familiar with the New York drummer, who long ago taught us to expect the unexpected. ~ by Ken Micallef
ROB THOMAS'S ABE FOGLE
Coming up, he couldn't have known how far his melting-pot listening habits would one day lead him. ~ by Billy Amendola
Lessons
Basics – Threes and Fives
Fills With Odd Groupings ~ by Jayson Brinkworth
Rock 'n' Jazz Clinic – Groove Construction
Part 10: Exploring a Killer Cowbell Pattern ~ by Jost Nickel
Strictly Technique – Swiss Rudiments
Basel Drumming, Part 4 ~ by Claus Hessler
Rock Perspectives – Odd Subdivision Offbeats
Ten- and Fourteen-Note Groupings ~ by Aaron Edgar
Jazz Drummer's Workshop – Beyond the Noteheads
Benefits and Strategies for Transcribing, Part 1 ~ by Steve Fidyk
Concepts – A New Year, A New You?
Reviewing and Renewing Your Goals, Part 2 ~ by Russ Miller
EQUIPMENT
Product Close-Up
• Natal Café Racer Series Drumset
• Paiste Signature Rides
• Roland KT-9 and FD-9 Kick and Hi-Hat Controllers
• Gibraltar Beat EFX Bass Pedal Enhancers
Gearing Up: Nile's George Kollias

New and Notable
DEPARTMENTS
AN EDITOR'S OVERVIEW – Signal to Noise

by Michael Dawson
Readers' Platform: Do You Transcribe?
News:
New Jamire Williams album, Hayley Cramer on tour with Pop Evil, and more
Showcase Featuring Drum Market
Critique:
Tony Williams on Miles Davis's Freedom Jazz Dance, Steve Gadd's Way Back Home DVD, and more
Backbeats:
2016 Sydney Vintage and Custom Drum Expo
Encore:
Blue Öyster Cult's Agents of Fortunee
Kit of the Month – Cocktail Convenience

Contest – Enter to win a DW Design series setup worth more
than $9,600!
---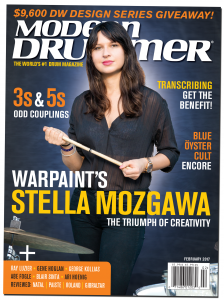 Get the February '17 issue!