On the Beat with Josh Manuel of Issues: Talks Top Ten Most Influential Albums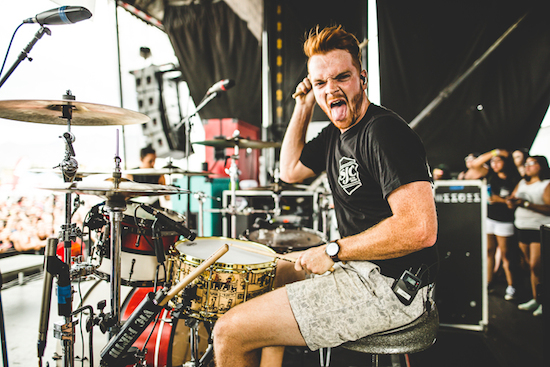 Hey guys! My name is Josh Manuel and I play drums in the band Issues. I'd like to talk about the ten albums that had the most influence on me as a drummer and musician. I'm going to list the albums in order of when they were released and briefly discuss how each influenced my playing at that point in my life. Let's dive right in!
Spin Doctors – Just Go Ahead Now: A Retrospective (2000) This is a greatest hits compilation that my mom introduced me to at age nine. Sitting down and jamming along helped me develop a great sense of groove.
Blink 182 – Take Off Your Pants and Jacket (2001) Travis Barker had a huge influence on my playing. I've always loved his creative and catchy drum parts and how well he's able to tie them together. Advertisement
Porcupine Tree – In Absentia (2002) I was eleven when a teacher (Andy Hill) played me Porcupine Tree's live DVD and I was hooked. Gavin Harrison's grooves and ideas on this album taught me so much. Most of my fills and placement ideas are heavily influenced from studying his playing.
Maroon 5 – Songs About Jane (2004) This album is incredible. I used to jam along to it on a daily basis. Mixing rock, funk, and pop is no easy task and they managed to do it flawlessly.
He Is Legend – I Am Hollywood (2004) As a teenager this album blew my mind and still does. I learned a lot about songwriting and transitions from this record. They blended different genres but it never felt forced, which is rare.
Envy on the Coast – Lucy Gray (2007) My wife Emily introduced this album to me when we were in high school. Dan Gluszak wrote interesting parts that grooved so hard and locked right in with the bass player. What more can you ask for? Advertisement
Underoath – Lost in the Sound of Separation (2008) I grew up listening to most of Underoath's records but this one really stuck with me. I loved how much energy was behind all the drum parts.
Counterparts – The Difference Between Hell and Home (2013) This album has a ton of energy, the parts are really creative and unique and the instruments are intertwined so well. This is another record that taught me a lot about transitions and writing.
The 1975 – Self Titled (2013) These guys are probably my favorite band at the moment. George Daniel sits right in the pocket the majority of the time. His ability to write such simple yet effective parts has inspired me a lot over the past few years.
Animals As Leaders – The Joy of Motion (2014) There is no denying it: Matt Garstka is a monster. Studying and playing along to this record has definitely made me a better player all around. Modulation, odd time signatures, and just plain nasty grooves, this album has it all. Advertisement
Thanks for reading!
For more on Issues, visit www.issuesrock.us/#intro.
Photo by Lupe Bustos