Monte Yoho on the Outlaws' <i>Legacy Live</i>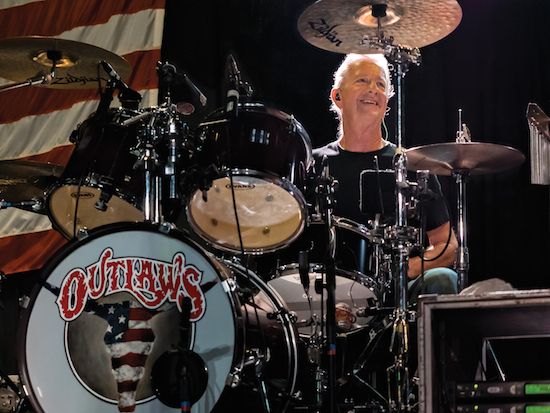 The Outlaws are one of the premier bands associated with the Southern-rock movement of the '70s, and drummer Monte Yoho was with the group—dubbed Florida's Guitar Army—at the very beginning. Early hits like the Yoho co-write "There Goes Another Love Song," the classic update of the famous 1948 cowboy tale "(Ghost) Riders in the Sky," and the FM standard "Green Grass and High Tides" are still heard regularly on classic-rock radio.
In early November, the band, which is on tour through mid-December, released Legacy Live, which includes recent takes of more than twenty of its most-loved songs. Modern Drummer editorial director Adam Budofsky, a longtime fan, catches up with Yoho, who's still at the helm.
MD: Congratulations on the new album, Monte. It's been fun listening to the new live album, especially having seen the band a bunch of times since the early '80s.
Monte: Thanks so much. I'm really excited about having a new live recording out there in the marketplace. I appreciate the fact that you've listened to the band over the years and have seen it evolve, and change in some ways, throughout its history. Most of all, thank you for allowing me the opportunity to share this interview in Modern Drummer. I've been a huge fan of the publication for decades. Advertisement
MD: It's interesting to hear recent versions of some of the old songs that appeared on Bring It Back Alive, when the band had a two-drummer lineup. Can you talk a bit about the difference between playing in a double-drums situation and being the only drummer on stage?
Monte: By the time we added a second drummer, around 1977, the band had already recorded three records and toured extensively with just me playing drums. At that time the band seemed to be evolving almost on a nightly basis. I think we were also being influenced by a lot of the groups we toured with at that time that were using two drummers—the Charlie Daniels Band, the Allman Brothers, and the Doobie Brothers, to name a few. So we decided to bring in David Dix to play as a second drummer/percussionist.
When I look back I remember that we didn't have a lot of time to prepare for the upcoming live record. Dave and I had played at different times with all the members of the band, so we had a good idea as how to approach the two-drummer end of it. The arrangements that I had played on the records gave us a place to start, and from there we worked on both Dave's and my new parts. We had to decide what songs to play in unison, what songs to write specific parts on, and what songs we would play individually while the other played some form of percussion. There was a lot of experimenting and a lot of different approaches to the old material, as well as the newer music. Advertisement
I can tell you when you look over at another drummer playing with you at full force, it's like no other feeling in the world. A lot of times we'd make up parts as we played! When we did the 2005 reunion tour, Dave and I picked right up where we left off some years before. It was amazing how much we remembered from the past. In 2008 when Henry Paul and I reformed the group, we went back to the early sound of the band with just one drummer. What I play now is pretty much the style that I played all those years by myself. Dave still comes out and plays certain shows with us, though, and it's still a joy to play with him.
MD: What was the decision-making process like for the songs on Legacy Live? Do you record all your gigs and choose the best versions from various shows?
Monte: Exactly. We listened to a number of different performances and chose what we thought was the best performance of each song.
MD: What drums, cymbals, and such do you prefer? Have your choices changed much over the years?
Monte: I've played a lot of great drumsets over the years. Early on I had a set of Rogers, one of my favorites, which I recorded all of the early Outlaw records on. I'm playing a set of Yamaha Stage Customs at this point. They've held up really well and sound amazing night after night.
My drum sizes have always stayed the same—22″ kick, 12″ and 13″ rack toms, and a 16″ floor. I also use custom snare drums by Beier Drums. Jim Beier has built me some of the best-sounding snare drums I've ever played. I use his 1.5 Steel 6.5×14 as my main touring snare drum and a 1.5 Steel 5.5×14 on the side for a little different sound. Zildjians have always been my choice for touring cymbals. I use a 20″ K Custom ride, two 18″ Z crashes, and a pair of 14″ New Beat hi-hats. In the studio I still use a pair of Paiste 2001 series ridged-edge hi-hat cymbals that I bought in 1975 and played on every Outlaw record that I recorded. Advertisement
One thing that has changed over the years is my stick size. I played a 5B most of my career. About a year ago I went to a Vic Firth 55A. It seems to give me a better all-round strike and much more control.
MD: What are some of your favorite Outlaws songs to play, and why?
Monte: I'd have to say the earliest songs like "There Goes Another Love Song" and "Freeborn Man." Those songs bring back such great memories of the band's beginning. I also would have to include "Green Grass and High Tides." That's a song that brings the entire band together at the end of the night and gives each personality one more time to showcase. There's also a newer song, the title track of our latest studio record, It's About Pride. The lyrics reflect where the band has been and where it is now. It's a pretty emotional song for both the band and the audience.
MD: When and where did you start playing drums, and who were your drum heroes early on?
Monte: The drum craze came to me in the '60s during the British Invasion with the Beatles, the Who, and the Rolling Stones. I saw Ringo on The Ed Sullivan Show and decided at that moment that being a drummer was what I wanted to do. In the mid-'70s we had the pleasure of being the opening act for both the Rolling Stones and The Who. I had the chance to meet and talk to both Charlie Watts and Keith Moon, and you can probably imagine how much that meant to me. Advertisement
I've always listened to a variety of bands and styles of music, and I found myself paying a lot of attention to recordings that Russ Kunkel played on. He had such a warm tone and melodic tom fills. I was influenced by many of the country rock drummers from the mid-to-late '60s and early '70s, bands like the Buffalo Springfield, the Byrds, and Crosby, Stills and Nash. One drummer I loved in particular was George Grantham from Poco. I listened to a lot of his work while recording some of the early Outlaw songs.
MD: How did you originally hook up with the other members of the Outlaws?
Monte: We pretty much all grew up together, starting as early as junior high school. During that time, we each had a little band that played all the teen centers across Tampa. There was always a lot of member changes going on between all the groups. In the early '70s I met Henry Paul. He had come down from New York with a group, Sienna. I joined that group, and as members left, we gradually added all the members of groups that I'd worked with, Hughie Thomasson, Frank O'Keefe, and finally Billy Jones. That was the Outlaws [lineup] signed by Clive Davis and Arista Records in 1975.
MD: When did you realize that the Outlaws were going to be big, and what would you consider one of the peak moments of your career?
Monte: Just before the first album was released, we played a show in New York with the Jefferson Starship on their twelfth-anniversary show in Central Park to an estimated crowd of 100,000 people. I was a little petrified, but I had the strangest feeling that the band was on the way to bigger and better things. Shortly after that we released "There Goes Another Love Song." I heard a cover band of that in a Holiday Inn lounge playing that song, and I knew we'd arrived! Advertisement
MD: Finally, what advice would you offer to aspiring pro drummers in terms of longevity in the music industry?
Monte: I would have to tell a young drummer to work at being versatile. There will almost certainly be times when you'll be asked to play different styles of music. In my career I've played many styles of music—Broadway musicals, big band music, Dixieland, Cajun, jazz, country, and rock 'n' roll. Playing all those kinds of music has ultimately made me a better drummer. I would also emphasize the importance of learning to read music. I was fortunate to have some great teachers that taught me the value of these skills and helped give me a lifetime of having fun doing what I love.
Photo by Rob Yoho