KOSA NY Percussion Day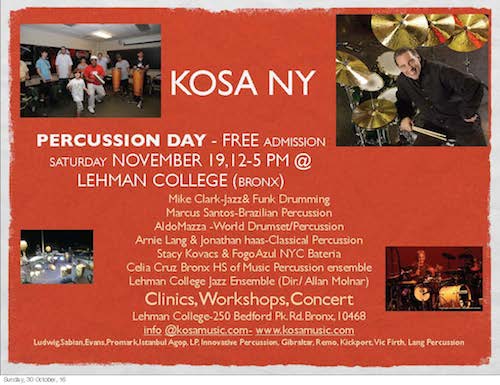 KOSA NY Percussion Day, featuring clinics, workshops, and concerts, will offer free admission on Saturday, November 19, 12-5 pm at Lehman College, 250 Bedford Park Road, Bronx, 10468.
Artists include Mike Clark, Marcus Santos, Aldo Mazza, Stacy Kovacs, Arnie Lange, Jonathan Haas, FogoAzul, Celia Cruz High School Percussion Ensemble, and Lehman College Jazz Ensemble.
The event is sponsored by Ludwig, Sabian, Evans, Promark, Istanbul Agop, LP, Innovative Percussion, Gibraltar, Remo, Kickport, Vic Firth, Lang and Percussion.
For more information, visit www.kosamusic.com.