Friday Nuggets: Paul Thompson's Trip From Roxy Music to Lindisfarne
It's funny how we define our favorite players. While drummers who came of age in the '70s heyday of FM radio would associate Paul Thompson with the early era of the groundbreaking British glam-rock band Roxy Music, '80s punks might recognize him among the lineups of Oi group Angelic Upstarts. And '90s listeners would more likely point to Thompson's playing on the American college-rock trio Concrete Blonde's Bloodletting album, featuring the hit "Joey." Lately it's come somewhat full circle for the drummer, who has spent the past several years with the band Lindisfarne, a beloved folk-rock ensemble with roots in the mid-'60s Newcastle, England, scene. Around that time, Thompson had played in another local band, the Urge, featuring future pop star John Miles.
In March of 1991, Thompson told Modern Drummer, "I was always more of a rock drummer than an experimental drummer. My hero was John Bonham." One can certainly hear the influence of Bonzo on Paul's early work with Roxy Music. Check out "Re-make/Re-model," the classic opening track from the band's self-titled 1972 debut album. Thompson comes charging out of the gate in double time, somehow grounding Phil Manzanera's wild electric guitar, Andy Mackay's sax, and Brian Eno's keyboard skronking. At 3:20, the band enters a section containing a series of breaks, with each instrument taking the lead, Thompson first, with a descending quadruplet fill. It's a great moment in glam-rock history. Check out Thompson with early Roxy in this 1973 clip from the German television show Musikladen.
https://www.youtube.com/watch?v=C3ljXVIRRS4
Thompson provided crucial heaviness but also nimble foot and hand work to the first six Roxy studio albums. Highlights include his quick bass drum work on "2HB" (Roxy Music) and "Grey Lagoons" ('73's For Your Pleasure), his precise hi-hat doubles and smooth but quirky way around the odd-time middle section of "Amazona" (Stranded, also '73), his thunderous tom fills on "All I Want Is You" ('74's Country Life), and his heavy dance/funk slam and cool timbale-like fills on Roxy's biggest U.S. hit, "Love Is the Drug" (Siren, '75). Advertisement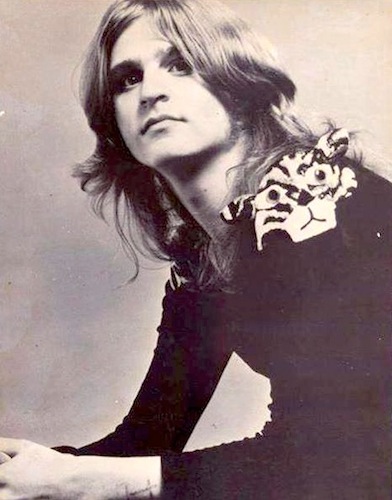 In his 1991 interview, Thompson explained why he left the band. "Roxy was just going too safe," he said, "and at the time I was also a bit pissed off at the business—not with playing, but with the people in it."
After a period of inactivity, Thompson began playing in a group called the Flame. "That was a great band," he explained, "but it wasn't going anywhere. About that time, Chris Tsangarides, a friend of mine, invited me to come down to a club to see a band he was producing—Concrete Blonde. I was impressed, and a couple of days later they rang me up and said, 'Our drummer has left. Do you want to do the album?' It all worked out really good. It's one of the works that I'm really most proud of."
It's tough to find hi-quality live footage of Thompson with Concrete Blonde, but the official video of "Joey" at least gave the drummer some nice camera time.
For a more recent view of Thompson with Lindisfarne, watch this live clip of the track "Clear White Light" from a December 2015 show at the Green in Kinross, Scotland.
And for some real fun, check out this link to hear Paul's isolated drum track from Roxy Music's "2HB."
Adam Budofsky