On the Beat with Jack Ryan from the Marcus King Band: Talks Second Album and Gear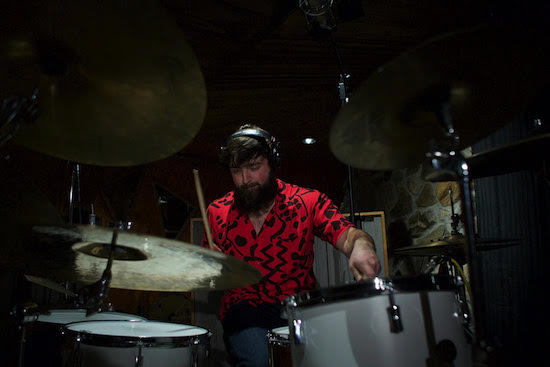 Hello, MD readers! This is Jack Ryan from the Marcus King Band. We're a heavily touring psychedelic, soulful Southern rock group from Greenville, South Carolina. I would like to share some of my experiences and lessons I have learned from recording our two albums.
Our second, self-titled album and debut release for Fantasy Records was produced by Warren Haynes and released on October 7, 2016. The album was recorded mostly in one session back in January at the Carriage House Studios in Stamford, Connecticut. We recorded twenty-one songs in about twelve days, and cut the tracks mostly live as a group. (One additional track, "Rita Is Gone," was cut in a later session in March along with all the overdubs.) Because of this, we knew everything had to be tight before we got to the studio. The sessions would go for ten to twelve hours every day. Despite the time crunch, the vibe was great and we ended up having a great time jamming the tracks as a band.
With the limited time frame, I didn't have a lot of opportunities to mess with my sound for each individual song. However, I have been fortunate to be endorsed by Noble and Cooley for over a year now. Their factory is near the Carriage House and they were kind enough to provide a CD maple kit (18×22, 8×13, 16×16 to which I added my own 16×18, 1970s Slingerland floor tom) and several snares (5×14 solid-shell maple, 6.5×14 walnut, 7×14 solid-shell oak, 5×14 alloy, and a 6×14 Horizon series along with my 7×14 solid-shell beech) for the session. The toms, bass drum, and cymbals never changed, but I switched between snares a good bit. I chose snares based on the style of each song. For the faster songs that needed more articulation, I used the maple. On the more back beat, groovy type songs, I used the walnut. For the heavier rock songs I used the beech, and so on. The Noble and Cooley gear was a huge improvement to the house kit on the last album. Seriously the best drum tones I have ever worked with! Advertisement
I feel like this new album shows a lot of growth for the band. We've gone from being self-produced, home-recorded band to working with one of the best producers around, in an amazing studio where a lot of amazing albums have been recorded. The instrumentation is pretty much the same except we have a full-time horn section now (trumpet and sax). Overall, the reaction to the first album has been nice, but I'm very excited to see how this next one is received.
Come see us on tour, we never stop! Don't be shy, come say hello. Everyone in the band is pretty friendly and I always love talking drums! We would love to meet you!
Check out the Marcus King Band live at Mountain Jam here:
https://www.youtube.com/watch?v=sMTj-I_bU6Q.
The new record is available at smarturl.it/TheMarcusKingBand.
For tour dates, visit MarcusKingBand.com/tour.
Photo by Jay Sansone