Matt Mingus on Dance Gavin Dance's <i>Mothership</i>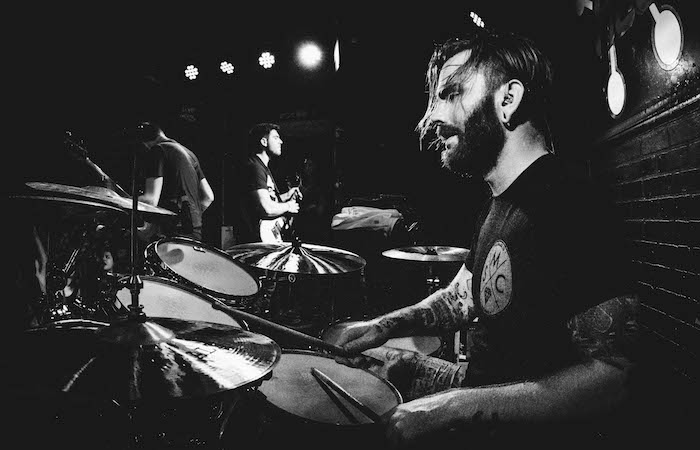 by Willie Rose
This past October 7, post-hardcore group Dance Gavin Dance released its seventh full-length studio album, Mothership. Throughout the record's thirteen cuts, founding drummer Matt Mingus weaves a unique, genre-defying sense of feel between intricate breakdowns and pounding unison guitar riffs. Modern Drummer recently caught up with Mingus to dig into his groove and more.
MD: When did you start playing, and what drew you to the drums?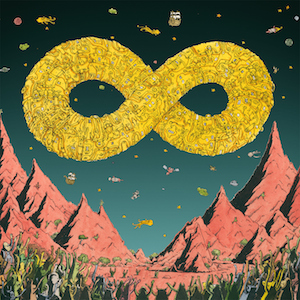 Matt: It all started eighteen years ago, when I was nine. I really wanted to be in the school band. I narrowed it down to the trumpet or the drums. Drums and percussion appeared to be the most fun, so that's what I went with!
MD: Who are your drumming influences? Are there any specific parts on the new record where you drew from them?
Matt: I gather influence from several different styles of music and from several different players. Abe Cunningham from Deftones has been a huge influence since I was a kid. Growing up here in Sacramento, California, where they're from, Deftones have been a rather large musical staple for me. Advertisement
Another influence of mine was my seventh- and eighth-grade band instructor, Jay Roberts. Not only was he an incredibly talented musician all around, but also prior to teaching he was a professional drummer. I always felt he paid a little extra attention to us back in the percussion section, or when I was behind the kit in jazz band. I thought it was really cool that one summer at band camp he let me use my double kick pedal and integrate it into jazz charts. I also heavily draw influence from funk and Motown artists. The list could really go on and on.
MD: What did you work on to develop your drumming when you were coming up? Did you take lessons?
Matt: I actually never took a drum lesson until a few years ago. I took one and it just didn't quite do it for me. I had more fun just shedding back and forth trading bars with my buddy Joe Arrington, who gave me the lesson. I'm more of a visual learner. When I was coming up as a player I just focused on band—concert band, jazz band, or marching band. I'd come home and practice rudiments and fundamentals every day, probably driving my sisters and parents crazy. Eventually I got to the age where others my age were interested in playing rock music, which was eighth grade. So, I took what I learned from being behind the kit in jazz band and started playing rock 'n' roll.
MD: Do you work on anything now to develop double bass?
Matt: I just keep all the old songs polished and try to come up with different rhythms with my feet when I write. Usually in the studio there are one or two tracks where our producer may change the double kick patterns just a little to follow the guitars, and [the new part] might be a little outside my abilities. I like it because then I have no choice but to learn it for the live show. I've most certainly found it's a good way to put a little pressure on myself to get better. Advertisement
MD: Even with the syncopated drum parts and rhythms on Mothership, your playing has a deep feel and groove. Do you listen to any particular drummers or bands outside of your genre for feel?
Matt: I've always listened to funk and Motown. I love the Four Tops, Earth, Wind, & Fire, Aretha Franklin—all that good stuff. I've also always been a fan of classic rock music , like Steely Dan, the Eagles, the Who, Lynyrd Skynyrd, and of course Prince—you cant forget about the legend. I feel I pulled a lot of my sense of groove out of a combination of those artists and what I learned in jazz band.
MD: There are a lot of technical parts on the new record. What's the writing process like coming up with those particular rhythms?
Matt: I enjoy writing the drums to the guitars and literally take what they are doing and trying to imitate it on the drums. Granted, every song is different, and there are some songs where I've written a couple beats and have the band write to me. I do, however, help out with a lot of the transition parts in the songs rhythmically. It varies from song to song.
MD: What was the recording process like for this record? How long did you spend on the drum parts in the studio?
Matt: The recording process was fairly normal to what I am used to. I've worked with [producer] Kris Crummett several times, so we vibe together really well in the studio. We spend the first day putting new heads on and tuning the drums. We'll get the kit set up, figure out what cymbals we're going to use, and make sure all the click tracks are in working order. Then we start bright and early the next morning feeling refreshed, and we bust out songs. I track rather quickly because I come into the studio prepared. For this record we spent a total of five days on the drums. Honestly, that's sort of taking our time too. Advertisement
MD: Were the songs mostly finished before going in? Or were things changing around in the studio?
Matt: I would say that they were ninety-two percent finished. There are always a couple fills or some double bass patterns that will change a little bit.
MD: Do you record to a click, and have you always been comfortable playing along to one?
Matt: Yes, I always record to a click track, and no, I was absolutely not always comfortable with it. I used to practice to a metronome when I was younger, so I sort of had an understanding of it. But then I didn't use it for years. So once I started recording rock music to a click, it was a little tricky, because it's one more thing that you have to focus on. Although I must say that after a short time of playing to one it becomes second nature, and you don't even have to think about it.
MD: What did you consider when you were getting drum sounds for the new record?
Matt: I just wanted the best sound possible. Also, I wanted it to follow suit with our previous eight releases.
MD: What's it like working with Kris Crummett? How much input does he have with the band's music from a drumming perspective?
Matt: I love working with Kris. Not only is he a work colleague, but he's also become a great friend of mine over the years. He's an amazing drummer himself, so when he makes a suggestion to change something, I almost always agree or trust what he says and change it. He most certainly is entitled to input, but we come into the studio extremely prepared and have everything already written in terms of the instruments.
MD: Do you have any other projects outside of Dance Gavin Dance?
Matt: Yes, I do. I play in a heavier band with a couple members from DGD and our extremely talented friends Martin Bianchini and Jordan McCoy. I also play live drums for our singer Tilian [Pearson's] solo project. Those are all of the projects currently, but I'm always looking for new people to jam with or whatever gigs I can get! Advertisement
MD: Can you describe your setup?
Matt: I use a maple Truth kit with 8×10 and 10×12 rack toms, a 16×16 floor tom, an 18×20 bass drum, and a 6×14 snare. I use all DW hardware, including a 9000 series double bass pedal. I also play TRX cymbals, and I'm always trying different ones, so I have no particular setup. I also use a nice-and-comfy Pork Pie throne and Vic Firth 3A sticks.