News, News and Events, Web Exclusive
Fuse.tv Documentary Series "Clash Of the Corps" Features DCI Corps Blue Devils and Cadets on the Way to the 2016 Finals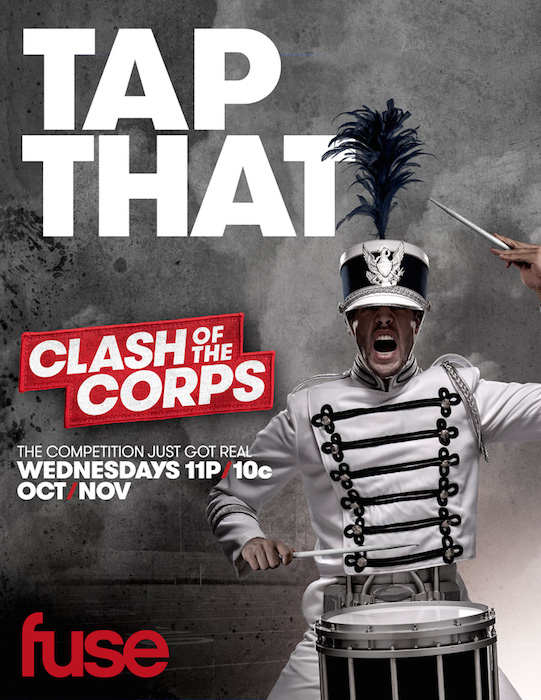 In this Modern Drummer exclusive, Blue Devils snare drummer Brandon Olander talks practice, preparation, and dealing with a camera crew.
The Fuse television network is currently airing an eight-part documentary series, co-produced by Dwayne "The Rock" Johnson, on Wednesday nights at 11 pm, that captures the behind-the-scenes workings of the ultra-competitive and high-energy world of Drum Corps International. The show follows DCI's two most historically successful corps, the Cadets and the Blue Devils.
One of the featured performers is nineteen-year-old Blue Devils snare drummer Brandon Olander. Brandon is from Tuscon, Arizona and is currently studying drumset performance at Berklee College of Music in Boston. We recently caught up with Olander to dig a bit deeper into what it takes to be a world-class rudimental drummer and what he works on when he's not on the field.
What is your practice regiment in the off-season between DCI tours?
In the off-season, I usually practice up to an hour a day, focusing primarily on basic exercises. These help me keep my technique in check. That means a lot of my time is spent working on long legato-stroke phrases, accent-to-tap differentiation, double strokes, rolls, and flam passages. When I'm not working on basics, I like to learn other DCI and WGI groups' licks to expand my vocabulary.
What is the daily practice regiment during tour season?
Anyone who has done drum corps can tell you that the daily practice routine is incredibly demanding. Most groups will have some variation of a visual rehearsal, followed by a music rehearsal, and finally a full-ensemble rehearsal. More often than not, though, the drum line will be playing their music during visual rehearsal and then marching during music rehearsal. When we aren't marching, we are often in sectionals working on unifying our technique on basics or isolating specific parts of our show.
What advice would you give to a drummer who's interested in auditioning for a drum corps?
Make sure you can play your audition material in time with a metronome while marking time with your feet. That's generally a pretty definitive way to distinguish those who are more or less likely to do well in an audition. Also, something that is often overlooked is the physical strength and endurance necessary to march with a drum corps. So show up to your audition physically fit. You will probably be doing some sort of physical training there, and you'll want to be able to keep up. Run, work out, and practice marching with a drum —I can't recommend these enough. Finally, be confident and humble and show the staff how much you want to be there!
What were some of the biggest technical/musical challenges for you and the Blue Devils percussion section this season?
Musically, the Blue Devils are always pushing the envelope. In our opener, we played an incredibly long passage with different triplet diddle figures, all while constantly switching our feet between a half-note and quarter-note pulse and and while constantly changing our formation. That led into a snare feature that incorporated quick changes between buzzes and diddles and a lot of of 5:3 diddle patterns. Our next feature was an accelerando phrase that began with two snare drummers and added in more drummers as the phrase grew and grew to its climax. We also played a drum break to Justin Bieber and Diplo's "Where Are Ü Now?" That was challenging and fun!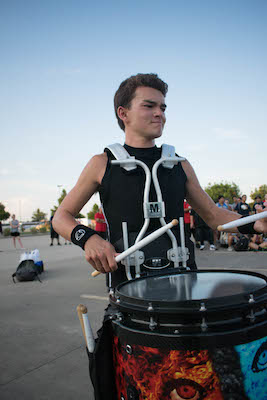 How do the skills you've learned from corps translate into other musical activities, especially in regards to drumset playing?
I've learned countless lessons from drum corps that are applicable to other musical mediums. As for drumset, corps is wholly responsible for my rudimental vocabulary, so I've figured out a lot of interesting ways to apply different rudiments or patterns from what I would usually play in a drum line. My band Warpstar just released our first album, Live From Your Stereo, and I utilize a lot of rolls, paradiddles, and flam patterns at fast tempos to create my own sound on drumset. The tempo that gets drilled into our feet and minds from marching also helps me be confident in my own timing on the kit.
What are the most significant non-musical lessons you've learned from playing in drum corps?
Like probably anybody who has been a part of the activity, I've really learned how much hard work pays off. But I think there is also a deeper lesson in the drum corps experience: the way that the community thrives when everybody is channeling their own work ethic for the betterment of the group. Marching in a drum corps is pretty selfless. You pay money to give up your summer break and be away from your loved ones to create a production with the rest of the corps. But there are thousands of people directly involved with the activity that give up just as much to help the corps along the way—people who volunteer on the food truck as volunteers, the drivers, the instructional staff, and the supportive parents. So I think the lesson in all of this is that when people come together and act with selflessness, they can create something incredible that positively impacts society.
How did the experience of being filmed for TV affect this season for you? Was there any added pressure, or did it enhance the experience?
The Blue Devils are one of the most-often filmed drum corps in history. Whether it's fans recording us during warm-ups or it's our own media team at rehearsal, we have become pretty used to not changing how we approach our performance when there's a camera in our face. So we didn't think the TV crew would be much different. The crew was friendly and accommodating. They were never too intrusive and only asked for interviews during extended breaks. It was cool to know that our season was going to be televised, so we worked hard to make it extra-special.
What else are you involved in beside drum corps, musically and non-musically?
As I mentioned, I am in a band called Warpstar, and we just released our first album. That is a huge accomplishment for me. Having just graduated high school, I'm now teaching a few drum lines and giving drum lessons, which I really enjoy. When I'm not doing music-related things, I am usually hanging out with my girlfriend, looking at clothes on the Internet, or volunteering for political campaigns.
What are some of your career/life goals beyond corps?
While I don't really know what it is that I want to do with my life, I would definitely like for music to be a part of it, and I want to make the world a better place. So whatever career allows me to do one or both of those things would be totally cool!
Follow Brandon Olander at: www.instagram.com/brandonolander/, www.facebook.com/brandon.olander1, and www.youtube.com/user/kiddrummer00 .
Check out "Clash of the Corps" at www.fuse.tv and on Dwayne Johnson's Facebook page: www.facebook.com/DwayneJohnson.
Photos courtesy of Fuse, LLC.