December 2016 Issue of <em>Modern Drummer</em> magazine featuring Ralph Peterson

(Available in print and digitally October 27, 2016)
Volume 40 • Number 12
On the Cover
Ralph Peterson
"I'm a better player. My energy is used to uplift the people I play with now, instead of beating them down in some testosterone-induced display of musical machismo."
The jazz drummer and educator was chuckling as he said those words, but there's a seriousness between the lines that tells of hard battles, and sweet successes. ~ by Ken Micallef
FEATURES
THE 2017 MODERN DRUMMER READERS POLL
Cast your vote in the drumming world's most prestigious ballot!
Catching Up With…JERRY MAROTTA and BILLY FICCA
MICHAEL SHRIEVE
At twenty, Santana's "classic lineup" drummer cut an image at Woodstock that still de fines the era. But the past is the past…or is it? ~ by Jeff Potter
ASH SOAN
That's him playing the oddball, contagious beat on Argent's perennial FM fave, "Hold Your Head Up." But it's just the tip of the iceberg. ~ by Will Romano
WHAT DO YOU KNOW ABOUT…BOB HENRIT?
Whether arena-rocking Halsey or driving Ryan Adams' 1989 album, he never loses his voice. ~ by Ilya Stemkovsky
SETTING SIGHTS: ISMAEL CANCEL
While the world-renowned Puerto Rican group Calle 13 takes a breather, its drummer explores the unknown with singer iLe. ~ by Ilya Stemkovsky
EDUCATION
Teacher's Forum – More Effective Learning
Improving Practice Skills, Memory, and Drumming ~ by Marc Dicciani
Basics – Fundamental Fills
Part 5: Six-Stroke Stickings ~ by Donny Gruendler
Strictly Technique – One-Two-Threes
Exercises for Control ~ by Bill Bachman
Jazz Drummer's Workshop – Rhythmic Conversions
Part 3: Half-Note Triplets – by Steve Fidyk
Rock 'n' Jazz Clinic – Groove Construction
Part 8: Three-Note Variations – by Jost Nickel
Rock Perspectives – Advanced Overlapping Phrases
Superimposing Groupings ~ by Aaron Edgar
Concepts – Are You Playing the Drums?
Or Are the Drums Playing You? ~ by Russ Miller
EQUIPMENT
Product Close-Up
• Gretsch Renown RN2 Drumset and Full Range Hammered Black Steel Snare
• Zildjian Avedis Series Cymbals
• Canopus Yaiba II Maple, Yaiba II Birch, and Black-Nickel Brass Snares
• Tama Iron Cobra and Speed Cobra Pedals
Gearing Up: Fear Factory's Mike Heller

New and Notable
DEPARTMENTS
AN EDITOR'S OVERVIEW – Tell Them How Good You Are…

by Adam Budofsky
Readers' Platform – Favorite Drum Shells

News:
On Tour with the Pretty Reckless and John Brown's Body, new albums by Blonde Redhead and Dance Gavin Dance, and more
It's Questionable:
Mind Matters: Playing in a Band or Solo? ~ by Bernie Schallehn
Showcase Featuring Drum Market
Critique:
Manu Katché solo album, Mark Guiliana method book, and more
In Memoriam
Johnny Craviotto and Dennis Davis
Backbeats – 2016 DCI World Championship Results

Kit of the Month – Envirodrum

Contest – Win an Incredible Prize Package From Tama and Meinl valued over $6,000!
---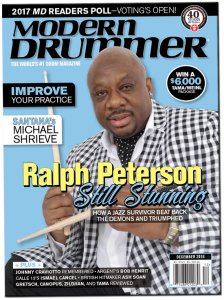 Get the December issue!