On the Beat With Sammy Merendino: Talks <i>Kinky Boots</i>, Cyndi Lauper, and Tour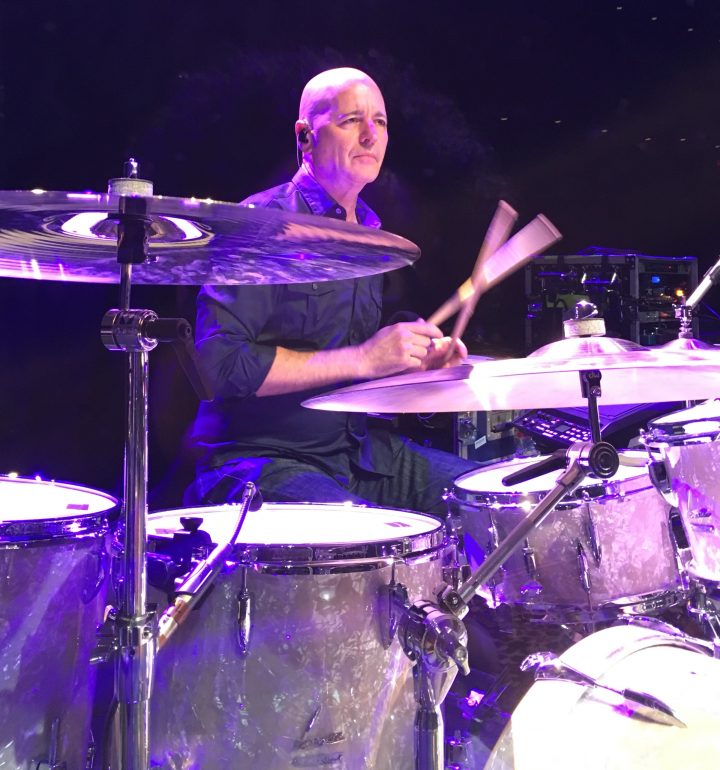 Hello everyone! I'm writing this on a tour bus on my way to Northern California. For the past three and a half years, I've spent most of my time on the fifth floor of the Al Hirschfeld Theater playing drums for the six-time Tony Award-winning Broadway show Kinky Boots, (book by Harvey Fierstein and music by Cyndi Lauper).
A few weeks back I received a phone call asking me to rejoin Cyndi's band. I totally love being at the theater and playing with our incredible thirteen-piece orchestra, but after 1,291 performances (since April 4, 2013), I was ready to hit the road. I gladly accepted the offer.
The tour is in support of Cyndi's recent album Detour. It's a classic country record made in Nashville (awesome drummers Chad Cromwell and Greg Morrow played on the record). We are playing six tracks from Detour, as well as a number of Cyndi's hits. It's really great to be back onstage with Cyndi and this killin' band. Advertisement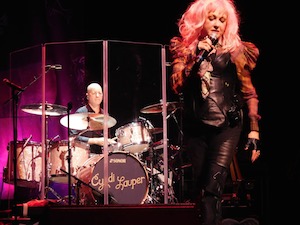 My first gig back with Cyndi was recording Austin City Limits Live. Nothing like jumping straight into the fire! Cyndi is an incredibly dynamic performer and likes to change it up from time to time. She calls a lot of "audibles," so I need to stay on top of things. The shows are rocking and fans have been incredible and extremely supportive.
I first met Cyndi in 2000, through a recommendation from producer Stewart Lerman. Cyndi came to my studio and we immediately hit it off. That fortunate meeting led to nine years of touring and recording. We took a short break from each other while she toured her album Memphis Blues. When Kinky Boots was in its early stages she asked me to play on the demos and I ended up getting the drum chair. I wrote the drum book as well as designed the Ableton rig and sequencing used to run the show. Thankfully, I was able to take a leave of absence from Kinky Boots to do this tour. Two days after the tour I'll be back in my drum room at the theater, refreshed from the road and ready to hit it hard.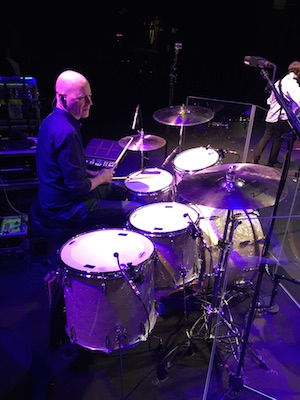 When I am at home in New York City, I spend a lot of my days in my studio in Harlem producing and developing artists as well as working on other people's projects. There is always a lot to do between my studio work and the show. The toughest thing about being on tour is the down time. I practice daily in NYC, and tend to do more rudimental practicing on the pad when I'm on the road. I try to experience whatever the current city we are in has to offer. Sometimes it's good to forget about drums for a bit, just enjoy life, and appreciate a different environment. Advertisement
On this tour I am playing a Sonor Vintage kit with Zildjian cymbals. I trigger loops via a Roland SPD-SX and use Evans heads and Vic Firth sticks. I'm also using a Porter & Davies BC2 throne, JH Audio IEM's, Big Fat Snare muffler, KickPro pillow, and a Kelly Shu.
And special thanks and appreciation to my tech Ishmael "Ish" Baiz for making sure my setup is consistently perfect every night—he's an awesome drummer in his own right and he makes my road life so much better.
Watch this 2009 video collective of NYC musicians recording in a turn-of- the-century townhouse in Harlem for the album Salt of the Earth by the Harlem Parlour Music Club. Produced by Sammy Merendino and Tim Hatfield: Advertisement