On the Beat With Vinny Appice: Talks Bands, Tours, Projects, and More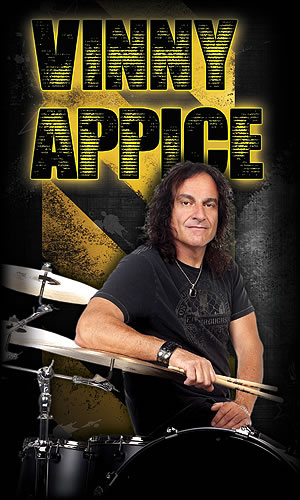 Hi, everyone! For years I have been in a couple of very successful, famous bands and it has kept me busy with full schedules of endless touring and recordings. The music industry was in good shape back then, but times and the industry have changed and now many musicians are in different projects, bands, and offering different ways to make music and money at the same time. Presently I find myself multitasking; I actually enjoy the different musical challenges that come my way now. It's a fantastic feeling to be in a great band, however, and that will never change.
The past few years have brought together the reunion of the original Dio bandmates Vivian Campbell, Jimmy Bain, and myself, with amazing lead vocalist, Andy Freeman. We call ourselves Last In Line. Right before our debut album Heavy Crown was released in February 2016, Jimmy Bain, our legendary bass player and dear friend, passed away. We had to take some time off and re-think how to carry on. We called a good friend, Phil Soussan, to come and play bass with us, in addition to Erik Norlander on keyboards. In late October 2016, we have some warm-up shows in the California area, and then we go to Europe for a month on tour with Inglorious on select shows. The rest of the shows will be with Saxon for a total of twenty-seven shows and twenty-seven drum solos. That keeps me in drumming shape.
I've also been playing shows with my brother Carmine—we call it the Appice Brothers. We have a really wonderful time on and off stage and enjoy hanging together. The band is great and the show is high-energy and very different. We play the music from both our histories and a few killer drum duets in between, with sprinkles of comedy throughout. It's a workout playing together in this show for sure! Advertisement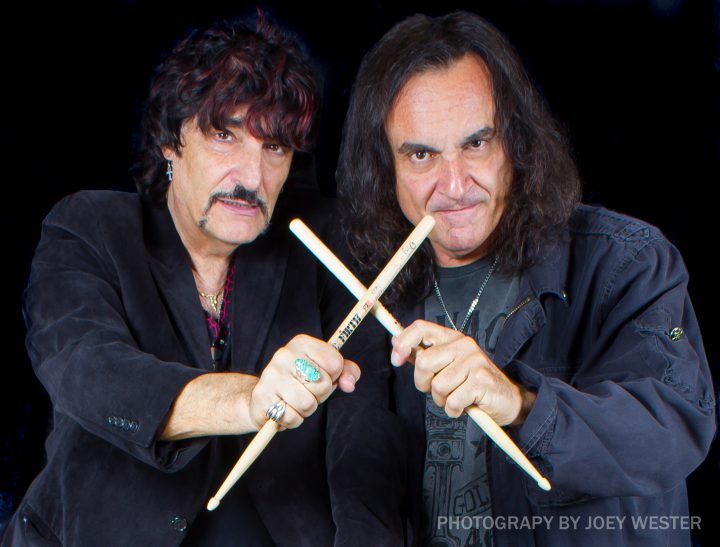 This month Carmine and I are kicking off a PledgeMusic campaign to fund a first ever studio-recorded album with both of us, featuring original material alongside re-recordings of classic tracks we each appeared on. We will have some amazing guests on this album and it will be a lot of fun with some great music on it.
For the past eight years I have been in a beautiful relationship with another drummer—yes, she is a female! Her name is Joey Wester, and she is also an extraordinary artist/painter in her own right. She has been booking drum clinics throughout the years for me including a few coming up this month in the US. I absolutely love performing clinics. It has been thirty-plus years and I still find them exciting. The fans are incredible.
The past six years finds me involved with Rock and Roll Fantasy Camp. I'm a counselor and in charge of my own band of campers. I rehearse and shape them to play two live gigs and jam with the headliners. This is a very rewarding experience and involves headliners like Roger Daltrey, Cheap Trick, Paul Stanley, Gene Simmons, Alice Cooper, Judas Priest, and many more. Advertisement
In between all of this, I'm working on a new instructional DVD. I haven't released one in years. I have a lot of new licks and better teaching methods, which I will combine together for an informative drum instruction piece that clearly explains what and how I am playing.
When I'm home, I'm in the recording studio that I've had for the past three years. I actually enjoy being the engineer and artist and am comfortable doing sessions this way. I can try different drums, mics, extremely crazy ideas and off the wall drum licks which usually keeps the tracks very interesting. I have become a Punchmaster—I am great at punching in my drum parts when needed. Most times, I can't even hear the punches without sliding the audio together; I'm getting them that smooth. Bands send me audio files over the Internet, and I import them and then proceed to get very familiar with the tune by listening to them and dry run playing to them. After that, it's Happy Hour! Then it's time to record some Drummonster licks and feels on the song, and make it shine. Punchmaster and Drummonster are a great team.
I've also been fortunate enough to have great companies and friends behind me that have supported my music and playing all these years. Vic Firth, Evans, Ddrums, Istanbul Mehmet cymbals, Galaxy Audio, Gator Cases, Chromacast, and Samson products. Having friends like this behind you really makes it easier to pursue your career and musical ideas. That's what's important—having an idea and bringing it to life and then having people enjoy and be touched by it. That's what music is all about! Thanks for checking in! Advertisement
For more with Vinny, visit www.pledgemusic.com/projects/theappicebrothers, www.facebook.com/vappice1, http://vinnyappice.com/, www.appicebrothers.com, and www.facebook.com/lastinlinerocks