On the Beat With Richard Wicander of Fire From the Gods: <i>Narrative</i>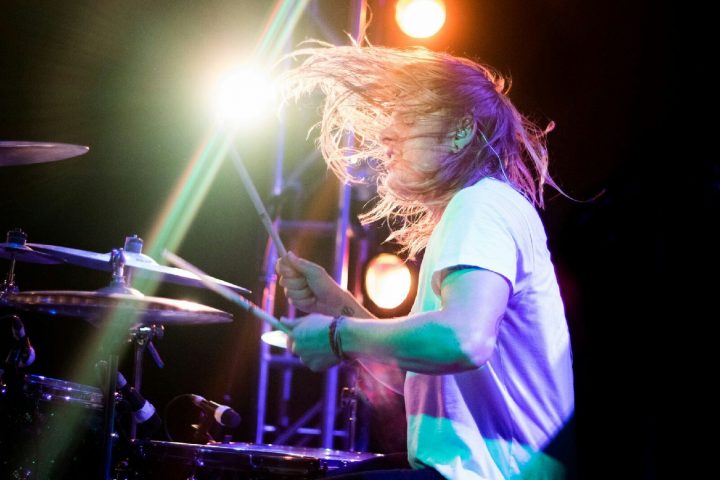 What's up, Modern Drummer readers! I am Richard Wicander and I play drums for Fire From the Gods. We recently released our debut album Narrative on Rise Records. I am beyond excited to see the world's reaction to this record after having put so much work into it.
I was born and raised in Wiesbaden, Germany. Ever since I can remember, music has been my main focus in life. I started playing guitar and singing at a very young age. Growing up, everyone was playing sports and I played as well, but nothing was more fun than playing music. I joined my first band when I was ten years old as a guitar player and singer. At age thirteen, I got my first drumset and I instantly fell in love. I taught myself how to play drums jamming Rage Against The Machine's Evil Empire on repeat. However, most of my foundation on drums comes from playing in a gospel church with some extremely talented musicians.
Our record Narrative was recorded with David Bendeth and produced by Robby Joyner. For the drums we used a DW Collector's series kit and Zildjian cymbals. The whole experience at the House of Loud was life changing. Not only did it teach me an insane amount about drumming but it also enlightened me as a producer and composer. All of the instrumental composing was done at Black Book Sound where I produce and engineer bands when I am not on tour. Advertisement
We toured with Otep for about six weeks, which started in Portland, Oregon. On the road I play a DW Collector's series kit (9×13 and 16×16 toms, 16×24 kick drum) and a Mapex Black Panther Sledgehammer Brass snare drum (6.5×14). My cymbals are Zildjian, as I love the clarity and projection they deliver. I play Promark sticks (Shira Kashi Oak 747) and Evans heads (Emad 2 kick, G2 Clear top and bottom for toms and HD Dry on snare top, Hazy 300 on snare bottom).
Come out and see us play all new songs off the album Narrative in your city! You can get it here: http://apple.co/29DcSGb .
Also, please check out our single "Excuse Me"
I am stoked to keep you guys up to date on what we're up to! Thank you all for chiming in. Peace!
Follow Richard on Instagram @richieisme and Twitter @richiefftg.