On the Beat With Paul Figueroa of Crobot: Talks Drummers, Gear, and Tours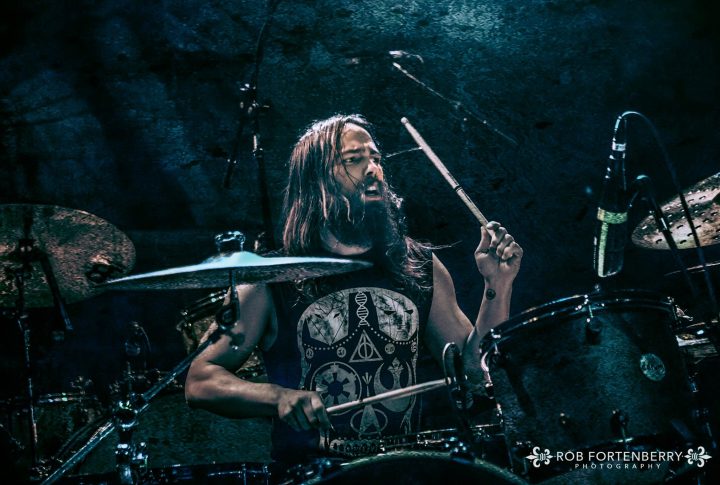 Greetings MD! My name is Paul Figueroa and I play drums for Crobot, a hard rock riffy groove band based out of Pottsville, PA. This year we recorded and released our second album, Welcome to Fat City, and are revving up the tour engines in support of it.
I grew up in New Jersey and started playing drums in my younger brother's punk rock band when I was fifteen. Early on I was drawn to drummers like Abe Cunningham, Josh Eppard, Vinnie Paul, Chad Smith, and John Bonham. These guys are still, to me (yes, even Bonham), some of the best drummers out there. I can listen to any of their records and find tasty licks and juicy grooves to inspire my own playing.
Gear wise, I endorse Ddrum, Evans, and Promark. I recorded with a Paladin series kit (walnut) from Ddrum, and on the road I use a Reflex series (alder). My current snare is my baby. It's an amazingly sweet, luscious, and fat 7×14 patina brass snare, another Ddrum offering. I tend to outfit my drums with Coated G2s on toms and a Heavyweight on the snare for touring. My kick gets the almighty EMAD. Those get treated with Promark's wood tipped TX747. It has just the right heft and hew for skin bashing. Advertisement
Being in Crobot has kept me busy on the road and given me some incredible opportunities to meet and learn from legendary drummers like Charlie Benante, Morgan Rose, J.P. Gaster, and Mikkey Dee. I've also discovered some of my new favorite drummers—Danny Dolan (the Virginmarys), Mike Land (Æges), Mikey Sorbello (Graveltones), and Pepe Magaña (Kyng), to name a few. All these guys are absolute killer players, unique in both style and approach to groove.
As for the future, Crobot is going to keep hitting the road. We have a US tour with Sevendust in the works, followed by a European tour supporting Volbeat, and a UK run supporting Airborne.
Check us out on the interweb (Facebook, Instagram, etc.) and hopefully I'll see some of you Modern Drummer dudes out at a show!
For more, visit http://blog.crobotband.com.