On the Beat With Marc LaFrance of the Randy Bachman Band: Singing Drummer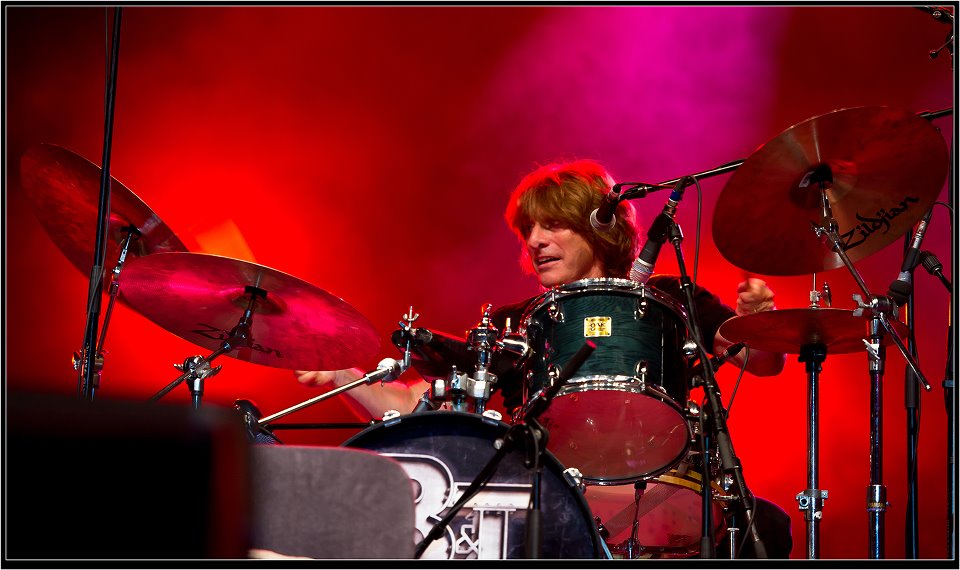 Hello, On the Beat readers! My name is Marc LaFrance and I am the drummer/singer for Randy Bachman (Guess Who/BTO) and Bachman and Turner. I'm also a producer, songwriter, and session singer. I have performed on many albums over the years with such acts as Mötley Crüe, Bon Jovi, the Cult, Long John Baldry, Cher, Glass Tiger, Carly Simon, and the Scorpions, just to name a few.
This summer I've been actively touring North America with Randy. Recently, we had the good fortune to perform at BB King's in New York City and it was great to see and hang out with MD's Billy Amendola and radio DJ Ken Dashow from Q104.3. At this particular venue we performed Randy Bachman's "Every Song Tells a Story."
I remember being a nine-year-old boy living in Winnipeg, Manitoba (which is like being in the North Pole in winter) and seeing the Beatles on The Ed Sullivan Show on February 9, 1964. Like many musicians of my age, this forever changed my life. From that point on I decided to play drums and sing. Fortunately for me, it all worked out amazingly well. Drummers like Ringo Starr, John Bonham, Aynsley Dunbar, Steve Gadd, Duris Maxwell, and Levon Helm were major influences. Advertisement
Some of the shows I do are more physically demanding—especially the rock shows where I often don't get a chance to even have a sip of water. I am always working on ways to improve my performance by practicing my technique and working out better parts; however, to keep my endurance up I have found it very important to train at the gym five or six days a week, at least one-and-a-half to two-hour workout sessions. This involves weight training, cardio, and some yoga. I think this is especially important if you are a singing drummer. I get to sing several lead vocals and a lot of background vocals during the shows so this really helps with my breathing. There is no better feeling than belting out a rock song while you are pounding out a Neanderthal beat! Equally important is a very healthy diet. This all helps maintain for my crazy travel schedule.
I would like to send a shout out to Torry Butler at Xcel drumsticks. You can always check out the following sites and Facebook to see what I am up to with Randy Bachman, my own band Cease and Desist, and other various projects I'm involved with. Thanks for reading! See you on the road!
For more, visit facebook.com/marc.lafrance3, delinquentrecords.com, and randybachman.com.
Photo by Raymond Ménard