On the Beat With Artist and Drummer Gilson Lavis of Squeeze/Jools Holland: Talks Challenges and Rewards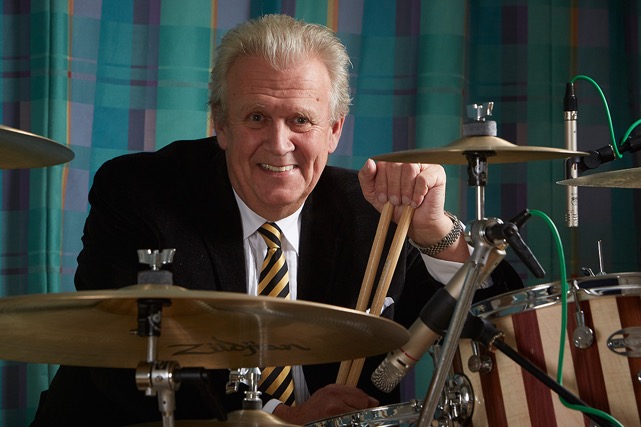 "We are what we think."—Lord Buddha
Cheers from the UK, Gilson here. I'm the original drummer for the Squeeze hits you know and love. Currently, I play with ex-Squeeze bandmate Jools Holland and his Rhythm and Blues Orchestra. As resident drummer on his TV show, Later…with Jools Holland, I've had the distinct honor of playing with a who's who of past and present inspiring musical artists, including iconic rock royalty from Chuck Berry to Sir Paul McCartney, and I've toured the world over!
The Orchestra has a pretty rigorous TV show taping and touring schedule, but what to do on the road during the down time? An experience in boredom actually reignited another passion—the paintbrush and canvas, drum brushes to paint brushes! Back in the day I attended art school and found that painting/sketching is another way to express oneself, so it's a perfect fit. I started sketching portraits of the Orchestra's band members, which evolved to painting musical artists on the show. I've now painted an impressive series that includes admired UK/US drummers, gifted singers I've worked with, celebrities, and life moments. The body of paintings is now as eclectic as my gigs, with several gallery showings throughout the UK.
Keeping a healthy attitude towards my playing has, without doubt, been the most challenging and rewarding part of developing as a musician. If my need to be noticed, approved of, or congratulated becomes more powerful than my musicality and my ability to help create an emotional and harmonious experience, then I've become a hindrance. That emotion can be anything on the human spectrum, but whatever the challenge, to be "part of" is the essence. Resentment, fear, jealousy, ego, greed, and self-pity are all blocks to being "part of," as is arrogance and pride. These negative, but God given, emotions are part of me and the challenge is to not to let them control or corrupt my attitude with excessive lifestyle choices, but rather to seek and maintain balance and keep gratitude close to my heart. It has been the challenge, and the reward, of spending a lifetime as a musician. Advertisement
To celebrate who you are and not be in too much of a hurry to become a super slick performer is also something I try to pass on to my students. The energetic exuberance of youth and the heady days of starting out on this never ending journey of learning and experience can produce music and emotions that can be hard to recapture when further down the long and winding road.
Lastly, are you enjoying today and putting something in it that's worthwhile? We have one brain, so look after it!
For more on Gilson Lavis, visit http://www.gilsonlavisartworks.co.uk/.