Brian Kantor of the Fruit Bats on <i>Absolute Loser</i>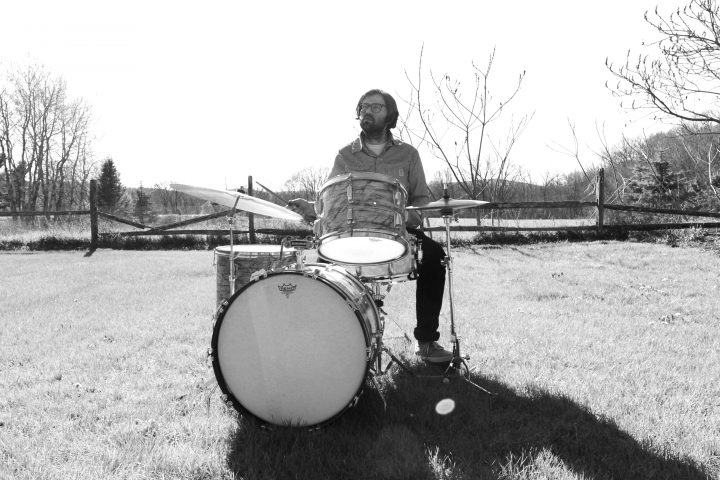 Brian Kantor, who has worked with indie fave Vetiver, ex-Cardigans singer Nina Persson, and Shudder to Think guitarist Nathan Larson, has for the past couple years been a member of the Fruit Bats, the band led by multi-instrumentalist Eric D. Johnson (the Shins, Califone, Our Idiot Brother and Smashed scores). This month the Fruit Bats released a brand-new album, Absolute Loser, which was recorded by Thom Monahan (Pernice Brothers, Chris Robinson Brotherhood). Here we talk to Kantor about the making of the album and about his other projects, including his South County Music School.
MD: How did you come to play with the Fruit Bats?
Brian: Back in 2011, Vetiver and the Fruit Bats did a month-long co-headlining tour. I was drumming for Vetiver at the time, but our crew of eleven caravaned together, jumping in and out of each other's vans. Eric and I formed a strong bond on that trip, and we stayed in touch after the tour ended, searching for a project to collaborate on. When Eric was producing Nina Persson's 2014 LP, Animal Heart, he called on me to play drums. After that, Eric invited me to play on his stunning solo record EDJ on Easy Sound.
MD: What are the biggest playing and non-playing demands for you on the Fruit Bats gig?
Brian: Geography is definitely the biggest challenge. The band is fairly scattered. I'm on the east coast, Eric's in Portland, Oregon, bassist David Dawda is in Seattle, guitarist Josh Mease is in Los Angeles, and keyboardist Graham LeBron is in Oakland, California, so there are always a bunch of flights necessary to start any tour. Advertisement
In terms of playing, I have to slightly temper my desire to go full-on Jim Gordon on the bell of the ride. I love riding that bell. Honestly, though, playing with Fruit Bats has really been so easy. Eric is a democratic bandleader, encouraging his band members to use their own voices while playing his songs. I feel like he and I have good synergy, and I have a general intuition as to what he likes to hear from the kit. Not to mention that Eric is one of the nation's finest tour-van comedians. There's always lots of laughter on the road.
MD: What was the tracking like for Absolute Loser—basic rhythm tracks and then vocal and guitar overdubs?
Brian: Absolute Loser was recorded by aural wizard Thom Monahan at his home studio in L.A. We tracked drums in his control room at a rather subdued volume. That's not to say I couldn't dig in when necessary, but the dynamics were more controlled. I appreciate this approach. I think you can end up with a far more natural drum sound, as fewer effects and less compression are needed to reign in the drums during mixing.
Eric came to the table with many fleshed out demos for the songs on Absolute Loser. In some cases I tracked to his demos, then the rest of the band built the songs back up around my takes. On the remainder of the songs Eric and I tracked guitar and drums together. The real aim was to get full drum takes, hoping to avoid editing, giving the songs a human feel. We keep talking about tracking the full band live. Hopefully next time around. Advertisement
MD: What drums and cymbals did you use, and does that setup differ from what you usually play?
Brian: At this particular session, I landed on Thom Monahan's early-'70s Rogers kit. It's a beauty. I'm eternally dedicated to my few classic Ludwig kits, but also relish the opportunity to get behind a set of Rogers or Gretsch drums. I brought along my trusty '72 Ludwig Supraphonic snare and a collection of my favorite cymbals. I used 15″ Zildjian hats—the top is a '50s K and the bottom is a '60s A, a great-sounding cymbal team. The crash is a favorite cymbal of mine, a ten-year-old 20″ Dream Bliss. This thing is just so smooth, warm, and perfectly tuned. I've never heard a cleaner-sounding cymbal in my life. The ride was a more recent acquisition, a hand-hammered Matt Bettis 22″. If you haven't heard his cymbals, be on the lookout, these are the real deal.
MD: What kind of direction does Eric give? Are there demos that you hear in advance?
Brian: Eric has a pretty firm grasp of drumming in general. He's the kind of guy who can literally play every instrument on his records—and often does so on his demos—yet still has the ability to release control and let his band members interpret in their own way. Occasionally we'll work off reference material, usually some great obscure '70s country rock grooves, trying to capture the essence of a particular feel or tuning.
MD: The groove in the title track is cool, with that sort of dropped backbeat. Where did the inspiration for that come from?
Brian: Thanks. You know, I think that was just my interpretation of how to approach that bar of six. Those extra two beats seemed to want something other than backbeat. I was trying to keep in mind the drumming of Dave Mattacks with Fairport Convention. Advertisement
MD: The hi-hats on "My Sweet Midwest" are cool; your accents really pop out.
Brian: Thanks again! I'm a big fan of Ringo Starr—you know, the guy from the Beatles? Ringo's drums were recorded so expertly by George Martin and co. They were compressd so that the volume of the hats often spiked on beats in which the kick or snare weren't being played, allowing for a really cool effect. I sometimes add those hi-hat accents to achieve that same effect.
MD: "Birthday Drunk" is a good study in minimalism. The brushes rub up nicely against the shaker sound and the tambourine. How would you approach a song like that live?
Brian: The drum track on "Birthday Drunk" is actually composed of two separate takes. There's a take with basic brushes on snare backbeat, and another more adventurous, esoteric take with brushes. I find it hard to replicate this particular type of playing when there are several amplified instruments on a stage. Sometimes, if the band dynamics come down a lot and the kit is miked overhead, you can effectively do a similar thing live. This is tricky, though. You can easily end up bashing with the brushes to compensate, losing that subtlety you were trying to achieve. If we were to work up a live band version of "Birthday Drunk," I wouldn't mind trying a light and breezy approach on the ride.
MD: "It Must Be Easy" is at a pretty slow tempo. Any tips for keeping a groove feeling good at that speed?
Brian: I love a slow tempo! Practicing with a metronome is a godsend for all tempos, but for commanding a slow tempo, I find it to be invaluable. I also like to listen to the vocalists; they have an innate feel for the tempo best suited for their lines. If you hear them running out of space, you're probably pushing the time. Advertisement
MD: Tell us a bit about the soundtrack work you've done, like for God's Pocket, The Other Shore, and Paper Man. Was it more incidental-type material, or pop-song formats?
Brian: The first soundtrack I worked on was for Paper Man, an incredible film with a great cast: Jeff Daniels, Emma Stone, Ryan Reynolds. If you've not seen it, you might just love it. My close friend and musical comrade Josh Kaufman pulled me in to work on the film with a great songwriter, Mark McAdam. That was a more song-based approach.
With God's Pocket, which featured Philip Seymour Hoffman and Christina Hendricks and was directed by John Slattery, I was working with Nathan Larson. This was more incidental scoring, which we did live while screening sections of the film in the studio.
The Other Shore was an exciting session led by a great Brooklyn songwriter and soundtrack man Paul Brill, at the now defunct Avalon Studio in New York City. It was done mostly live with a fairly large ensemble. Advertisement
MD: What's South County Music School about?
Brian: I've maintained a steady base of private students over the past two decades. Upon relocating from Brooklyn to the Berkshires, I decided to give my teaching business a name, and I'm beginning to recruit teachers to work with students on a wider range of instruments. My hope is to create a musical community center in South Berkshire County through music education.
MD: Are there certain areas of study that you focus on with your drum students, or do you focus on whatever issues they come to you with?
Brian: I always like to start lessons with a chat. The act of listening to my students helps inform my approach with each one. While I do have my methods, I like to tailor my lessons to each individual. I learned this from my time studying with Ian Froman. I always felt like he was taking the time to know more about me than just my drumming progress.
MD: What kind of drum training have you had? I know you spent some time at Drummers Collective—how did that influence you as a player?
Brian: I started taking private lessons in grade school, and I really became serious about playing in high school. I spent a couple years studying music at community college, and eventually found myself at Drummer's Collective. I think the biggest thing I took away from my time there was the confidence to play music professionally. I hasten to add, playing drums every few days with Victor Wooten doesn't hurt either. Advertisement
MD: Talk a little about working with Nina Persson and with Nathan Larson.
Brian: The Cardigans' records First Band on the Moon and Life were game changers for me in the '90s. To have the opportunity to record and tour with Nina over the course of 2014 was a highlight-reel moment for me, a Web gem. Working with Nina, Nathan, and Eric on Animal Heart was just fun and easy. The vibe throughout the session couldn't have been more relaxed and enjoyable. I also just love recording, and I could tell that I was in a room full of like minds, and that can only help. Working solo with Nathan is also a blast. He's a uniquely funny and sweet guy, and his scoring work is on point!
MD: What are your plans for the coming year?
Brian: While not out on the road with Fruit Bats, I'll be playing shows and recording with my favorite soul crooner, Paul Loren, or you might find me in a small Berkshire mountain town playing swing music with the Lucky Five. And when I'm not gigging I'll be in my backyard playing badminton with my wife and cat while playing George Harrison's Living in the Material World over the stereo. Man, Jim Keltner puts on a clinic on that LP!
Interview by Adam Budofsky
Photo by Kara Smith