On the Beat With Daniel Glass: New York Jazz Intensive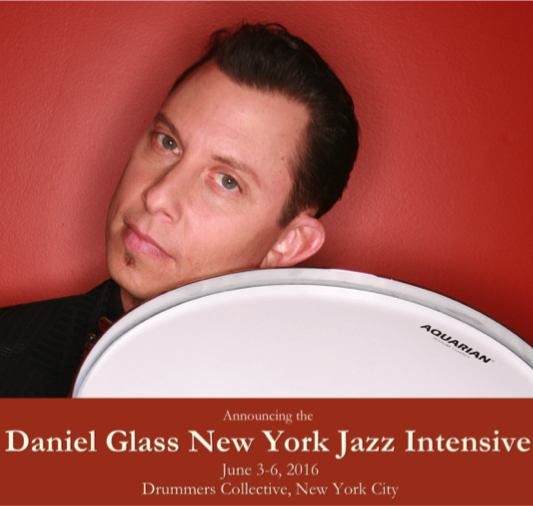 Hey everyone, Daniel Glass here. I am thrilled to announce the inaugural Daniel Glass New York Jazz Intensive, which will be happening at the Drummers Collective in NYC, June 3-6, 2016. Right now we're offering Modern Drummer readers a $100 discount off the registration fee (just put in the promo code "DGjazz" when registering).
This event offers drummers an incredible opportunity to learn the art of jazz in New York City, the center of the jazz universe. For four jam-packed days and nights, we'll take you on a journey encompassing jazz evolution, technique, repertoire, and performance. You'll have the opportunity to play with a professional New York rhythm section, meet celebrity guest musicians, and experience some of Manhattan's legendary jazz clubs up close. Plus there'll be tons of swag for everyone, several catered meals, and some crazy high-end door prizes too!
The entire experience will be presented from the unique perspective that I've developed after more than two decades as a top-level professional and educator within the industry. Whether you are a novice or a more experienced player, the Daniel Glass NY Jazz Intensive will frame jazz drumming in a whole new way, give you a better understanding of your role on the jazz bandstand, and the practical skills to start swinging at a whole new level. Advertisement
To get a better sense of my philosophy when teaching jazz, check out this short video, which was shot at the legendary Steve Maxwell Drum Shop in NYC (where we'll be taking a "field trip" during the Intensive).

I also invite you to check out Episode 7 of my podcast, entitled "Keep Calm and Learn to Love Jazz: It's Easy!" http://danielglass.com/daniel-glass-podcast-007-keep-calm-and-learn-to-love-jazz/
Thanks so much, and I really hope you can join us for what promises to be a very special four-day event in New York City!
For more on the Daniel Glass New York Jazz Intensive and complete itinerary, go to (http://danielglass.com/2016-Jazz-Intensive).