On the Beat With David Uosikkinen of the Hooters: In the Pocket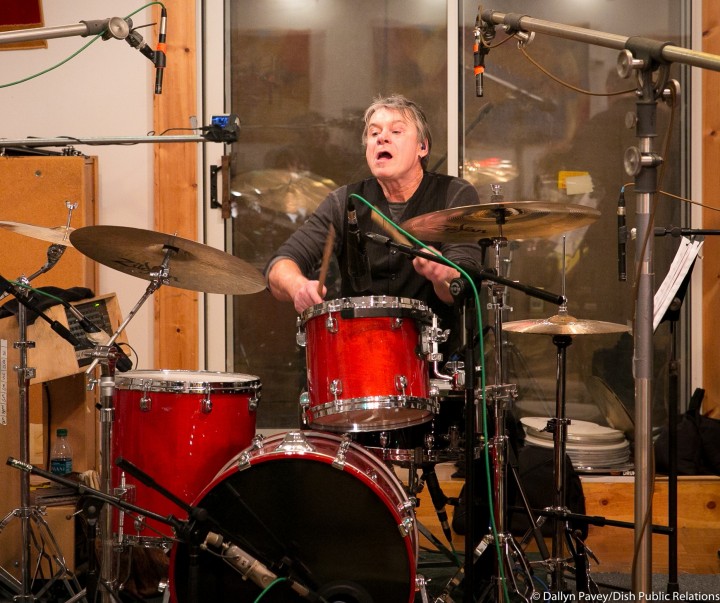 Hi, everybody! David Uosikkinen here. I've been playing drums with the Hooters for thirty-six years and we're getting ready to tour this spring and summer. We will be out for thirty shows.
In addition to playing drums with the Hooters, I have a project called David Uosikkinen's In the Pocket. With In the Pocket, we record a song and a make a video documentary of the records that inspired me growing up in Philadelphia. I pay homage to the songs and artists that made me who I am today. This has given me a chance to listen to and read about all of the great musicians that made these records. Modern Drummer featured our recording of "Punk Rock Girl," originally recorded by the Philly legendary punk band the Dead Milk Men.
No genre is exempt. I just recorded "Back Stabbers," originally done by the O'Jays. One of my favorite drummers, Earl Young, played on the original. He's one of the greats! The cool factor of this recording was having Bobby Eli on guitar. Bobby played on the original recording and many other classic songs that came out of Philadelphia International Records. He also played on the David Bowie sessions recorded at Sigma Sound in Philadelphia. You can watch the video clip below.
I've been playing DW drums and using their hardware since 1990. The drums and the people there are great. I feel the same way about Zildjian cymbals. I use a variety of bass drums, sizes 20″ to 24″, and 13″ to 16″ hi-hats, depending on what's needed. I like a 20″ crash on my left and a 16″ and 18″ on my right by the floor tom. I like darker-sounding ride cymbals, 20″ and 21″ Ks. I use two toms, small and large floor toms, and a dread snare—a snare drum with no bottom head and no bottom rim. I have a variety of snare drums, like a lot of drummers I buy them and keep them forever; I dig them all. I have a Select 5.5×14 snare drum I got from Robert Hall in Memphis while recording a Hooters record at Ardent. I love that drum, and I think it's only one of thirty made. I also use a Roland SPSX for loops and clicks on my live shows. Advertisement
To watch the video for "Back Stabbers" visit songsinthepocket.org/songs/back-stabbers/.
For more on David's projects, visit songsinthepocket.org.
And for tour dates and more on the Hooters, visit www.hootersmusic.com