On the Beat With Carmine Appice: <em>Stick It!</em>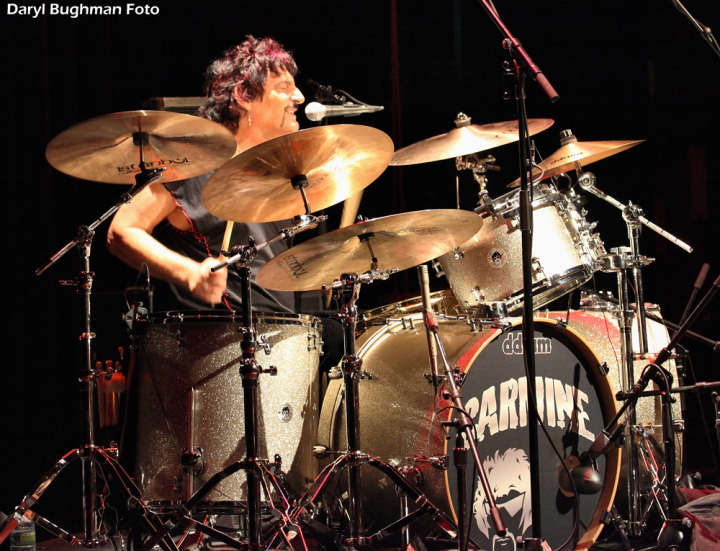 Hi MD drummer dudes and girls! This is a fun time in my career. After forty-nine years in the music business and touring the world many times playing arenas, stadiums, theaters, etc., I've reached a point where I can sit back and review my life of drumming and music.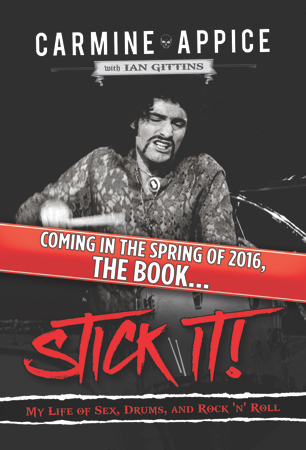 I'm still lucky enough to be playing a wide variety of music, as this year brings shows with Vanilla Fudge, Cactus, Drum Wars (with my brother Vinny), and the Rod Stewart Alumni show, which has members of the Rod Stewart band, and even a few gigs with King Kobra.
It's fun having the opportunity to play different drum styles—from the progressive dynamics, vocals, and arrangements with Vanilla Fudge to the hard rocking Cactus music, to kick-ass King Kobra and everything in between. In the past, the record labels only let you play with one band at a time, but today I can move around and I love it. I'm having a great time and playing is my life! Advertisement
One very exciting event coming up is on May 1 when my autobiography Stick It! will be released. My schedule is filled with interviews and together with the release of the Pat Travers-Carmine Appice CD, The Balls, I am busy as can be. The book release events will include storytelling, Q&A, and book signing, and we'll be doing a bunch around the country. If anyone wants a signed pre-order copy of the book, go to my home page below.
With the release of Stick it! I get to tell stories of hanging with Buddy Rich, John Bonham, Ian Paice, Keith Moon, Jeff Beck, Led Zeppelin, and more. How much fun is that? It was the heyday of rock music. I clearly remember the mid-1970s when Ron Spagnardi, the founder of Modern Drummer, called to ask me to write an article for his new magazine about drummers. Funny, right?
If you are in an area where we're having a book event, please come by—I promise it will be a blast. If you are in or near NYC on May 10, you must come to the book release party at The Cutting Room on East 32nd Street at 8 pm. I will be telling some stories from the book and I put together an all-star band to play many of the best songs from my history and from the catalog of different bands I was in. It will rock and admission is free. Also on display will be my big 52″ Paiste gong that was in every arena show with me from 1973 to 1990, plus the jacket I wore on The Ed Sullivan Show. (Of course, it doesn't fit anymore, ha!) Advertisement
So yes, I am excited about what is happening this year. My dream was to become a famous drummer like my two idols, Gene Krupa and Buddy Rich. To achieve your childhood dream is a blessing! Thank you to Modern Drummer and to all of you supporting me in this adventure. Unlike other musicians, drummers are special. Drummers are a brotherhood.
For more on Carmine and his book signings, visit www.carmineappice.com.