Tim Wyskida of Blind Idiot God on <em>Before Ever After</em>
by Will Romano
This April New York experimental dub-metal band Blind Idiot God is embarking on the Raise the Titanic tour of Europe in support of the worldwide release its of latest record, Before Ever After, which was initially issued in limited quantities as a gatefold double album on 180-gram vinyl. Modern Drummer sat down with drummer Tim Wyskida, formerly of the doom/avant-garde band Khanate, to get the lowdown on his drumming, the tracking of Before Ever After, and the band's strangely sophisticated mixture of drone, noise, funk, prog rock, dub, and a host of other genres.
MD: You joined Blind Idiot God in 2001, and the last record the band released was in the 1990s. Why the long break?
Tim: There were problems along the way. The [former] bass player, Gabe Katz, had ear problems from years of cabinets blasting at his head, and he was developing tinnitus. Then I broke my leg at one point, and that put us out for six months.
The other thing is that Blind Idiot God's former drummer, Ted Epstein, pretty much played the material the same every single time. I'm not like that at all. I learned drums from a jazz drummer, reading music, and I was into free jazz. I might play set patterns with the snare and kick, but everything else might be free. [Guitarist and co-founder] Andy Hawkins wasn't used to that. We needed time for Andy to wrap his head around my playing and to come up with a concept that works with that style. Advertisement
MD: The music can be droning at times. Do you tune your drums especially for this gig?
Tim: I never tune precisely to a pitch, but what I've noticed over time, because of the huge rig [Andy] has, along with Will Dahl's bass rig, a lot of low end and a lot of the low frequencies are taken up. Andy and I talked about this and we agreed that we needed to clear up space for the drums.
MD: Bill Laswell co-produced Before Ever After with Andy. How did tracking go?
Tim: Andy spoke with [Laswell] and came up with the overall plan for recording the album, and Bill suggested we track at Jason Corsaro's Barber Shop Studios, on Lake Hopatcong, New Jersey. We tracked thirteen songs on a limited budget, in two or three days. We recorded that stuff live but in separate rooms. We didn't play to a click, though for the last three or four years, if there are times I could use a click, I did. It definitely helped me to clean up my timekeeping. The other interesting thing is we recorded the drums to analog tape. Andy was insistent on drums going to tape, no matter what. He didn't want to spare any expense. Jason used a tape machine he hadn't in a long while.
MD: So, after you tracked, what was next?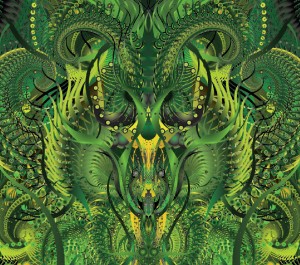 Tim: We moved over to Bill's studio [Orange Music Sound in West Orange, New Jersey] to clean things up and do some additional tracking. Bill mixed all of the dub [elements] on the album. Then Andy and I sat with James Dellatacoma, Bill's main engineer. We mixed all of the heavy stuff with James, with Bill listening in at times and putting forth his opinion. Advertisement
MD: What kit did you track with?
Tim: At the time I was playing a Pearl kit with maple shells, which I had since I was seventeen years old or something. But I also had a Tama Artstar 24″ bass drum, which had a crack in it. You'd think the crack would mess with the sound, but it resonated great. Before we went into the studio I spent, I'd say, three or four hours in the rehearsal space, just getting the drum sound dialed in. When we got into Jason's studio I fine-tuned it a bit. I should say that I play and endorse Canopus drums now.
MD: You use timbale in some of the dub material. Seems Blind Idiot God is a bit schizophrenic.
Tim: You're not the only one to say that. It's probably the biggest criticism of the band. We get a lot of good reviews, but some people don't understand the dub or like it very much. There's even a point that Blind Idiot God was going to record with [famed engineer] Steve Albini, but he had a big problem with the dub.
MD: You talked about jazz earlier. Can you play as a "free" drummer within the context of Blind Idiot God?
Tim: Songs like "Twenty Four Hour Dawn" and "Wheels of Progress," from Before Ever After, might be good examples. With "Twenty Four Hour Dawn" I wanted to do the Keith Moon type of thing, where I was keeping the bass drums pounding and freely playing up top. Advertisement
For "Wheels of Progress" we stretched the time, and I knew I could lose the aspect of the drums having to solely carry the rhythm of the song, and focus on the tone of the toms. That song just grabs different people in different ways. Recently, [Stick/Warr guitar player] Trey Gunn, who was in King Crimson, said he was really into the record. He posted on his Facebook page that Before Ever After is the cure for all that ails you. He sent us a message saying, "Thank you for making music that doesn't insult my intelligence."