On The Beat with Justin Nace of PVRIS: Practice and Play With Passion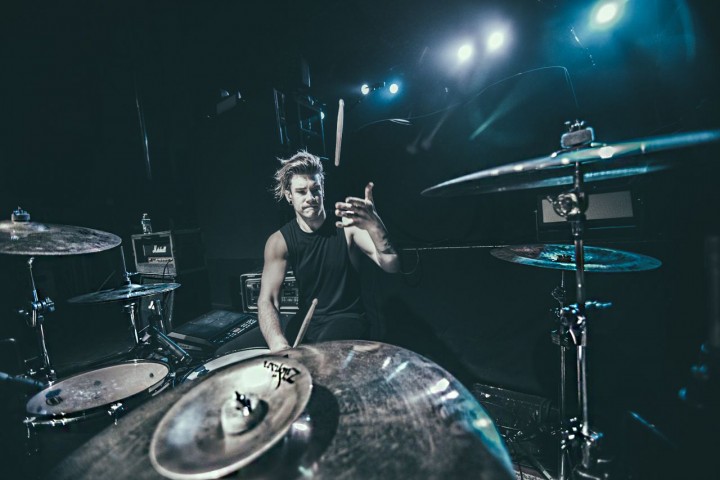 Hi MD! When I was eight years old and dreaming of being a drummer, a local teacher told me that he wouldn't work with me unless I switched from being a lefty to a righty, which was pretty disheartening. But I didn't let it stop me. I put on headphones and played along to anything and everything I could get my hands on. If you plan on taking lessons or teaching yourself, it's important to practice, whether it's playing behind the kit or tapping on a desk. Everything counts when it comes to learning something new and mastering your craft. And luckily, I did wind up finding some great teachers: Dave Grohl and Travis Barker. I locked myself in my parents' basement and listened to Nirvana's album Nevermind hundreds of times and trying as best I could to play along. Same with Travis: his versatility, speed, live performance and all around drum style were so influential.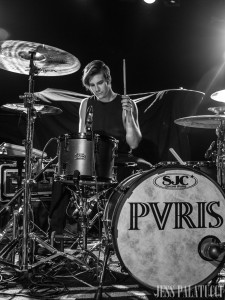 As I got older, I definitely tried to put that same passion in play. I play every show with as much power and energy that I can. If I don't walk off stage covered in sweat, then I didn't play hard enough. My first kit was a Christmas gift pieced together from different kits, but it was good enough to get me started. These days I'm playing an SJC ghost black satin stain kit: 20×22 kick, 16×16 floor, 9×12 rack and a Jurassic Park–themed snare drum that I designed. Cymbal setup is Zildjian A Custom 14" hi-hats, 20" A Custom crash, 20" A Custom ride, 22" A Custom ride, 18" Oriental China, and a 6" Zil-Bel. As for hardware, I play DW5000 pedals, and I use a Roland SPD-SX sample pad. SJC are the best-sounding drums I've ever played and from a company standpoint, they have the most helpful and friendly staff I've ever worked with. Those guys are so supportive and have become family to me.
I'm currently on the road with PVRIS and things are really starting to take off. In early 2014, we were playing shows to local bands and their girlfriends with no stage and barely any space. Fast-forward two years, and we played Jimmy Kimmel Live! and are about to do an arena tour with Fall Out Boy and Awolnation. After that, PVRIS will be heading out on our first headline tour in Europe, followed by a full US run. We've played some incredible shows with amazing bands and even brought home awards for "breakthrough band" and "best newcomer." Advertisement
Not many people get to do the job they love, but thanks to music, I'm lucky enough to enjoy what I do every single day.
You can watch our Jimmy Kimmel performance here: http://abc.go.com/shows/jimmy-kimmel-live/video/featured/VDKA0_z8a1zg8i.
Check out PVRIS performing "My House" live at the 2015 Vans Warped Tour Pomona, CA. here https://youtu.be/vros1vPlxcE.