On the Beat With Steve Grantley of Stiff Little Fingers and RT-Zed: Touring and Raising Profiles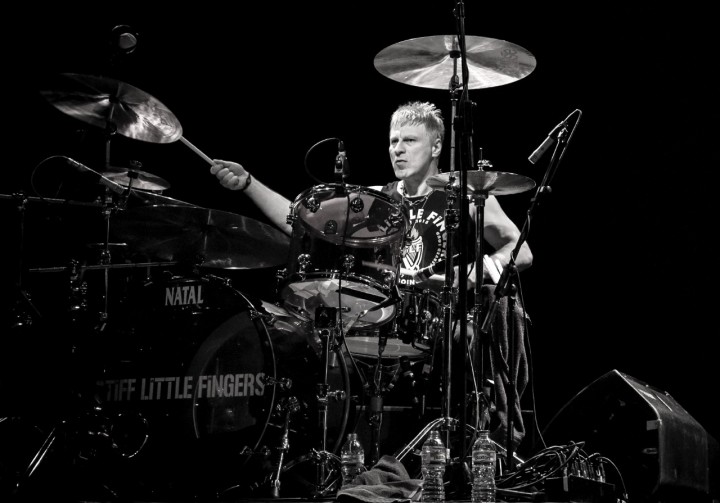 Hi, I'm Steve Grantley, drummer for the legendary UK punk band Stiff Little Fingers (SLF) and I'm thrilled to once again be featured on the Modern Drummer website.
2016 looks to be a busy year for me. I set off on tour with SLF in February, March, and April. The band will tour the UK extensively and then head to Australia.
We are still promoting our last album, No Going Back, which received worldwide critical acclaim and went to No. 1 on the UK album chart. The record was crowd funded through PledgeMusic, and I'm happy to say we reached our target in less than twelve hours, a record in Pledge history. We are very thankful to all our worldwide fans.
On March 17, 2016 SLF and I will reach another history-making benchmark. We will achieve a new record-breaking goal by playing the legendary Barrowland in Glasgow once again on St. Patrick's Day—a staggering twenty-five consecutive years in a row. This gig will be filmed and recorded for posterity. Once again to fundraise, PledgeMusic was used, and we reached our target in record time.
For the SLF tour, I will be using my bespoke red acrylic Natal drums that the company made for me back in 2013. They recently gifted me a maple sparkle kit previously owned by Brian Downey of Thin Lizzy for my services to the company and because I am a huge Downey fan. I'm currently in the studio with the sparkle kit recording new material with my own band RT-Zed. Advertisement
RT-Zed will follow up our 2013 critically acclaimed album Zed Hed with a new album in 2017. RT-Zed received stunning reviews for the album from various publications including Vive Le Rock magazine, which exclaimed that Zed Hed sounds "more fresh and exhilarating than almost all drummer's albums." Louder Than War claimed Zed Hed was "cool and edgy—a rare triumph." High praise indeed, and I am truly thankful for all the kind words and support. I've always written and produced my own music for various labels and publishers, including music for film and TV, but RT-Zed is a great outlet for ideas I know would not suit SLF.
As for my equipment, I am still endorsing Vater sticks and Aquarian skins. I endorse all the equipment I used to buy before I got deals. Vater makes great sticks that last and are manufactured to a real high quality. I use Aquarian Hi-Energy snare heads and they are pretty much indestructible. I can ruin snare heads in two songs, but the Hi-Energy heads last gig after gig. I'm also using a new set of Paiste Giant Beat cymbals, which cut through the SLF wall of guitars but still sound sweet.
As far as the rest of my year goes, more touring is on the schedule. SLF is playing various festivals over the summer, including headlining the Rebellion Festival and playing T in the Park, both in the UK. We plan to tour Germany and Canada later in 2016 with recordings for a new record penciled in for 2018. RT-Zed will continue to play selected one-off shows in the UK throughout the year. Thankfully, it will be a busy year for me indeed. Advertisement
For more on Steve, visit http://slf.rocks, www.rtzed.com, and www.stevegrantley.co.uk.