On the Beat With Adam Box of Brothers Osborne: Your Day Belongs to You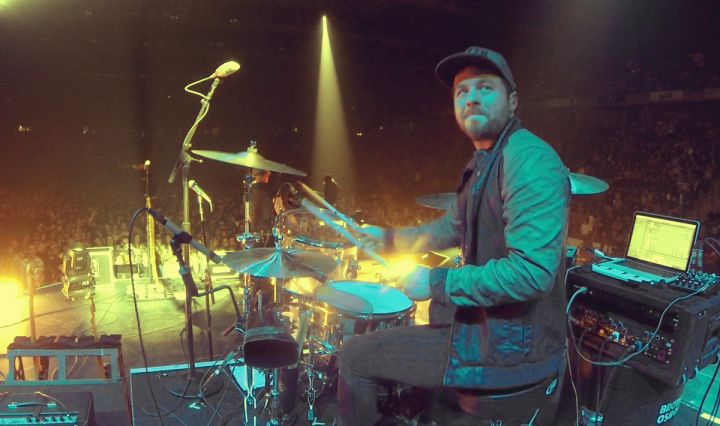 Hello to my fellow drummers, road dogs, garage bangers, beat makers, and the like. I am often asked for advice on staying busy or scoring a decent gig. However, as everybody knows, there are no formulas or degrees that will ever guarantee anything in this business.
You may be sleeping in the rear seat of a twelve-passenger van or in a bunk in the middle of nowhere. Maybe you're crashing in a hotel in a never sleeping city or hiding out in the comfort of your own bed at home. No matter what happened last night, be it great or small, it's over. It's already behind you. Today something amazing is happening. It began the moment you first opened your eyes. Let me explain….
When I moved to Nashville, I had no plan in place, no idea how to make it as a working drummer. All I could do is take that first step. I found a bar in Printers Alley that was having a drum-off, and it led to my very first house gig. I began playing every weekend and managed to hook up with a talented singer. I started recruiting band members and talking to people, trying to make the vision a reality. Four years in, the project took flight and our artist signed a major record deal. Sadly, that same day I was let go. Advertisement
Little did I know, but all my efforts had not been in vain. During one of the showcases we did for our rising star, I met a very talented singer, Lucie Silvas, wife of John Osborne of Brothers Osborne, a newly signed, sibling duo. Playing with Lucie was bassist Pete Sternberg, also of Brothers Osborne, and one of the best and most connected players in town. Months after I was let go, I ran into Pete again, and he said to me, "I may have something, I'll be in touch. Trust me! It's good." Shortly after, I set out on my first tour, traveling the entire country in a twelve-passenger van on a tiny budget and even less sleep.
Two years after taking that step, I've had the pleasure of playing sold out arenas on the biggest tours in country music. I had the pleasure of playing on the debut album Pawn Shop, my first master session. Its single, "Stay a Little Longer," was nominated for a Grammy and recently reached number one on the country charts. Coming up, I leave for Japan, South Korea, and Guam, followed by a tour with Miranda Lambert summer 2016.
My story is proof you don't always have to know exactly what you are working toward. This morning when you awoke, the process had already started. Whether you want to make a career out of the drums, or just want to be able to look back and say you were best drummer you could've been, what matters is that you take that step. The decision of what to do with the rest of your day belongs to you. Go! Advertisement
Watch a drummer spotlight featuring Adam Box here:


Watch Brothers Osborne "Stay a Little Longer" live at CMA Music Festival here:


For more with Adam, visit Instagram @notadambox, and Twitter @drummeradambox.