Narada Michael Walden: Drummer, Singer, Songwriter, Educator, and Producer to the Stars
By Billy Amendola
Since busting out of Kalamazoo, Michigan, when he was still a teenager to become hot drumming property with Mahavishnu Orchestra and Jeff Beck, among others, Narada Michael Walden has earned remarkable accolades on both sides of the glass, putting out a series of successful crossover albums as a leader, and producing superstars like Steve Winwood, Aretha Franklin, Whitney Houston, and Diana Ross. Since the mid-'80s he's resided in San Rafael, California, where he owns and operates Tarpan Recording Studios and continues his gold and platinum streak. Modern Drummer magazine interviewed Narada (pronounced, if you're wondering, like Florida) about his latest solo album, Evolution, in the April 2016 issue, on newsstands now. In this exclusive online article, he discusses working with a couple of his famous former drum students and comments on the individual tracks from Evolution.
Tony and Omar
Tony Thompson and Omar Hakim would come to my house when I lived in Holliswood, Queens. I had a room in the basement that I soundproofed with the help of my friend Greg DiGiovine, who was my manager at the time. I could play my drums at any time and practice for the Mahavishnu Orchestra. I'd invite all my local friends over and we'd play. Howie Grate was another powerhouse who would come over.
Tony and Omar came over a lot. I thought they were young, brilliant cats—smooth and liquid. Tony wanted to work on making his time and feel more relaxed. We would play with click tracks, and that prepared him for working with Chic—to play with intensity and not rush. Sometimes I'd play piano and he'd play drums, and we'd work on drum fills and make everything smooth and not feel like it was rushing. And man he got it down! Tony Thompson was a genius player. I'm sorry he's not with us physically anymore, but his sound will live forever. Advertisement
Omar Hakim has a natural gift. I was always so surprised at how flawless his chops and dexterity were at such a young age. And he was a happy, happy cat; we just enjoyed playing and enjoying music and growing together. I had a lot of fun times in Queens playing with these great folks.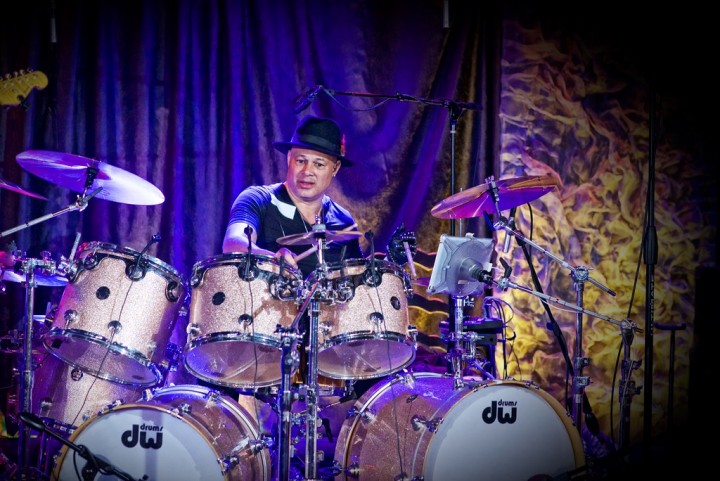 Teaching at the Collective
The Drummers Collective downtown, that was a whole other set of people I met that just wanted to grow their chops or funk feel or a combination of both. A lot of drummers wanted to learn how to play in five, seven, nine, eleven—all different odd meters. So I spent time doing that kind of thing. We'd have two drumsets, and I'd play and ask them to play it back to me, kind of mirroring each other. They would tape this on a cassette machine [laughs] so they could take the lesson with them and study and learn from it. A lot of my students still have those tapes. They're quite valuable because we got into some serious lessons. I miss those times and I love all those people.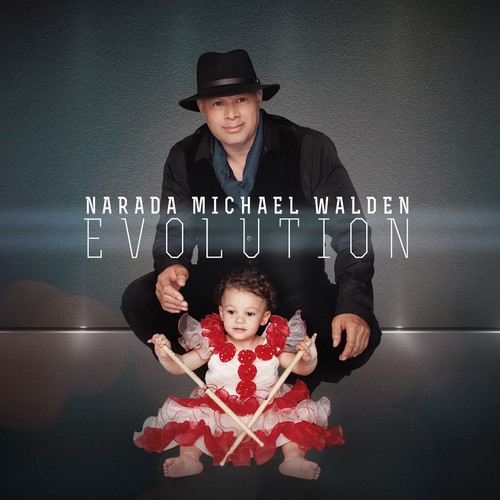 Evolution
I recorded live drums for Evolution at Tarpan with my white DW kit in the main room. It's four-on-the-floor, Rick James–style, acoustic drums. I recorded to have a live feel, but for the dance floor, by pumping up my drums to make it sound [programmed]. I wanted everything to have a cohesive sound that I can play live with my band. Advertisement
I approach the drums very naturally. I'll cut a basic track on my keyboards to a drum machine loop that I've programmed, and then I'll put my drums on top of that. That's usually what I'll do, unless it's a live-in-the-studio thing where I'm going to cut live drums—and even if that's the case I'll still make a loop of a handclap, a conga, or something else to use as a click track.
The track "Evolution" is on fire with spirit from my family, my children Kelly and Kayla, and my wife Katie. It has Marvin Gaye inspiration for the world and for keeping our environment together with love for spirit and humanity. I dedicate it to Curtis Mayfield and Bob Marley and all the people who are searching for bringing about a better world through music.
"Billionaire on Soul Street" is also a Curtis Mayfield feel-meets-top-ten-radio. My family and music inspire me to feel good, like a "Billionaire on Soul Street"!
"Baby's Got It Going On" is a track I'm very proud of. It's a Rick James–inspired vibe. It's one of my happiest and strongest songs on the record.
"Freedom" is the Richie Havens song that he played at Woodstock. It's my homage to his great genius.
"Song for You" [came about after] I was teasing my studio assistant Kimrea and told her to give me a song title in three seconds. She gave me that title and I wrote a funky, dance floor, feels good, around-the-world song. Advertisement
"It's the Sixties Now" is my way of [talking about] everything that brings me to love San Francisco—and it's still the same. Flower Power and people looking for freedom in the heart. This is my prayer that we continue in the same spirit that Hendrix and Joplin and all the people brought in the '60s.
I composed "Tear the House Down" with Lionel Ritchie twenty-five years ago, and I reinvented it for now.
"Me and My Girl" is another one I wrote with Lionel years ago that I updated for this record.
"Heaven Is in My Heart" is another family dedication to my life, looking back on going to high school in Plainwell, Michigan, and teaching and working at the Plainwell Sanitarium to pay my bills. It's about who I loved and who raised me, to my grandmother, my parents, and my brother Ron, who passed away. Everything I love in life is in my heart.
"Standing Tall" is a lyric written by Jennifer Saran that comes from a phrase I loved that Merl Saunders Sr. would always say: "Standing Tall says it all." Mariana Rosimis passed that on to me, so I wrote a song about it. Advertisement
I cut "Long and Winding Road" when I was working with Jeff Beck, thinking that we might do it with Rod Stewart or someone else. But we didn't end up doing that, so I put it out with me singing because I love the song.
I composed "Show Me How to Love Again" for a previous album and reworked it with Booda's remix. It's a cry to all men in the world. We get so corroded, we have to learn how to love again.