John Andrews on Quilt's <em>Plaza</em>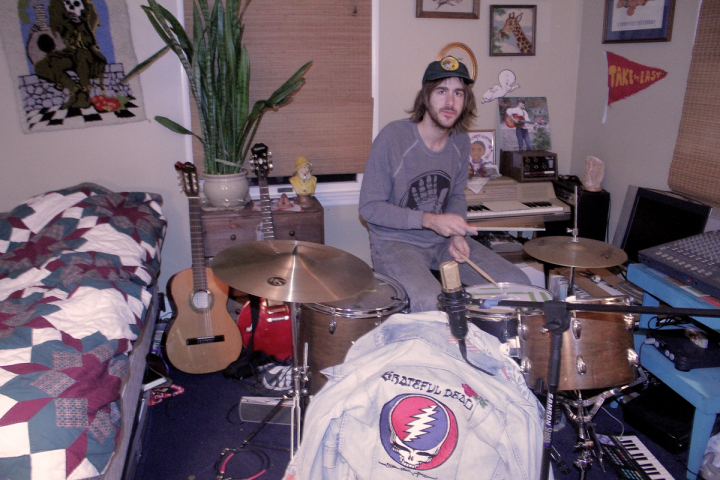 Quilt's charms are subtle but significant. The Boston-based group doesn't beat you up with angry vocals or tax your brain with impenetrable polyrhythms. Rather, like the open-air public space that its latest album's title references, the group's sound-world is positive and inviting, a place where you can relax and mingle among friends and strangers, and maybe toss a coin into a fountain as you dreamily ponder life's mysteries. Fittingly, John Andrews' drumming is never flashy but always warm, supportive, and thoughtful. His effectiveness comes largely through the art of subtraction, highlighting Anna Rochinski and Shane Butler's intertwining guitars and vocals and sharing a deep pocket with Kevin Lareau's singing bass lines. Modern Drummer editorial director Adam Budofsky recently caught up with multi-instrumentalist Andrews, who also plays in the well-regarded group Woods and his own one-man band, Yawns.
MD: Congratulations on the new Quilt album, John. The songs and performances are so strong. Did the band go into this one with any particular agenda in terms of the sounds or other musical elements?
John: Thanks! I'd say the only particular agenda was to write more traditionally structured songs this time around. The songs on the last few records were very open-ended and abstract. Our friend and producer Jarvis Taveniere pushed us to explore traditional songwriting, which was…not traditional for Quilt.
MD: When I first heard Quilt a couple albums back, the melodies and the warm tones vaguely reminded me of British folk-rock bands like Fairport Convention and Steeleye Span, though you obviously had your own thing going on as well. On the new album you seem to be coming into your own even more, but there's still such a refreshing attitude that you share with sort of pre-digital artists. Do the band members in Quilt share certain tastes in music, and is there a general place on the current music landscape that you want to inhabit? Advertisement
John: We definitely listen to some of the same music, but there are also times in the van when I'm not digging something that one of my bandmates put on the radio and vice-versa. That's just life and I like it that way. I do think we have a general area of similar interests that come together enough in a special way that allows us to make music that we wouldn't have been able to make on our own. I'm fine with wherever people think we fall in the musical landscape because in reality we aren't trying to fall anywhere. We play shows with our friends' bands and I'm lucky that my friends' bands are my favorite bands of today.
MD: More than most drummers, you seem to have freed yourself from "the tyranny of the ride cymbal," as some have put it. There's lots of times when you're content to let the other instruments provide the 8th notes, maybe adding the ride or hi-hat at particular places in the arrangement. How much do you plan that kind of thing?
John: I remember reading an interview with Brian Wilson and he said the Beach Boys almost never used hi-hats because they sounded funny. I thought that was great and it made me think, "Oh, just because something is there, it doesn't mean I have to use it for every song." I honestly think "less is more" is really important when recording. That being said, I don't like my drumming on most of the new Quilt record. I tend to freeze up in the studio and not perform my best. Not sure why. Advertisement
MD: Do you have any "drum heroes," from the past or present?
John: The obvious ones are Ringo [Starr] and Levon [Helm]. I'm also really obsessed with the drumming on the first Paul McCartney solo record, which he apparently recorded with one microphone. [I also really like] Michael Stasiak of EZTV, Aaron Neveu of Woods, and Nick Murry of White Fence. The drums on Cate Le Bon's record Mug Museum [played by Nick Murray] are perfect.
MD: You're a multi-instrumentalist, songwriter, and singer, as we can hear to full effect in your project John Andrews and the Yawns. Do you think that your approach to the drums is largely informed by your other musical motivations?
John: Any songwriter gains so much by learning how to play drums. I strongly encourage my bandmates, who usually play guitar, to practice drums, because you can't be a good rhythm guitar player if you're dragging. Advertisement
MD: How long have you been playing drums, and what instruments did you play first?
John: I started piano when I was five. The first song I learned was "The Imperial March" in Star Wars. I tried violin when I was six but that didn't last long. Drums came at age eleven and guitar came around age sixteen. I'm twenty-five now. I can't read sheet music anymore but really wish that I could.
MD: Where did you grow up, and what were your early musical experiences? Did you come from a family of music-makers?
John: I grew up in a small town called Yardville, New Jersey. I had a recording project during high school and started touring at age eighteen. It was hard to find kids to play music with in my town. Not many other teenagers in Trenton, New Jersey, were as obsessed with the Kinks as I was. My family tried their hands at a few instruments as hobbies. My Grandpa played trombone in the Marine band and my dad does a great cover of "Cortez the Killer."
MD: Do you do a lot of vocals live with Quilt? Any tips to playing and singing at the same time?
John: Yeah, I actually sing in most songs. We do a lot of harmonies. When I first joined Quilt I literally couldn't sing and play drums at the same time, but something just eventually clicked and I figured it out. My brain was just like, "Okay, I'll let you do this now." It was like learning how to juggle or something. My advice would be to make a really weird face when you sing, because apparently that's what I do and it seems to work. [laughs] Advertisement
MD: I like the Grateful Dead jacket/bass drum cover. Anything we should read into that in terms of your musical/drumming tastes?
John: My parents were Deadheads. My mom embroidered the stealy on that jean jacket in the '80s. It's a family relic. I actually just like to have sentimental items [around] as part of the process when I record and hope that their presence translates through and into the aura of the recordings. It's kinda like witchcraft.
MD: And where was this shot taken? It looks like you do some regular recording in there.
John: That's in my bedroom of my childhood home in New Jersey. I was working on some demos there in between tours. I just recently moved to a beautiful old farmhouse in Barrington, New Hampshire, and have been recording a new Yawns record. I work in enough fancy studios with my other bands, Quilt and Woods, so my solo work is an excuse to play and record everything by myself. I'm a big fan of home recordings. I think songs can loose a lot of personality when everything sounds too perfect.
MD: The rack tom has no bottom head. Is that a conscious decision for recording purposes?
John: Yeah, I took the bottom head off the floor tom too. I'm trying it out for now. Discovering sounds with my drumkit has only been from experimenting and through trial and error. I've realized that there really isn't a right or wrong way to do anything with drums because everyone has different taste. Some dude at Guitar Center might listen to Moe Tucker on White Light/White Heat and think the snare sounds like trash, meanwhile I'm worshipping her. Advertisement
MD: What drums and cymbals to you prefer to use?
John: I got this beautiful stained-wood-finish '70s Slingerland kit for $400 at a yard sale in New Jersey. It even came with hard cases. It was a deal. I also had a great 1950s Zildjian crash-ride cymbal for a few years but I'm an idiot and left it at a venue. Never got it back. I lost three cymbals during the entirety of Quilt's Held in Splendor tour. You have the most to carry when you play drums, and after a few drinks it's real easy to forget things in venues. My bandmates hate me.
MD: There's so much talk these days about the changes in the music industry and the shrinking opportunities to make money. Do you bother yourself with any of that stuff, or just plow ahead doing what you do?
John: I don't think about the music business because I'd just have a mental breakdown and quit everything. I just keep on rolling on my own path and don't really pay attention to what's going at the moment or else I'd probably get burnt. I've been listening to the same Neil [Young] records I've been listening to since I was fourteen. I've also made the conscious decision to live somewhere that isn't very expensive. I have no desire to live in a city, so I can live happily with the amount of money I make from music. Advertisement
MD: What does 2016 look like so far for you in terms of recordings and tours?
John: Like I mentioned before, I just moved to the woods of New Hampshire. I'm living in an old house that used to be an orphanage in the 1800s. I've been watching The Twilight Zone every night, going on a lot of hikes, and recording new Yawns songs every day. I just about have a new album finished. I need to finish it soon because I'll be touring a lot once the new Quilt record comes out.