Multimedia, Product Close-Up, Videos
Video Demo: VK Drums – 6×14 Titanium, 7×13 Stainless Steel, and 8×14 Aluminum Snare Drums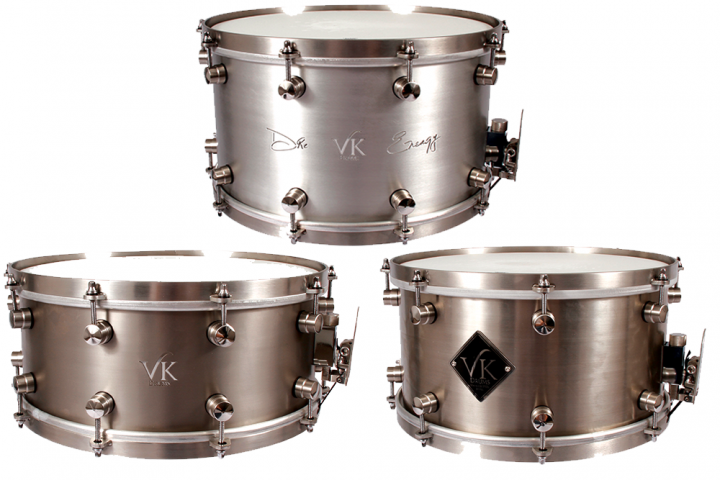 This excerpt is taken from the complete article that appears in the March 2016 issue, which is available here.
Product Close-Up
VK Drums
6×14 Titanium, 7×13 Stainless Steel, and 8×14 Aluminum Snare Drums
Spawning from one of the metallurgy capitals of the world, these precision-built drums are built to blast.
Van Kleef Custom Drums is owned and operated by Alan van Kleef, a UK-based musician-turned-builder who started his career in the '90s as a live drum & bass performer and studio owner. His workshop is in Sheffield, which is the industrial city in South Yorkshire, England, where in 1912 metallurgist Harry Brearly invented stainless steel. Not surprisingly, Van Kleef uses stainless steel as the primary material for his hoops, lugs, and throw-offs. He also makes shells out of stainless steel, as well as copper, maple, birch, aluminum, titanium, and other materials. We got our hands on three VK metal snares to review: a 6×14 1.5mm grade 1 titanium ($1,050), a 7×13 1.5mm stainless steel ($980), and an 8×14 2mm aluminum "Dre Energy" signature model ($1,050).
All VK snares come with Sheffield-made stainless steel VK straight hoops, solid stainless steel lugs with brushed sides and mirrored faces, a stainless steel throw-off with an integrated drum key, a stainless steel butt plate, Remo drumheads, and Puresound Custom Pro twenty-strand wires. Badges are either separate pieces (as on the steel drum), or they are laser cut directly into the shell, like on the aluminum and titanium models shown here. You can also special-order drums with custom laser-cut logos.
Check out a video demo below.
Michael Dawson
For the complete review, check out the March 2016 issue, which is available here.