On the Beat With Ryan Scott Long of Booker Long Duo: Interaction and Explorative Improvisation
Hi, my name is Ryan Scott Long and I'm a touring drummer and composer. Just recently my project Booker Long Duo released our self tilted EP. The duo is comprised of Michael James Booker on tenor sax/effects and myself on percussion/drums. We were lucky enough to feature one of my favorite drummers, Thomas Pridgen, and one of my closest friends, Mike Sopko (guitar), on track six, "The Chance."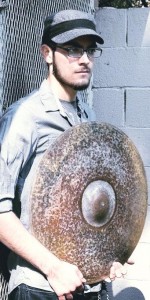 The EP captures studio and live recordings and ends with an explosive, intense double drums collaboration with Pridgen. The live recordings "New Year," "The Meddler," and "Paul Simon" capture not only the songs we have composed together, but also capture the explorative improvisations between Booker and me. The go for it mindset really shows itself when Michael and I are playing live. It's high levels of interaction and explorative improvisations that usually engage a crowd no matter where we play. It's very special to me and I feel humbled just to be a part of something that constantly challenges me to be at my best.
Developing the duo sound hasn't always been easy but we've been making a lot of progress and seem to sometimes shock people that it's just two of us. I've been working on trying to master covering space with the drums without always having to shred and go off—really honing in on how I'm playing to make my drumming hold its own and to help contribute to a full sound as a duo. It's continuing to improve as we move forward. Advertisement
Booker and I composed "The Chance." Thomas came in and laid his parts down brilliantly without a click track. His listening and improvising abilities are insane! Sopko was the last to track adding beautiful chords matching Booker's melodies in the intro of the tune, and then laying down some incredible improvisations once the tune really starts to go into a more explorative realm. I'm so happy we caught it on video and thanks for checking it out!
Also, keep a lookout for my debut album with BroJazz featuring world-renowned saxophonist Joshua Smith and Ben Wallace-Ailsworth on bass to be released in spring 2016.
Watch Booker Long Duo featuring Thomas Pridgen and Mike Sopko, "The Chance" here:
Booker Long Duo EP: https://bookerlongduo.bandcamp.com/album/booker-long-duo-ep.
BroJazz:
Visit ryanscottlong.net for all updates, tour dates, lesson inquiries, press kit, booking, and more.