On the Beat With Drummer/Educator Bruce Aitken: Takin' It to the Streets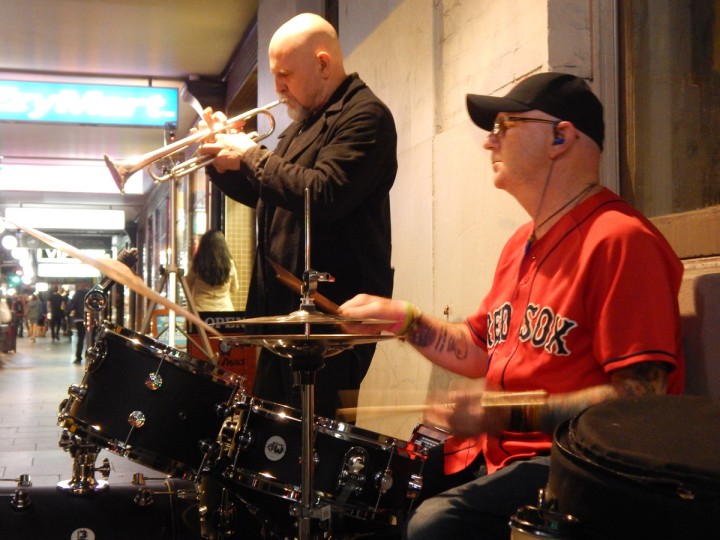 Hello, everyone! I'd like to first say a huge thanks to Modern Drummer for this opportunity to share what's happening in my life these days. Some of you may know me from creating the Cape Breton Drum Festival for many years.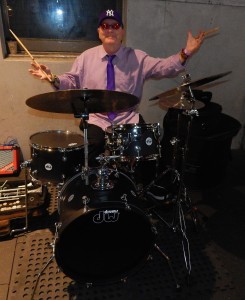 I ventured back to Australia from Aotearoa [New Zealand] at the request of NZ music icon Mark Hornibrook. We set up a two-piece street band and called it Coal Train. Mark plays trumpet and I improvise on a very small street kit consisting of my signature snare and some percussion and Meinl cymbals. We play some originals, and a CD is already in the works, tentatively titled Flick the Switch to Vaudeville. We play what I would term our version of street jazz and Latin—many standards with our own particular twist to them. We are more like wandering minstrels as opposed to buskers.
Having never played the "street" before, it's quite a revelation and really exciting—taking requests, having people dancing or taking photos and videos, and even inspiring artists to draw us. We already have a following, which is really encouraging. Gigging five to six nights a week gets one very match fit, quite quickly; it's a real buzz. The street is alive every night, and we often play until the wee hours as people gather to enjoy the music. Soon I will introduce my DW Mini-Pro kit into the mix. I am grateful for the support from D'Addario Australia. Advertisement
I have also started teaching Skype lessons, which is very new to me, and I'm enjoying the challenge. I have other teaching options in the works as well, and my passion for passing on knowledge is only getting greater as I get older. Thank you for reading.
For more information about Coal Train, go to www.facebook.com/groups/1046719862028442/?fref=ts, and bruceaitken910.wix.com/coal-train.