Ben Koller on His Action-Packed Year With Converge and Beyond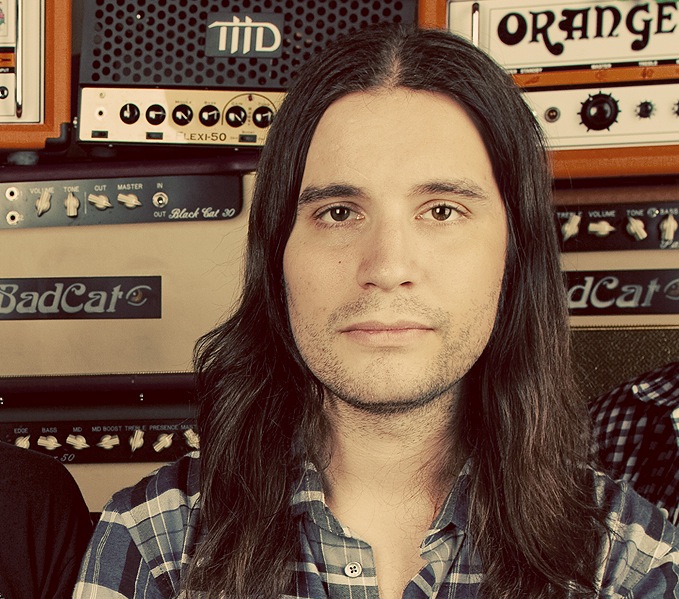 Ben Koller has had his busiest gigging year in 2015, logging miles with Mutoid Man—which also released its Bleeder LP in June—as well as with Killer Be Killed and All Pigs Must Die. He's also done two tours with the group he's best known for, Converge. That pioneering metalcore band recently released the Blu-ray video Thousands of Miles Between Us. It also just announced that, in celebration of its upcoming fifteenth anniversary, it will be performing its classic album Jane Doe in its entirety for the first and last time at the Roadburn festival in Tilburg, the Netherlands, next April 14. Writer Stephen Bidwell caught up with Ben last month while he was warming up backstage Fun Fun Funfest in Austin, Texas, where he was doing double duty with with Converge and Mutoid Man.
MD: What are you working on?
Ben: Nothing specific, just paradiddles and whatever. Actually, I like this one where you count to ten, you do one stroke with the right, one stroke with the left, two strokes with the right, two strokes with the left, etc., until you get to ten, and you keep getting faster, and then back down from ten to one. It helps stimulate your brain a little bit, because you have to think about it, and the faster you go the harder it gets. Other than that, just some wrist and ankle stretching, shake the muscles out to try and get the blood flowing, jump around a bit, do some jumping jacks.
MD: Tell us about Converge's new Blu-ray.
Ben: I've been waiting and waiting, and it's finally done. We just kept adding stuff; it was originally supposed to just be a single DVD, and then years passed and we decided to do a Blu-ray instead of a DVD because it's taken so long to do that DVDs are almost obsolete at this point. Advertisement
MD: The new set includes a high-quality shoot from a Philadelphia show on the last tour.
Ben: I'm really psyched about that, except I messed up the song "Dark Horse" really bad because I was having some technical difficulties; I was talking to my tech and I dropped an 8th note.
MD: Is the rest of the world going to notice?
Ben: I'm sure a few drum nerds will call me out. But I screw up a lot, it's kind of like my thing.
It's cool to have really good-sounding shows. On our first DVD there was a ton of material but it was pretty rough, and there was no taking it to the studio to mix and polish, and it wasn't very pro video either. So it's cool to have a couple of full shows with really good video and audio, since we've never had that before.
MD: Do you have any upcoming touring plans with Converge?
Ben: We're doing a couple shows in Russia and some festivals in Holland and Portugal, but then we're going to focus on writing. This year we already did a European tour, and we toured with At the Gates in the U.S., but it's been a while since we put out a new record so it's time to write some new songs. It's tricky to get us all together these days. [Guitarist] Kurt Ballou is booked many months in advance, [vocalist] Jake Bannon's a new father, [bassist] Nate Newton has got a child and two other active bands, I've got two children and three other bands…so it's really hard to get us all together at one time.
MD: Your different projects include people who live in different cities. How do you collaborate to write new material?
Ben: It's a bit different for each band. There are lots of ways to document the first little bits of a song you come up with. For example, Stephen Brodsky of Mutoid Man likes to send us videos of him playing guitar riffs. Sometimes I'll beat-box a drum beat into my phone to remember it. It's usually a combination of sharing riff ideas and then getting in a room together to flesh it out. Then we make some demos so we can listen back and fine-tune. There also ends up being changes in the studio when you're laying down stuff. It's a multi-step process that varies from band to band depending on geography, availability, etc. Advertisement
MD: How did that work specifically with the Mutoid Man's Bleeder? It has a great flow to it, almost like an early-'70s prog record. Was that something you guys were going for?
Ben: We're definitely heavily influenced by some of the early proggers like King Crimson, ELP, Mahavishnu Orchestra, and Yes. We actually talked about doing a medley of some of our favorite riffs to add to our live set, but we haven't pulled it off yet. We didn't really have a big-picture or concept-album idea or anything like that, we just did our best to sequence the record in such a way that would give it a nice flow.
MD: You've made some moves in the gear department.
Ben: I have a lot of gear switch-ups! I just signed with Tama and Meinl, and it's been absolutely great. I got to try out one of the new prototype Speed Cobra pedals in L.A. the other night, which was pretty rad. I have a Birch/Bubinga Starclassic kit now [12/14/16/22 configuration] and Tama hardware including Speed Cobra pedals. I tweaked them a little—removed the springs from under the footboards, put on some heavier beaters, and put the springs as tight as they go—and that works for me. I have the Meinl Byzance 14″ heavy hi-hats, the Mb20 19″ and 20″ crashes, and an Mb20 22″ heavy ride. I messed around with the rest of the Byzance series as well, but the setup I have now is pretty ideal.
MD: How is it being a father of two who's on the road a lot?
Ben: There are lots of ways to keep in touch. It's a little easier being in the U.S. as opposed to Europe, where you feel like you're a lot farther away as it's not as easy to call or text or Facetime. The shorter tours are easier, going out for a week or two weeks, but this is the first month-long run I've done in many years, so it's pretty tough. Advertisement
MD: How did your recent Mutoid Man tour go?
Ben: Great. It was our first headlining tour behind our first real record, so it was exciting and new again, and surprisingly it was very good shows the entire time.
MD: [Noticing Ben taking some kind of tincture out of a medicine dropper] What's that you're ingesting?
Ben: Cordyceps mushrooms, in tincture form. Definitely not psychedelic mushrooms, they're more for stamina when you're doing strenuous activity. Give it a try next time you play. I do a dropper under the tongue instead of in pill form….
MD: Does it taste pretty gross?
Ben: It tastes horrible, and it burns because there's alcohol in it.
MD: The trade secrets come out! So is All Pigs Must Die doing anything currently?
Ben: We played Roskilde Festival in Denmark, a show in London, and aside from a few shows in Tampa those are the first shows we've done in a long time. Now we're starting to write again, and that's pretty exciting because we've had a lot of family issues and scheduling conflicts to work around in the last few years. Jobs and families make it very complicated. Advertisement
MD: Should we assume that you're past the point of needing a job when you're off the road?
Ben: When I'm home, I'm home. That's the trade-off, even though I'm out for these chunks of time, when I'm home I'm with my family the whole time.
MD: How much have you been on the road in this past year?
Ben: I haven't counted in weeks, but it's probably been the busiest year I've had in my twenty years of playing. Recently Converge did dates in Russia and Europe, and Mutoid Man did European dates in support of Bleeder. Converge and Mutoid Man both played Funfunfun Fest in Austin.
MD: You're pretty new to Killer Be Killed. Who's in that project?
Ben: That's Greg Puciato from Dillinger Escape Plan, Troy Sanders from Mastodon, and Max Cavalera of Sepultura and Soulfly. Dave Elitch was the original drummer and played on their first record, but he's no longer in the band. Those guys have the craziest tour schedules, and everything gets planned way in advance; we did a tour in February in Australia and it will have taken us a year to get back together.
MD: How did you end up in Killer Be Killed, and how much freedom did you give yourself in learning Dave Elitch's parts from the record?
Ben: Greg called me up one day and was like, "Yo, we're going to Australia and Dave can't do it—do you want to go"? It was pretty much a no-brainer decision right away. I took some cues from Dave's playing on the record but I also wanted to do my own thing with it, which the other dudes in KBK were totally cool with. Plus Dave has a very different style from me, and I think if I tried to copy his parts verbatim it just wouldn't feel right. I think I have more of a loose/aggressive style with more push and pull, whereas Dave is a little more technical and in the pocket. Advertisement
MD: So what are you listening to in the van right now?
Ben: A big mix of everything. A lot of pop-punk from my end, a lot of '70s prog. Mahavishnu is maybe as deep as I go with that stuff, but I can see how it could be a gateway into some heavy fusion. Counting that "Birds of Fire" riff is tricky enough. [Ben pounds out the 18/8 kick drum figure on a practice pad while singing the violin part.]
MD: I was once told Cobham did that all on one foot.
Ben: Hooo! He's a beast.
MD: Please name some pop-punk guilty pleasures.
Ben: Well, Descendents are my favorite band of all time, ALL is way up there, NOFX, the whole Fat Wreck Chords catalog for sure.
MD: Have you watched the Descendents documentary Filmage yet?
Ben: Yeah, definitely. Mutoid Man got to play with them at GWAR B-Q, and they were so good, as always. I was lucky to see both Descendents and ALL in Vegas at Punk Rock Bowling. They're such nice guys, and I got to meet [drummer] Bill Stevenson, and he's just a sweetheart.
MD: And great to watch. His setup is really smart for playing so fast, there's a crash everywhere you could need one.
Ben: That's a good point. I guess that's why I rely on having the big ride to my immediate right, because it's always sort of in reach.
MD: How does one go about making a career out of creative, heavy music without relying on other employment? I'm guessing the answer involves keeping a full calendar.
Ben: Now that I have kids, and my wife is home raising them while I'm away, I definitely have to do more, and that's why I've been so busy this year. It's not easy, but the more you work the better you'll do, and the more DIY you are the better off you are. In all the bands I've been in, we've tried to do as much as we can ourselves, just like Descendents do. Bill Stevenson's got a studio and they're so involved in everything they do, and I think a lot of bands aren't like that. Like on this Mutoid Man tour, it was just the three of us and the van. We're our own tour manager, we do our own merch, set up and break down our own gear, and it's just all-day/all-night…work. Advertisement